Saints senior setter Paige Hewitt finished her stellar career with 2,014 assists, and at a recent year-end banquet for the volleyball squad, she finally got the chance to take it in, as she and her teammates were honored for their accomplishments.
Hewitt was among four Saints named to the Big South Conference team, along with teammates Brielle Bushaw, Allie McCabe and Sara Conlon. Maggi Pierret was an honorable mention selection.
The Saints put together a 9-1 league mark to earn the Big South East Division championship, finishing with a 23-8 overall record. The Saints were upset in the Subsection 2AA North finals by Le Sueur-Henderson 3-2. The Giants went on to fall 3-0 to Belle Plaine in the section finals; Belle Plaine then finished third in Class AA.
But Hewitt's season capped off a record-breaking career as the Saints setter. She finished the season with 778 set assists and sits atop the SPHS charts with 2,014. Hewitt's 45 set assists in her final game, the LS-H loss, put her over the 2,000 mark.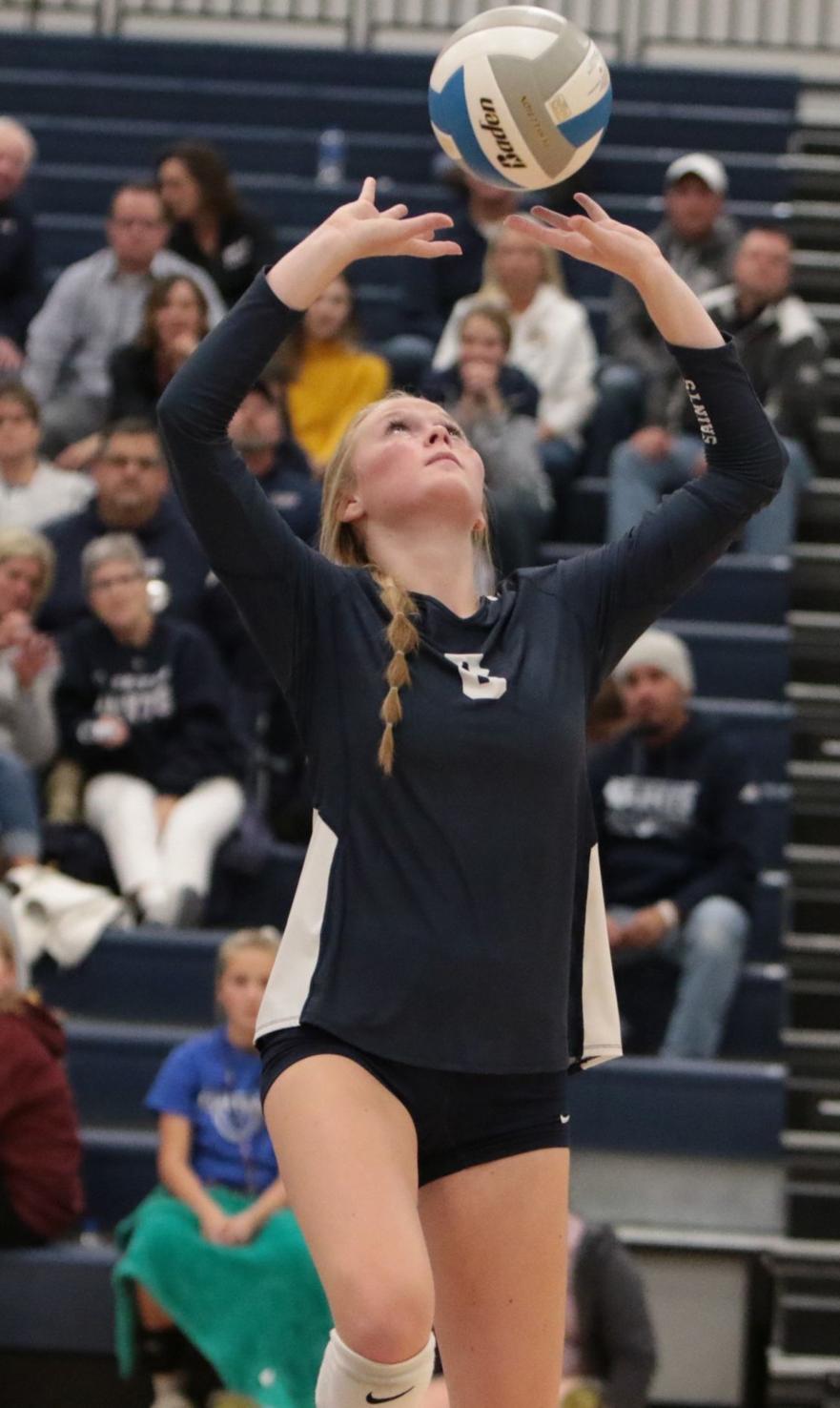 Hewitt also finished her career in the No. 3 spot in service points with 688, leading the Saints again this year. She also had 53 service aces this season, finishing with 131 for her career, also No. 3 in SPHS history. Hewitt also finished with 389 career digs.
Conlon led the Saints this season with 313 kills, finishing with 563 for her career to rank No. 4 in SPHS history. She also added a team-high 41 solo blocks to finish with 90 in her career, also ranking No. 4 in Saints history. Conlon's 89 career ace serves also ranked No. 10 at SPHS.
McCabe paced the Saints this season with 123 digs for a career total of 510, ranking No. 8 in SPHS totals. She also finished her career ranking #10 in career set assists with 81.
Bushaw fininshed her Saint volleyball career with 282 kills to rank No. 9 in SPHS totals. Pierret wasn't far behind, finishing just outside the top ten in SPHS history in kills with 245.
These five were among eight Saints who will be graduating after the 2019-20 school year. Others will include Carlie Chabot, Breanna Hagen and three-year student manager Lexi Bocanegra.
Chabot finished in a couple top-ten career categories in volleyball statistics: No. 7 in digs with 553, and #6 in ace serves with 100. She finished her career with 413 service points.
Pierret, Hagen and Hewitt also earned academic All-State honors for having a 3.80 or high GPA. The entire Saints team earned the Minnesota Volleyball Coaches Association academic Gold All-State team with a team GPA of 3.901.
Hewitt also was voted by teammates for the "Ms. Saint" award. Other team awards announced at the recent Saints volleyball banquet included: ACE (Attitude, Commitment & Effort) — Conlon; Most Improved — Grace Remmert and Bushaw; Hustle award — Lizzy Quist; Communicator award — McCabe; Team Player award — Pierret.
The 2020 captains were also announced at the banquet: Quist, Remmert and Lauren Niemeyer.