There were all sorts of exciting moments Saturday on the St. Peter High School basketball court, including a half dozen alley-oop dunks by Minnehaha Academy, but the biggest cheers came when St. Peter senior guard Mason Doherty made a 3-point basket, followed by a 2-pointer to finish off the game.
Doherty, who has Down syndrome, made the 3-pointer with seconds to play and the 2-pointer at the buzzer. St. Peter and Minnehaha players and students stormed the court and surrounded Doherty after he made the shots.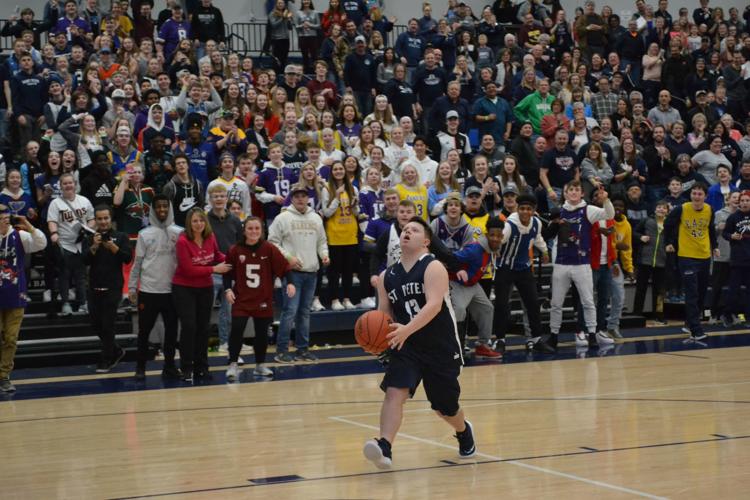 Videos of the shots and ensuing celebrations went viral on Facebook and Twitter, being shared by outlets like ESPN and SLAM. See some of the videos at www.stpeterherald.com. One of the videos was approaching 1 million views on Twitter by Tuesday, and several other videos were circulating with hundreds of thousands, while still more eyes were captured through Facebook and YouTube.
"I'm glad all those people got to see what he does," said senior center Wyatt Olson, who tied for the Saints' lead with 14 points. "He works as hard as anybody else does in practice. It was great to see him have that opportunity in front of all these people. I'm glad that we can make his senior year as special as ours."
St. Peter senior guard Kaden Oeltjenbruns, who ended up with 11 points, including three 3-pointers, was excited to see the whole gym erupt when Doherty made the shots, believing his teammate earned the praise. Doherty also got in the previous night at St. James and made a 3-pointer.
"He has always practiced his 3-point shot," Oeltjenbruns said.
Matching Olson's total, St. Peter point guard Ethan Grant and forward Bennett Olson each had 14 points of their own against the Class AAA top team Minnehaha. Grant had one 3-pointer, and Olson had four 3-pointers.
Although the Redhawks rolled to a 95-66 victory, the No. 9 state-ranked Saints got a good opportunity to face the No. 1 ranked team in the state in Class AAA, and at times St. Peter matched up with the Redhawks.
Minnehaha defeated St. Peter 78-47 in the first round of state Class AA last year, but both teams have moved up a class to AAA this year. The Redhawks opted to move up for the increased competition, while the Saints were forced to because of increased enrollment.
The game drew one of the biggest, if not the biggest, crowds in history at St. Peter. The gym, which has a capacity of 1,756, was nearly packed.
"The atmosphere was just like a playoff game," Oeltjenbruns said. "It's going to help us when we get to those games."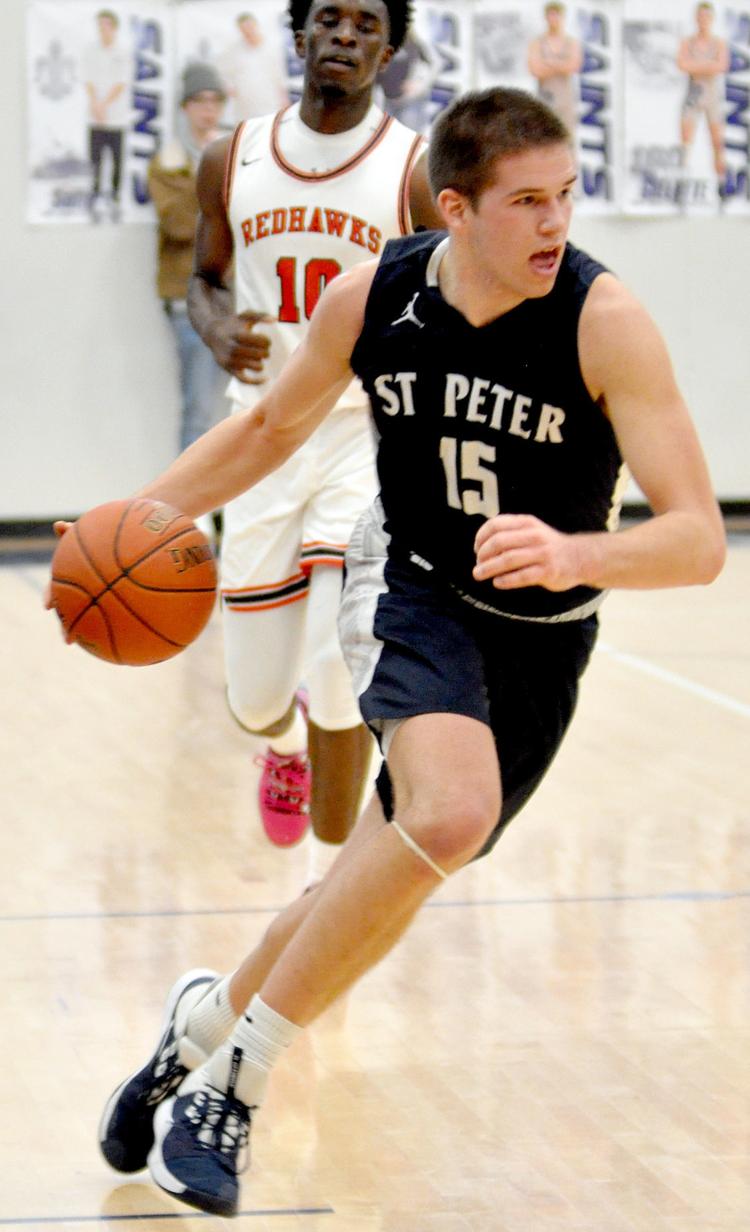 Playing a tough team in front of a big crowd is a lot of fun, Wyatt Olson said: "Obviously a lot of people came out, not just from this town but all over southern Minnesota. It's awesome. Those are really talented players, guys who have NBA potential. It's a lot of fun to be able to play those guys. That's how you get better. If you want to be the best, you got to play the best. Overall, we competed hard. That's all we can really ask for every game."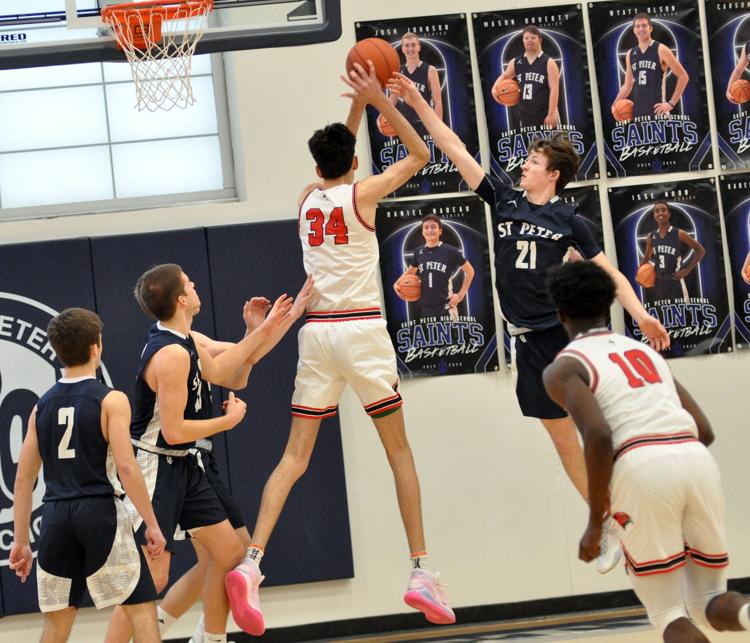 Wyatt Olson had to face 7-foot center Chet Holmgren. "He's a really skilled guy. You just got to play strong, and hopefully he doesn't dunk."
St. Peter took its only lead, 2-0, on the opening basket by guard Kaden Oeltjenbruns. Minnehaha scored the next 8 points to a take an 8-2 lead and increased it to 49-25 at halftime.
"Starting in the warmups, it was crazy," Oeltjenbruns said. "The game is so much faster. It felt like we were going back and forth. It was fun."
But the Saints made a strong push in the second half, cutting the lead to 58-45 with 12 minutes to play on a 17-6 run, including three straight 3's by Oeltjenbruns and two 3's and a 3-point play by point guard Ethan Grant.
But the Redhawks picked up the pace again, outscoring the Saints 28-3 for a 76-48 lead with 8:20 to play.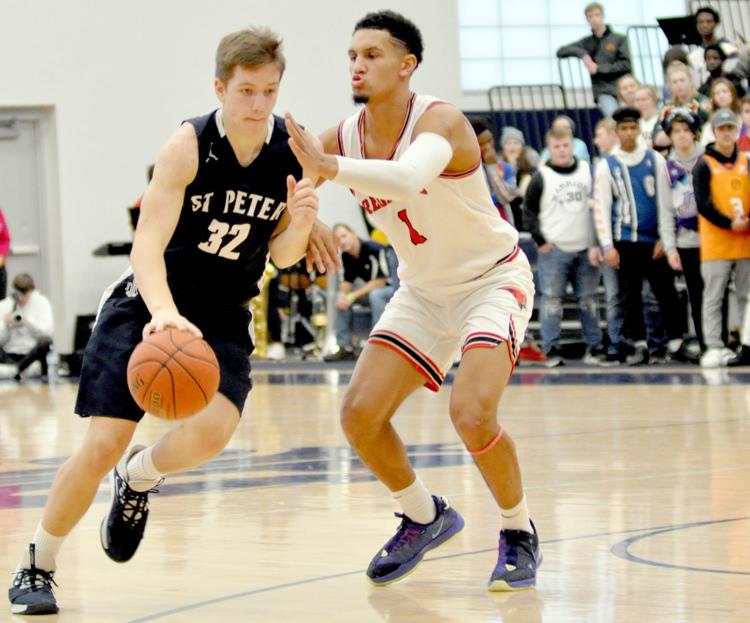 Bennett Olson made a pair of 3-pointers to cut it to 76-54 with 7 minutes left, but the Redhawks dominated the rest of the way.
"That's a good squad," Wyatt Olson said. "It's hard to hold a lead. I don't know if there's ever been a team in the state that's got players like that. Those guys are really talented. You've got to play the perfect game."
Oeltjenbruns said, "They're all D1 prospects, and we're just trying to make them take shots where they're going to miss them. We competed. There were spurts where we didn't, but I thought we got after it in the second half."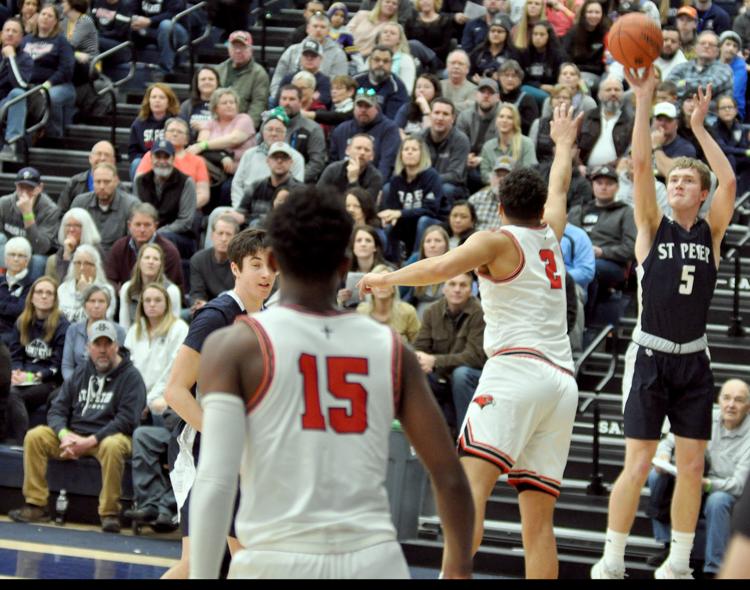 The Saints made 11 shots from 3-point land.
"We knew we were going to get opportunities to get those," Wyatt Olson said. "When you get your opportunities, you got to knock them down."
He added that the Saints have a lot of work to do, but "we're close. Playing a team like this we're going to get better. In five games, it's playoffs."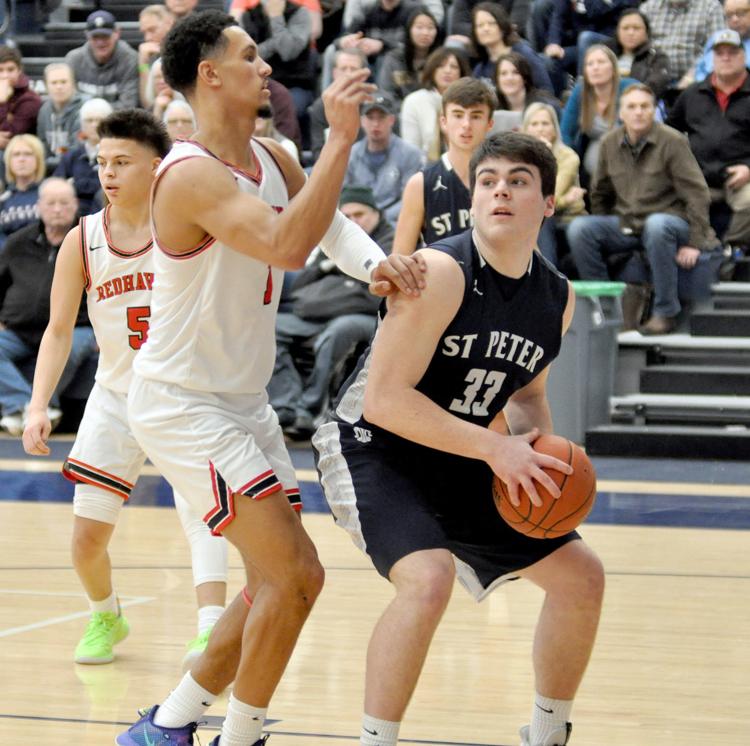 Minnehaha had four players in double digits scoring, led by Gonzaga-bound Jalen Suggs with 19 points. Demarios Watson-Sualsberrry, Chase Carter and Chet Holmgren had 16 points each.
Minnehaha improved to 17-2, while St. Peter dropped to 13-8.
St. Peter travels to Norwood Young America on Tuesday.