It was a close baseball game through four innings with Cleveland and Martin County West tied 2-2.
But the Mavericks took a 5-3 lead after five innings and erupted for nine runs in the sixth inning to take a 14-3 lead on their way to a 14-4 Valley Conference victory in six innings Friday at Cleveland.
MCW took a 2-0 lead in the first inning on an error, stolen base, RBI single, stolen base and RBI single.
The Clippers cut the lead to 2-1 with a run in the bottom of the first. Second baseman Elijah Sullivan was hit by a pitch, stole second and scored on an RBI single to center by third baseman Alex McCabe.
Cleveland tied it 2-2 with a run in the fourth inning on a solo home run by McCabe over the 360-foot sign in left center. It was his first career varsity home run
MCW took a 5-2 lead in the fifth with three runs on three hits, one walk and three stolen bases.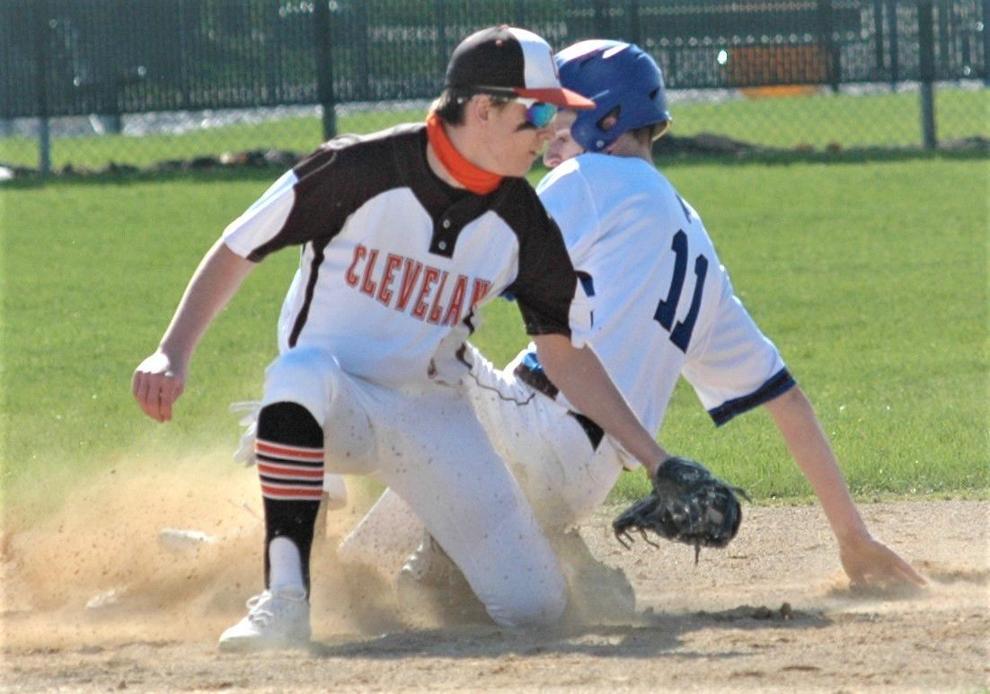 Cleveland cut the lead to 5-3 with a run in the bottom of the fifth. Shortstop Carter Dylla walked, stole second, went to third on a wild pitch and scored on a sacrifice fly to center by McCabe.
The Mavericks increased their lead to 14-3 with nine runs in the sixth inning on seven hits, two walks and two wild pitches.
The Clippers finished off the scoring with a run in the bottom of the sixth. Meyer led off with an infield hit. Left fielder Tanyon Hoheisel singled, and Sullivan drove in Meyer with an infield hit.
The Clippers collected eight hits, led by McCabe who went 2 for 2 with a home run, three RBIs, one run scored and one stolen base.
Sullivan batted 1 for 3 with an RBI, run and two stolen bases.
Meyer went 1 for 1 with a walk, hit by pitch and a run.
Center fielder Jake Anderly went 1 for 3.
Walechka had a double in batting 1 for 3.
Hoheisel and first baseman Colin Krenik also both finished 1 for 3.
Cleveland starting pitcher Lucas Walechka (1-1) went five innings, allowing eight runs (seven earned) on 10 hits, two walks and eight strikeouts.
McCabe took over in the sixth but couldn't get an out in allowing four runs (three earned) on four hits and two walks.
Dylla got the last three outs on two strikeouts, no hits, no walks and no runs.
Cleveland (1-2) has three games this week Monday at New Ulm Cathedral, Tuesday at St. Clair and Thursday at home against Martin Luther-GHEC-Truman. First pitch is at 4:30 p.m. for all games.