Cleveland baseball team jumped to a 9-0 lead over St. Clair after two innings on the way to a 13-3, five-inning victory on Monday.
The Clippers scored two runs in the first inning and seven runs in the second.
The visiting Cyclones scored three runs in the third inning to cut the lead to 9-3, but the Clippers answered with three runs in the bottom of the inning and a run in the fifth to win by the 10-run rule and complete a season sweep of St. Clair.
Cleveland racked up 13 hits.
Shortstop/lead-off hitter Carter Dylla went 4-for-4 with a double, triple, one RBI and three runs scored.
Left fielder Gabe Sullivan also had a perfect day at the plate, going 3-for-3 with a walk, RBI and two runs.
Third baseman Alex McCabe also had multiple hits, batting 2-for-4 with a double, walk and three runs.
Right fielder Tanyon Hoheisel went 1 for 3 with a double, RBI and a run.
Catcher Jackson Meyer finished 1-for4 with a run.
Second baseman Elijah Sullivan went 1-for-3 with a walk and a run.
Pitcher Colin Krenik batted 1-for-3.
First baseman Lucas Walechka went 0-for-3 with a walk and two runs.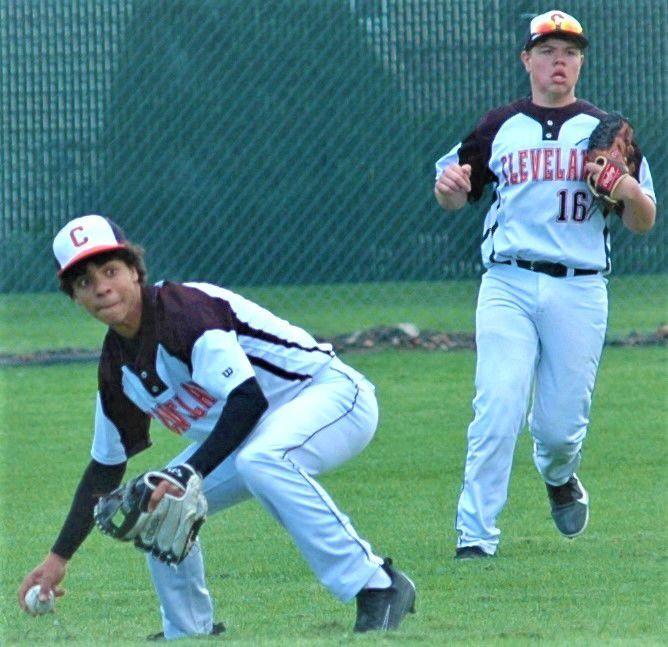 Center fielder Kaleb Timlin batted 0-for-3 with a walk, stolen base and an RBI.
Krenik (1-0) went the distance to earn victory on the hill. The lefthander surrendered three runs (one earned) on six hits over five innings, striking out three and walking one.
Cleveland improved to 5-3 overall and 4-1 in the Valley Conference, while St. Clair dropped to 3-5, 1-4.
The Clippers have three more games this week: Tuesday at Nicollet, Thursday at Janesville-Waldorf-Pemberton and Friday versus Mountain Lake. All games begin at 4:30 p.m.