St. Peter softball team combined great defense, pitching and hitting in a doubleheader sweep of Marshall 10-3, 7-3 on Friday at Jefferson Fields.
The Saints upped to 8-3 overall and 8-0 in the Big South Conference.
"There was a ton of great defense tonight by our Saints with only two errors total between the two games along with a couple stellar catches in the outfield by (Dani) Johnson and (Lauren) Niemeyer," St. Peter coach Heidi Niemeyer said.
Game 1: St. Peter 10, Marshall 3
Pitcher Maya Pettis struck out 12 to earn the complete-game victory. She allowed five hits, two walks and three runs.
"Maya Pettis was an ace on the mound," Niemeyer said.
The Saints put together two big innings to beat the Tigers. St. Peter jumped to a 5-0 lead in the first inning and added four more runs in the fifth to up the lead to 9-1.
St. Peter collected 12 hits, including four players with multiple hits.
Lilly Ruffin led with three hits in four at bats including a double, three RBIs and two runs scored.
McKenna Van Zee batted 2-for-4 with a double and a run scored.
Dani Johnson went 2-for-3 with a double, two RBIs and a run.
Sophia Doherty finished 2-for-4 with two RBIs and two runs.
Ryenne Pettis went 1-for-3 with two runs.
Alyssa Hrdlicka hit 1-for-3 with two RBIs.
Elle Davis batted 1-for-3 with one run.
Game 2: St. Peter 7, Marshall 3
With Marshall leading 2-1, the Saints grabbed the lead for good in the sixth inning with five runs.
"Marshall is a really good team," Niemeyer said. "It was good for us to be in that tight game until the sixth inning when we got some runs under our belt to go ahead by four with Van Zee's grand slam. This team is really coming together collectively as a group of players who want to do what is best for the team and get the job done all while having tons of fun!"
Van Zee led St. Peter in hitting, going 2-for-4 and driving in five runs including the grand slam in the sixth.
Maya Pettis again was the winning pitcher. She went the distance, allowing five hits and three runs while striking out four and walking one.
St. Peter totaled nine hits. Grace Remmert and Lilly Ruffin also went 2-for-4 with a double each. Ruffin scored one run.
Three other Saints had a hit. Molly Voeltz went 1-for-1 with one RBI and one run. Hrdlicka batted 1-for-4. Niemeyer finished 1-for-3 with an RBI and a run.
St. Peter's seven upperclasswomen were honored on senior night Thursday at Jefferson Fields: Hrdlicka, Niemeyer, Davis, Bianca Penkert, Kiara Rahman, Hannah Brenke and Tori Zachman.
"It was so great to be able to honor our seniors and all they have done for our program," Niemeyer said. "All seven of them have been playing since they were 8 years old, and they all love the game. It was awesome to watch each one of them contribute to this win against Waseca."
The Saints started with a bang in the first inning. Ruffin hit her second inside-the-park home run of the season, a three-run shot that bounced off first base, into foul territory and out of the right fielder's reach.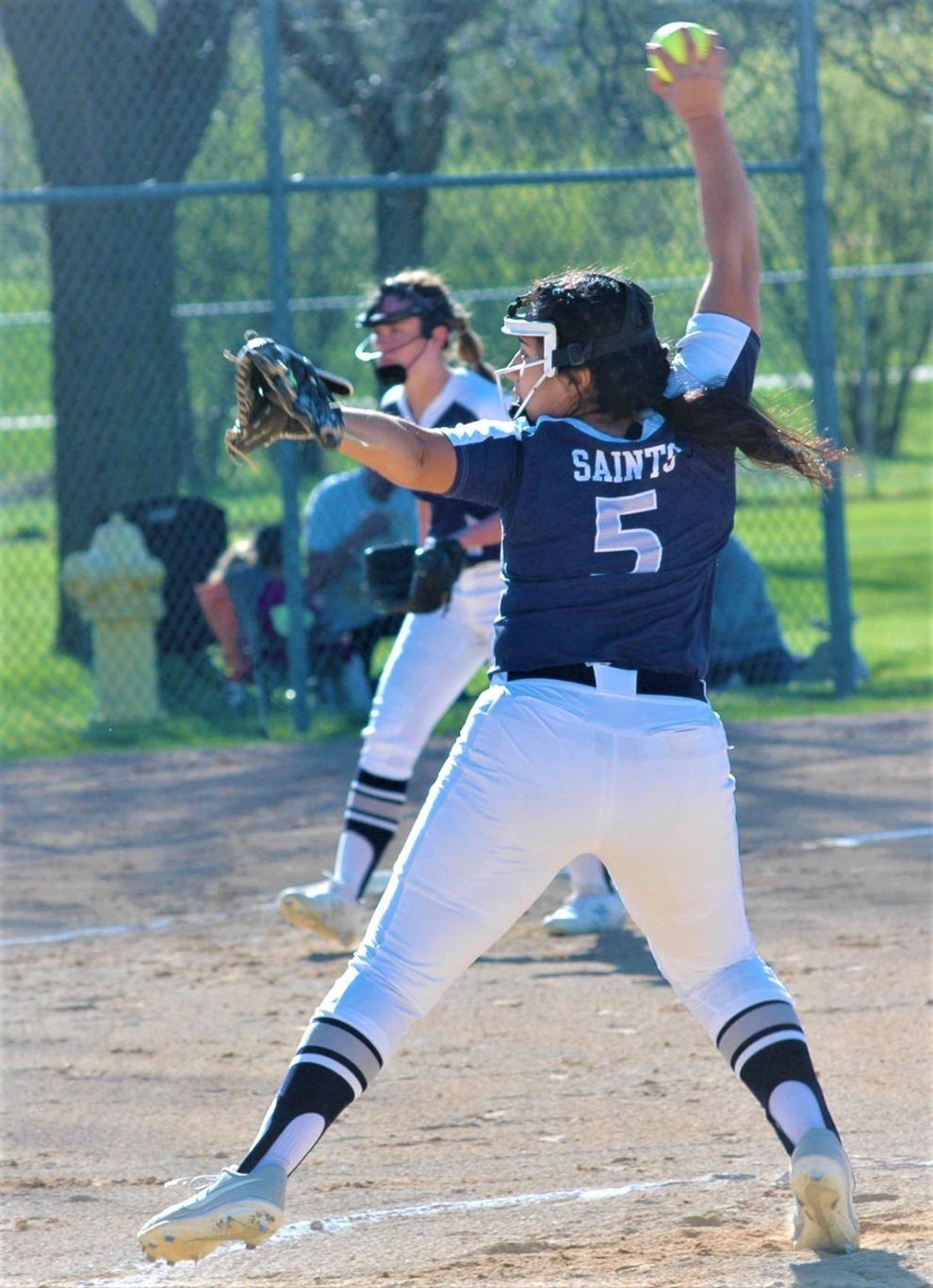 Ryenne Pettis pitched the Saints to victory. The ace went seven innings, allowing two runs on two hits and walking one.
"Ryenne Pettis pitched well tonight striking out 10 batters and 0 earned runs," Niemeyer said.
Six Saints had one hit. Ruffin went 1-for-3 with three RBIs and two runs. Remmert batted 1-for-4 with one RBI and two runs. Penkert hiy 1-for-3 with one run. Van Zee finished 1-for-3 with a run. Pettis went 1-for-4 with one RBI. Davis batted 1-for-2 with one RBI and one run. Zachman walked twice and scored one run. Rahman had a putout in her only chance in the field.