In this world of the COVID-19 pandemic, athletes are not allowed to gather together and play high school sports.
But that's not stopping them from staying in shape by working out at home. And they're getting guidance from high school strength and conditioning coaches with tips, online videos and classes on how to do it right.
Not just the big, tough guys are lifting weights.
St. Peter
The softball coaching staff really embraced lifting this spring and the girls were poised to have a great year, St. Peter strength and conditioning coach Doug Boyer said. "About 50 percent of the athletes that lift are female athletes, and it has really been awesome to see."
Boyer and his assistant Marc Bachman work with the St. Peter athletes. Boyer, who has been the St. Peter strength coach since November of 2018, has many ideas for athletes to get in shape during the stay-at-home orders.
"The best thing athletes can do is stay active," Boyer said. "There are literally hundreds of exercises you can do with just your body weight that will keep you fit. Another thing, and Marc helps a lot with this, is practice sprinting. The one thing that almost all sports use is speed. Practice correct running form and work on sprinting."
Some of the exercises that Boyer incorporates in the workouts and sends out to athletes are just like they would do in the weight room.
These include about five variations of push-ups, including handstand ones using a wall, body weight squats, single leg squats using a bench or chair, hip thrusts using a chair or bench, dips again using a bench or a chair, use a doorway and do body weight rows, lunges, calf raises.
"You can work on agility playing hopscotch or just set up a cone drill in your backyard using whatever you have available. The list is really extensive," Boyer said.
As soon as they were told they would be out of the weight room for a while, Boyer designed a weight program and shared it via google docs with more than 100 student athletes.
"I add to it and supplement it with a few workouts from various websites that I trust have good information," Boyer said. "All coaches have access to it also and can add sport specific exercises as needed."
Exercises vary from sport to sport, but total body fitness is the goal for everyone.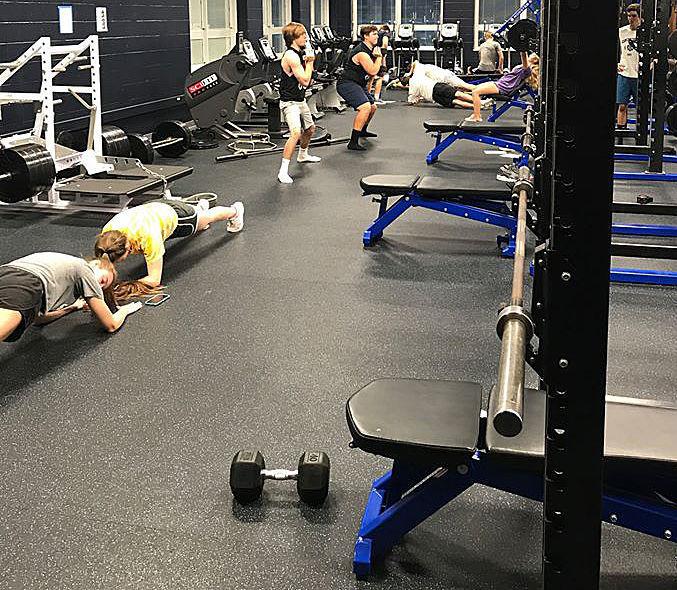 "Obviously some sports have specific muscle groups that they use more, but overall most athletes need total body fitness," said Boyer, who has coached football for six years. "Most sports use power movements, and that is where the hip thrusts, box jumps and things like that come into play."
Bachman, who has coached football, track and basketball and served as the strength and conditioning coach from 1993 through 2011, "has helped develop our speed program and is publishing some videos on speed mechanics," Boyer said. "Marc has a speed training series he puts out every week that we share with the athletes."
Boyer estimates that there are "at least 60-plus athletes staying pretty active. It is hard to tell, because I have no way of recording who checks out the google doc, looks at the St. Peter High School Strength and Agility Facebook page or uses the workouts that I send out."
He added, "Normally we have over 100 student athletes go through the weight room on most days. That includes in season athletes, between season athletes, and also more and more students that don't necessarily participate in school sports but want to get strong and fit for everyday life. Working out is fantastic for your mental well being."
Boyer post workouts two to three times a week via the St. Peter the Strength and Agility Facebook page. https://www.facebook.com/saintsstrength/ Google Doc, and group texts.
"Right now I have about four different groups of athletes in group texts that I talk to almost every day," Boyer said. "Normally I would see those athletes in the weight room or in the gym working on agility. Marc runs speed workouts two to three days a week after school, but now we share his videos via our Facebook page and email. The one thing this tests though is an athlete's determination. It's a lot harder on your own, but it is doable."
Here are the link's to Bachman's speed workout videos that he shares with students on the St. Peter Strength and Agility page:
Week 1 https://youtu.be/OK6jJa916z0
Week 2 https://youtu.be/XrvN0Wi9LrI
Week 3 https://youtu.be/YWNyyUJPi9A
Week 4 https://youtu.be/98Vs_pmgU0Y
Even without all the exercise equipment, athletes stay in good shape, Boyer said. "They just have to be creative and use what they have. I have seen videos of athletes carrying dog food bags, doing curls with milk jugs, doing pull ups on tree limbs, whatever they can find. The big thing is to stay with it. Set a routine and workout just as if you were coming to the weight room every other day."
Will athletes be as properly prepared for sports?
"That's tough to say," Boyer said. "Some of the most involved athletes are off-season football players. Right now most of them are actually doing a sport specific workout that should keep them in shape and strong. They are probably the group that contacts me the most about various workouts. Baseball and track also have sport specific workouts, and I am sure all the coaches are staying in contact with their athletes."
Bachman said, "The student/athletes who are regulars in the weight room know the importance of being physically prepared to compete. I'm confident captains are connecting with their teammates and encouraging them to be prepared when they can finally compete again this fall."
Comparing high school to college strength and conditioning, Boyer said, there are a few big differences. "For the most part college athletes are one-sport athletes and most high school athletes are multi-sport athletes. That's why I try to use a total body approach regardless of sport. In college they have dedicated time within their program for lifting and not only that they have nutritionists and other sports specialists working with them. Secondly, high school athletes probably have less time to dedicate to strength and conditioning in general. They have seven hours of classes, other activities, part-time jobs, keeping up with homework, and being a teen-ager to take up a lot of time, not to mention practices and games.
"High school athletes really have to be dedicated to lift and workout without their athletic department making special considerations for them. It's amazing but we have about 60-70 kids in our weight room every Monday, Wednesday and Friday morning at 6:15 a.m., lifting before school. The music is playing, and kids are working their sports lifting program or running through agility drills, or biking, just awesome how dedicated they are to getting stronger and quicker."
Several schools have strength coaches, and Boyer said he knows that at least four other Big South Conference schools have them on staff. If they don't have one on staff, they have a program that is overseen by other sports coaches.
"I think the best thing about having one is that it allows the individual sports coaches to focus on their sport and know that someone is taking care of the weightlifting and conditioning part of it," Boyer said. "They all can have input into what is done and know that I will work with them. I am a member of the National High School Strength Coaches Association and have attended clinics with several coaches here in Minnesota.
"Thanks to all the St. Peter residents who made this program possible. We have an outstanding facility and we will try to use it to benefit our students, our schools, and our athletic teams, to the utmost of our ability. I also want to thank all the parents who encourage their kids to participate, seriously getting up and driving students to workout at 6 a.m. is amazing and shows how much you believe in them and us."
Tri-City United
Tri-City United strength and conditioning coach Andrew Meier said there are many ways to creatively get in shape without exercise equipment.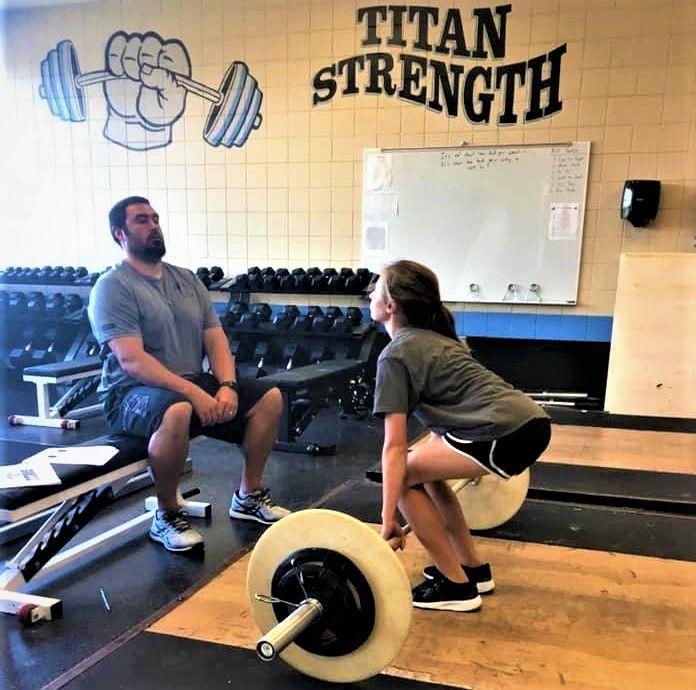 "All good programs are built around the idea of having certain components in them," he said. "So if you squat, pull, press, row and Olympic lift you will have a very solid program. Be creative if you don't have access to a gym and find ways to include these components. Another component that requires zero equipment is sprinting for speed and explosion."
For those without weights, Meier recommends using broomsticks, milk jugs, canned food, going outside and finding heavy things to lift. Meier has not posted any of his programs online but has shared them out to TCU athletes who have asked for them.
Meier, who is the original S&C coach at TCU in his eighth year, has a few different programs depending on the setting.
"I use an in-season program designed for lifting twice a week," he said. "I have an Off-Season program designed for lifting three times a week. I also have a program I use with my students who take my S & C (Strength and Conditioning) classes in school and lastly I have a program I use for my Olympic Weightlifters during our season."
Meier, who has coached football, basketball and Olympic weightlifting, said all sports can benefit from weight lifting. "I am a firm believer that all athletes should be using the same things when designing and implementing a program. I believe all sports programs should be using the weightroom to develop their kids into bigger, faster, stronger athletes."
From 50 to 60 students take his S & C Classes and another 40 to 50 athletes are on his Olympic Lifting Team. "There is some crossover, so I am guessing around 60 to 70 total kids," Meier said.
Exercising programs do not need to change during the virus.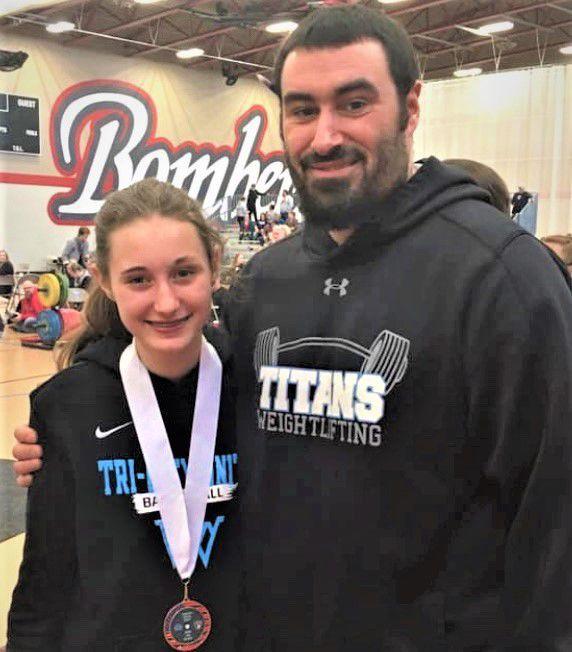 "If the athletes are motivated to get better, I don't think there is much that needs to change from a design and implementation standpoint," Meier said. "Again athletes may need to get a little creative to be able to do some of the movements."
Some athletes may take it easy during the pandemic and not properly prepare for sports.
"I am sure there will be some athletes who will use this pandemic as an excuse to not workout as hard or as often as they should," Meier said, "but I think as a coach that will show you who really wants to be good and which team and players have good leaders."
Meier doesn't think there should be a difference between high school and college strength and conditioning.
"If you have a good S & C coach and program, you will be doing the same types of movements in both because these are the most beneficial things that have been scientifically proven to make bigger and more explosive athletes, which I think every coach would want," Meier said. "I know a lot of college S & C coaches would love it if all of their athletes had the proper training on these movements in high school. Unfortunately, a lot of high school athletes don't get that good instruction and lack knowledge and understanding on how to do certain lifts. This leaves college coaches having to spend time educating the athletes."
A lot of big schools have a S & C coach, but Meier thinks "that it is improving across the country. There are still a lot of schools who rely on sport coaches who have very little training in the subject to run programs, This leads to poor mechanics and just bad teaching form for most athletes.
"The weight room can be a great place to make dreams become a reality, but if not done correctly it can also be a place where dreams go to die. Proper instruction on form can and will go a long way. Don't worry so much about the weight because with good form the weight will come. Trust the basics and don't fall for all the gimmicks that you see on the internet."
Le Sueur-Henderson
Most bigger schools have a strength and conditioning coach. Le Sueur-Henderson does not have one, but head football and wrestling coach Mike May, who played football at Gustavus Adolphus College and plays amateur baseball for the Le Sueur Braves, has created a program and opened the weight room in the summer.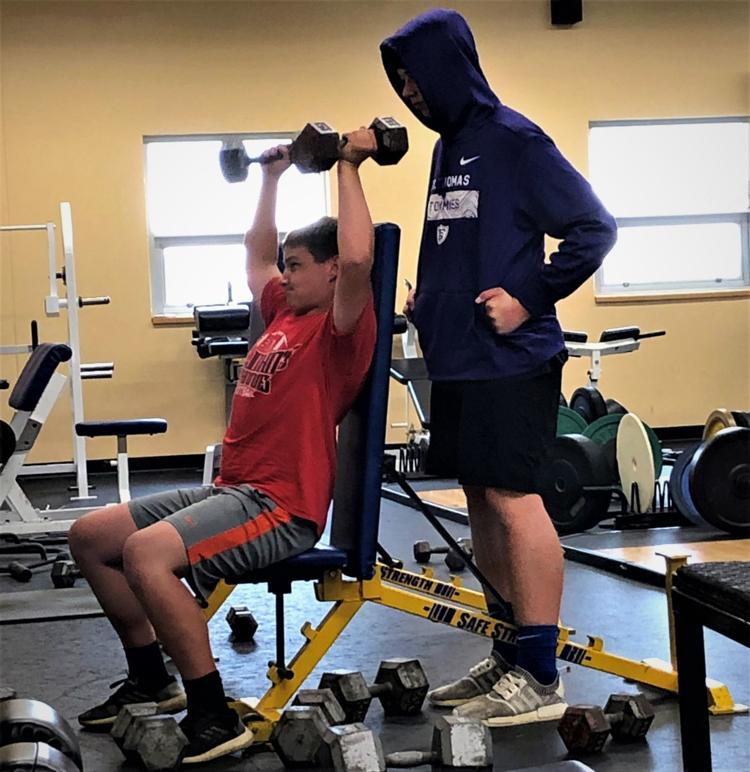 "I have a three-day a week program for student athletes with some base weightlifting exercises and exercises for injury prevention," May said. "I have a google sheet that the athletes can track and monitor their progress. The athletes received 300 different body weight work outs in a PDF through a remind text. They also have access to a strength program that I created for them on a google sheet. If they have access to weights, they can do those. I have sent the different workouts with no equipment for both football and wrestling."
Without all the exercise equipment, May said athletes can "stay pretty good of shape with the body weight exercises I have given them. Not having equipment hurts the amount of load the athletes can use and will hurt their development in strength. But their are other areas that they will be able to improve in, and I encourage them to do speed, agility and overall fitness. Students need to get active anyway possible."
May doesn't have a formal check in for them to do the activity. "The athletes have to be accountable to themselves and their teammates.
During the virus, the athletes are on their own right now to get the activity completed, May said. "Usually in the spring we open the weight room three to four days a week in the morning. It is always open after school, and in the summer I open the weight room from 8 to 11 Monday through Thursday morning."
Preparation for sports, especially football and wrestling which require weight training, may be more difficult during the virus.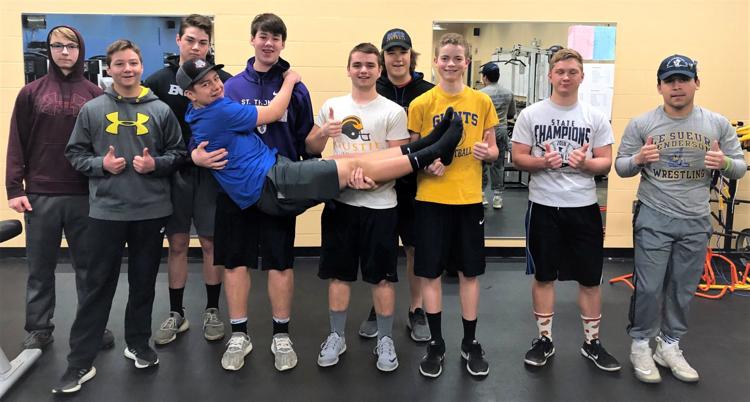 "I think this hurts an athlete that is motivated and willing to put in the work to improve themselves," May said. "Everyone is in the same boat right now… I don't think it will create an unfair advantage but athletes could be more susceptible to injury."
May said every sport can benefit from strength training. "We try and encourage all sports programs to get in the weight room. I have a general overall work out plan for all athletes. We do sport specific exercises in season."
College strength and conditioning is very different than high school, May said. "Most athletes in college are there because they want to be good at that sport. They have more drive at that level and usually picked the school because they wanted to play that sport or received a scholarship. The programs are usually more sport specific for colleges. In high school, most of the kids are learning. I try to teach them good overall mechanics to lifting. Once they get comfortable with weightlifting, the program/document that I made can be added to with some auxiliary lifts and speed/agility training. A lot of college athletes are in the same position as the high school athletes. Most of the gyms are closed and access to equipment is very different."