There's no denying that St. Peter boys 4x200-meter relay team members senior Jamarion Robinson, junior Kole Guth, sophomore Brooks Reicks and senior Seth Reicks have the natural ability to run fast.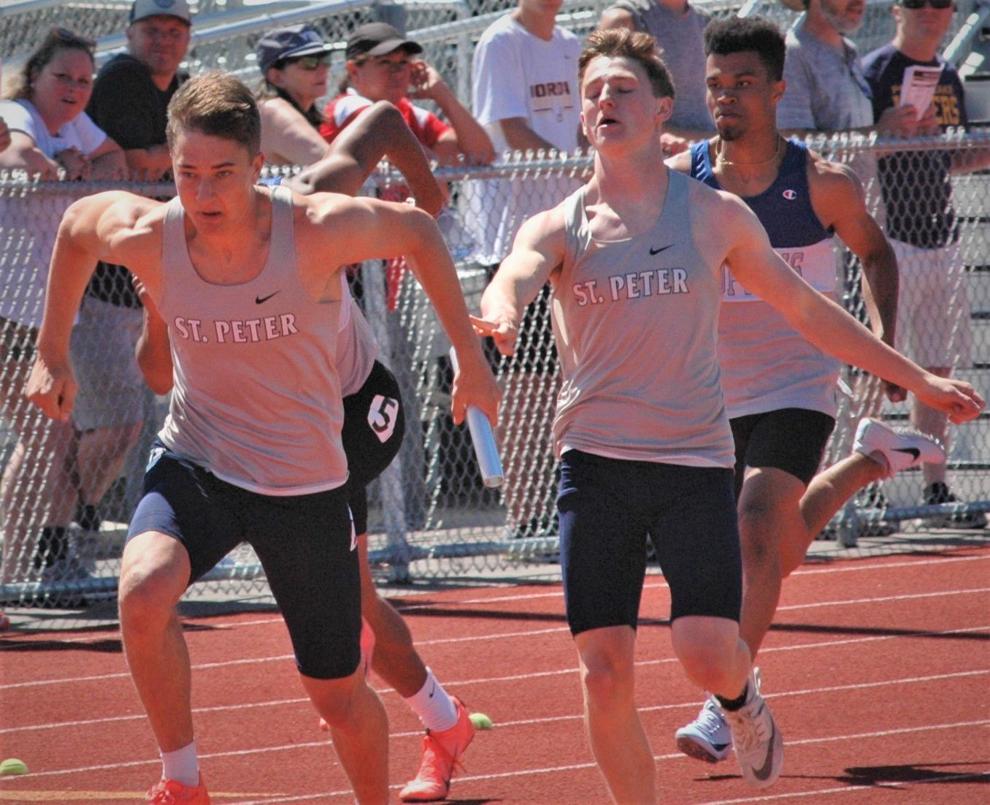 But hard work kicked them into another gear as they teamed up to place second in the state Class AA track and field championships Saturday at St. Michael-Albertville.
"Everyone thinks it's all genetics," said Brooks Reicks, who made state in three events. "But that's not always the case. Natural ability helps, but if you push yourself to be better every day, you'll get there."
The relay team also has good chemistry together.
"We all like each other," Brooks Reicks said. "We're brothers now."
Guth, who is a sprinter and ran the 4x100 and 4x200 with other teammates, joined the relay in the last three meets.
"We had good team chemistry and then when we ran after the New Prague meet and everything went wrong in the relay, we spent a lot of time working on our handoffs and just making everything right," Guth said. "It took a lot of work to get it right."
In the process of placing second in the state, the foursome also broke its own school record for the second time in as many meets with a time of 1:28.63.
"Our goal was to place first, but it's still great to get second," Robinson said. "I'm really happy with what the team was able to do. We broke the school record twice. That's a plus."
Seth Reicks, the anchor, nearly ran down the champion, Farmington, at the end, finishing within just half of a second of a state championship.
Robinson led off the relay and burst out off the starting blocks by passing two runners and handing the baton to Guth.
Just like in the section, Robinson had a great start. Running in lane 3, he said, "I passed both lanes 4 and 5 next to me."
Seth Reicks said, "Bookie (Robinson) had the fastest start that I've ever seen him run before. Kole got the baton, and he did exactly the same thing. Kole probably gained on everybody."
Guth agreed that "the highlight would be Bookie's start. He came out really fast."
When he handed the baton to Guth, "I was pumped and ready to go. I think I passed one or two."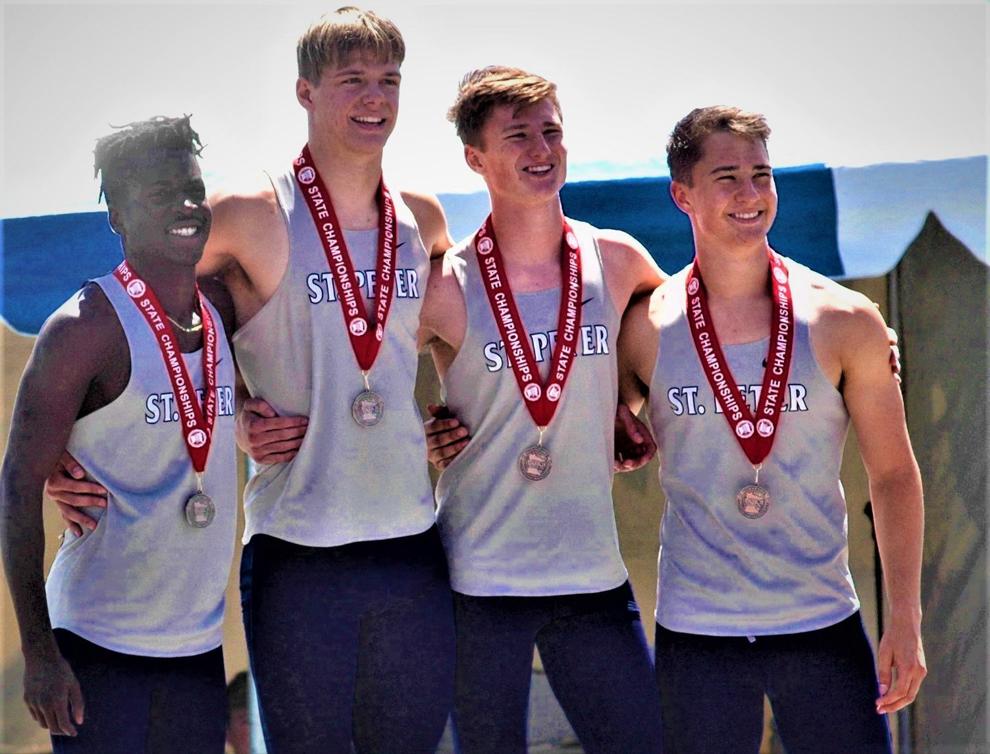 Seth Reicks said, "We were expecting to get beat by Hill-Murray and Hopkins, but by the time Kole handed it to Brooks, we were well ahead of both of those teams. Then Brooks had another good leg, and by the time I got the baton we were in second place just behind Farmington. We weren't expecting them to be good, but we were beating the big city schools by the time I got the baton, so we were ahead of Hill-Murry, Hopkins, Eden Prairie. I almost ran down a Farmington kid. But they just barely got us and we finished second which is better than I could have ever hoped for. If I would have had 5-10 more meters, we would have been state champs.
"The relay was better than anything I could have every imagined. It was extremely exciting for all of us and a perfect finish to a perfect season."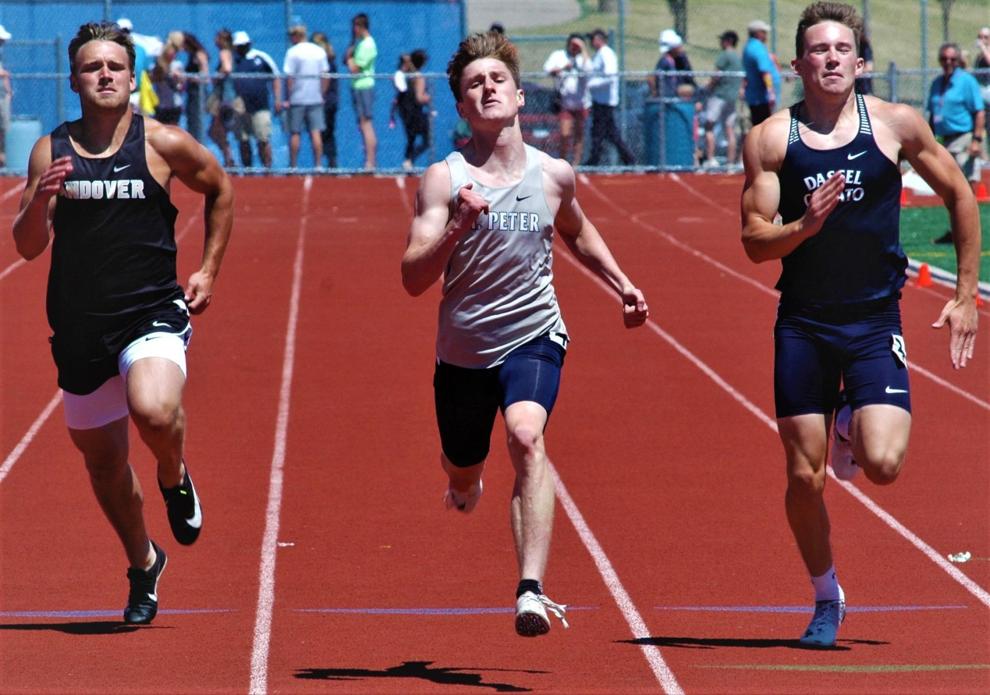 Brooks Reicks agreed that "the relay was amazing. We worked really hard. That's the best we could have done."
Brooks also earned a fifth-place medal in the 400 dash in 50.06 and placed 12th in the 200 dash in 22.53.
His three events all happened within an hour.
"This meet was a little more difficult than state in the past because it's just a guys' meet, so there is a little less time between events," Seth Reicks said. "Brooks had very little time to recover after the 4x2 and the 400 meter dash, but he still put out extremely competitive times after such a little break.
Brooks Reicks prepared for the tough grind by starting practices out by running long distances.
"The coaches get us in the 400 repeat," Brooks said. "You get the long distance work outs at the beginning to establish a base, and then toward the end of the season, you work on quick sprints."
Placing fifth in the 400 is extremely impressive for a 10th-grader, Seth Reicks said. "He's got two more years to come."
Brooks said he "started off kind of slow in the 400. I like to pace myself off the guy on my right, and he was going a little slower than I expected, so my first 200 wasn't as fast as it normally runs. But it turned out fine. The place is nice for 10th-grade. I was the only 10th grader in that heat."
Brooks thinks he has a lot of speed left in him.
"I can get to to a new level next year and in my senior year."
His goal next year in the 400 is to beat the school of 49.4 held by his big brother, Jade. "He only ran it once to see if he could break it," Brooks said.
Brooks ran a personal record in the 200, but he didn't get the start that he wanted. "But more hard work at the end pushed it for me," he said.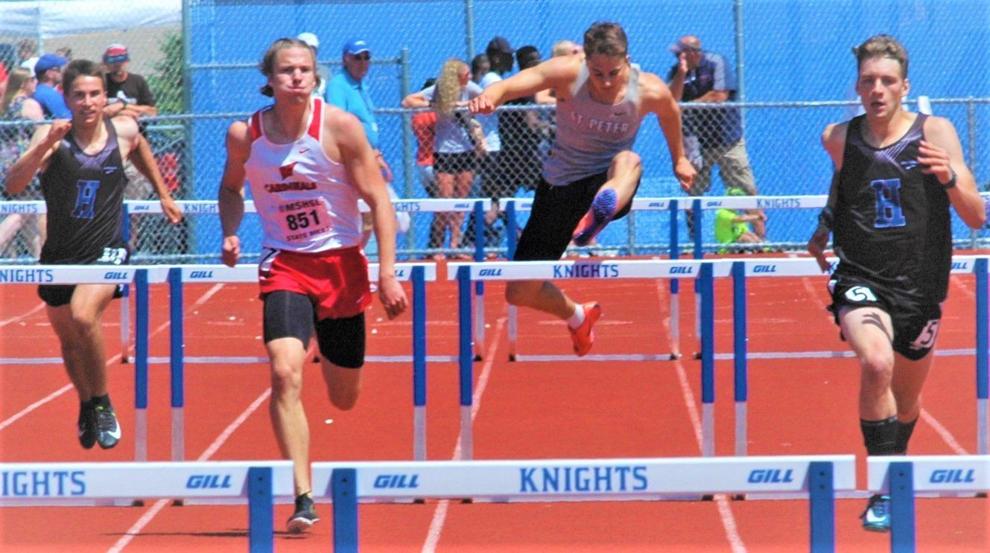 Brooks' said his long term goal in the 200 is to get below 22 seconds.
Seth also took home a seventh-place medal in the 300 hurdles in 40.60.
"My time wasn't quite what I wanted it to be," Seth said. "But it was the state meet, and I came out of the blocks faster and better than I ever have. My first two hurdles were perfect. Because it's a state meet, I had more adrenalin than I've had before, so I had a faster pace and my steps were a little bit off, so I had to stutter a little bit before all the hurdles to come which slowed me down a little bit. But at the end of the day, I'm very happy with a seventh-place finish."
St. Peter hurdle coach George Schoenborn agreed that Seth Reicks reached that level in the 300 hurdles through hard work.
"If anybody would have said at the beginning of the year that he'd be at the double AA meet, they would have been crazy, but he worked his tail off," Schoenborn said.
The Saints have relay runners coming up to fill the open spots. "There is always the next generation coming up," Brooks said." If they work hard, they will get here.
"We're going to have to find kids to replace Jamarion and Seth because they're both graduated," Guth said.
Robinson is moving on to South Central Technical College and then Minnesota State University, Mankato. While he doesn't plan to run track in college, he said he may try football. He is undecided on his major.
Seth Reicks is following his older brother Jake Reicks to the University of Minnesota in Minneapolis to study biology. He doesn't plan to play sports in college. "I think I might hang up the cleats, unless over the summer, I decide I want to run in college. Now I'm just going to focus on school."