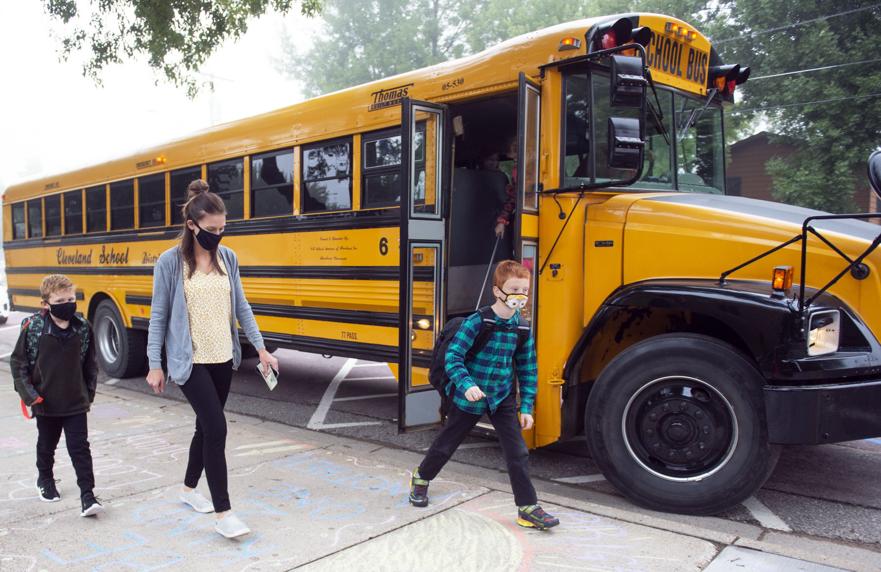 With student absences on the rise, grades falling and teachers juggling between in-person and distance learning classes, Cleveland Principal Scott Lusk told the School board that the current learning model wasn't working.
On Monday, Oct. 20, the Cleveland Public School District approved a new school schedule intended to give teachers more time to prep for classes and meet with students one on one. Under the new policy, Wednesdays will become early out days where students will be in class until noon and work on projects in the afternoon. Late start Wednesdays, which are once a month, will now become full days off.
Lusk and high school social studies teacher David Cink advocated the change as fears emerged that teachers could burnout and more and more students were having difficulty keeping up.
One of the biggest stressors for teachers has been splitting their time between in-person learning classes and distance learning classes, especially for elementary school teachers. Cleveland's middle and high school students have been on a hybrid learning model and faculty say that high school teachers have been more prepared to teach their kids in both environments.That's not the case for the elementary school, which is on a full in-person learning model.
Two months in, the amount of students distance learning has risen from around 20 to 31. On top of that, record numbers of students are reporting absent. As of Oct. 12, 118 students so far this year did not come in for at least one day. The high school alone has received 349 absences due to medical appointments. The high school has seen 237 sick days and the elementary school 93. Often, the school isn't given any explanation for why a student is not coming to class.
"These are off the charts numbers," said Lusk. "Students are flip-flopping back and forth and parents are supporting it and that's the problem right there. They should have to do a quarter, but somehow, someway, our teachers go over the top here, they help every single kid who pops on."
"Our teachers aren't ready for it at the elementary. They are all in. We're not supposed to be distance learning except for the seven kids that were doing it, but now all of a sudden it's 40, 50, 60 that have to be sent home because of protocols."
Teachers are already seeing a higher workload on top of managing multiple classes. Cleveland is short on substitute teachers, so faculty are often filling in for absent teachers. Teachers receive more and more emails in the evening from parents and classes often eat into the time reserved for preparing lesson plans.
"Essentially teachers need to be ready to teach three different groups a lesson as opposed to just one," said Cink. "They've got to be ready for distance learners, hybrid learners, in-person learners and honestly as a high school teacher it isn't as challenging for me as it is for an elementary teacher partially because high school kids can just figure things out themselves better. I'm not sure I could be an elementary teacher right now trying to juggle all that."
These stressors aren't just exclusive to Cleveland. Nearly 30% of teachers in Minnesota are considering quitting or retiring, according to an online survey of 9,700 teachers by Education Minnesota. An increasing amount of educators report feeling stressed and worried about their mental health, and the most stressed are teachers who have to instruct different classroom models.
"I don't know how many teachers have been in my office breaking down and I'm scared for the teaching profession in general right now," said Lusk.
Cleveland Public Schools has partnered with Counseling Services of Southern Minnesota to provide group therapy for teachers as well as students and parents during the pandemic, but faculty saw a greater need for teachers to get some relief through early-outs on Wednesdays.
During early-outs, teachers will have prep time reserved in the afternoon, which will be reserved for project based learning that students can do on their own from home. Teachers will also have time in the mornings between class periods to meet one on one with students who are failing in class.
Lusk reported that an increasing number of students have fallen behind academically this year. More students are absent and Lusk said that some of the absences among older kids are happening without their parents' knowledge. Students choose to move to distance learning because they aren't in the same student group as their friends or because they simply don't want to go to school.
"I think now is the time to slam the brakes and do interventions with our high schoolers," said Lusk. "I know teachers are going to say that doesn't work well, but it's a proven best practice that has to be done. Teachers are going to have to meet one-on-one with kids because you can't have this many kids not doing well, you have to figure out a way to meet them and currently what we are doing is not working."
"It's not just to give teachers a prep time, it's about getting these kids who are failing a chance to meet with their teachers. If we don't do this, we're failing our kids."