Most worship centers in the region have postponed in-person public services and activities through at least early April, but many are getting creative, finding ways to broadcast and stream services online or taking measures to make church visits safer.
The changes are due to restrictions on public gatherings because of the COVID-19 pandemic. Gov. Tim Walz put a temporary ban on all gatherings of 250 or more people, and since that time, the federal government advised that gatherings do not exceed more than 10 people in the near future.
Churches, places where many gather multiple times a week, had to make quick decisions. Worship is built into the backbone of many religions, and faith is what many turn to in difficult times, but leaders of different religious groups are calling for responsible decision-making as a disease, dangerous to many, continues to spread.
But many in southern Minnesota art still looking for ways to provide services to worshipers, whether making facilities safer for the eventual return of in-person worship, or using technology and other creative means to reach followers even when the doors are closed.
Catholic churches in St. Peter and Nicollet
Catholic churches across the region are suspending mass until further notice at the behest of local dioceses.
There are some general streaming options, like CatholicTV Network — www.watchthemass.com (Spanish mass available); EWTN (Eternal Word Television Network) daily mass — https://video.ewtn.com/daily-mass; and Word on Fire — www.wordonfire.org.
The Winona diocese, which includes churches in Owatonna and Waseca, records a Sunday mass broadcast on Channel 12 in Mankato. The St. Paul and Minneapolis Diocese, which includes churches in Northfield, Faribault, Le Sueur County, Lonsdale, Kenyon and several other local places, should have multiple streaming options. Find resources at www.archspm.org/covid19/live-streaming-resources.
The Catholic Church of St. Peter in St. Peter and the Catholic Church of St. Paul in Nicollet, meanwhile, are part of the New Ulm Diocese, and neither church will have broadcasting or online streaming of services, though some in the diocese are streamed on local public access channels.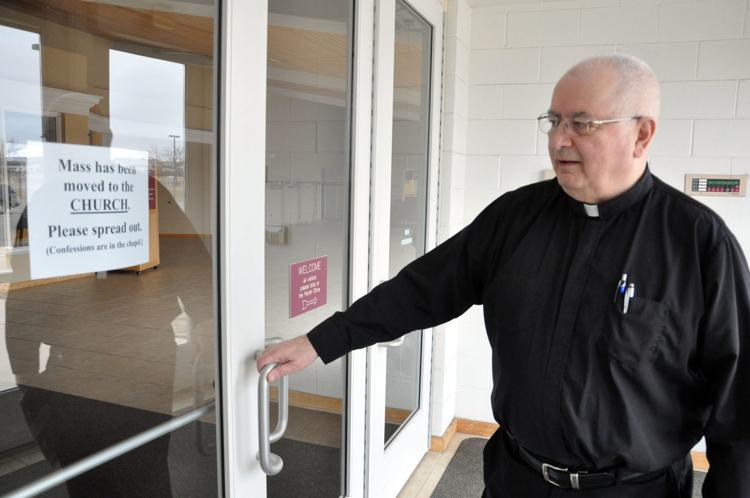 In the midst of the pandemic, Rev. Denny Labat, who serves both the St. Peter and Nicollet churches, suggested parishioners read the scriptures in the Bible. "A number of people have a daily reflection booklet that we have available through the parish."
With no public masses from March 18 to March 31 at any Catholic church in the New Ulm Diocese, Labat said, "We need to keep people in own prayers. We need to look at how we can be a strength for each other. We need to care for people who are shut-ins. It can be as simple as getting groceries or as simple as calling people. Sometimes they just want to talk."
The churches held services until March 18 when the Bishop John LeVoir officially suspended all public masses in the diocese.
Attendance was already less than in the prior week services, even though confirmation of 34 students was held March 15.
"A number of the regulars are not coming, more so the older ones have wisely chosen to stay home," Labat said. "We reinforced that anyone who was elderly or vulnerable stay home."
The weekday services, usually held in the smaller chapel, which has seating for 50 people, were moved to the main worship space which has a capacity of 900. The move was made to allow people to keep their distance from each other. Handshaking also was discontinued.
In addition, Holy Communion was altered where parishioners could no longer drink from the chalice but only take the host (bread).
A number of meetings were postponed, some staff worked at home, and the children's liturgy was canceled as well as the Knights of Columbus Fish Bowl March 27 and the John Ireland School Luck of the Irish 5K & Kids K, dinner and auction March 21.
A number of other St. Peter churches have cancelled all in-person services and activities until further notice, including Calvary Baptist, First Lutheran, Trinity Lutheran, Church of Holy Communion, Union Presbyterian, River of Life Lutheran, Sunrise Church and St. Peter Lutheran Church and School.
Lutheran Church and Islamic Center in Faribault
Trinity Lutheran Church in Faribault is one of those that has the resources already in place to still reach worshipers during difficult times.
Services for Trinity began broadcasting on KDHL 920 AM radio 72 years ago. Live streams of services, running from 8 a.m. and 10:30 a.m. Sunday and 5:30 p.m. Wednesday, from Trinity (www.trinityradioandvideo.org) also run on YouTube and Facebook. In addition, they are broadcast on Consolidated Communications TV channel 10 and Charter/Spectrum channel 181, 3:30 p.m. Monday and/or Tuesday.
"Our video ministry has been going on for quite a while," said the Rev. Paul Rieger, senior pastor. "The people of the church had the foresight to invest in technology."
The full weekly bulletin will be on the screen and in a PDF on the website. Although many of the older parishioners don't use computers, they can still listen to services on the radio and watch on television.
Rieger said parishioners told him that "You can't cancel services," but noted that this is more significant than many once thought. The pandemic has escalated intensely and changed life for everyone dramatically.
Still, though, Rieger feels good about the future.
"It's a hiccup definitely, but we'll be able to get through it just fine," he said. "It's a chance to step up and live our faith in tangible ways. This is an opportunity for the church to be a center of hope and serve people in times of need. God has put us in the right place at the right time to do some good in the country, not just Trinity."
At Abubakar As-Saddique Islamic Center in Faribault, youth coordinator Bashir Omar spoke from his home Friday morning, because the center is closed for prayers and congregation for the time being.
Friday is considered a holy day in the Islamic faith, and at Abubakar As-Saddique, approximately 150 people usually come to the center for each of the five prayers conducted throughout the day. For the time being, the center is encouraging people to pray from their homes. Omar noted the crisis has impacted most Muslim-majority countries and is necessary to combat.
"It's impacting all over the world," he said. "Islam doesn't permit practicing that would put human life in danger."
The Islamic Center is asking members to follow established health guidelines to combat the pandemic. Omar said prayer is also needed so as to show trust in God.
Bethel Baptist Church in Owatonna
Bethel Baptist Church in Owatonna is trying to get creative.
Senior Pastor Michael Simmerman is in self-quarantine pre-recording his sermons from his basement office. He recently flew overseas to Amsterdam and has quarantined himself to protect people from possible exposure, in case he is infected. He does not have symptoms of the virus but wants to take all precautions necessary.
The church already posts videos at www.facebook.com/bethelowatonna, and now, in response to the virus, will begin live online streaming, starting with a 9 a.m. Sunday, March 22 service at www.bethelowatonna.com/live-stream.html and YouTube on the Bethel Church Owatonna channel.
"Our goal is to make sure people don't forget about church and they continue to be part of our community," Connection Pastor Ryan Hedlund said.
The first live worship will be in the church sanctuary with a few people providing music. The next week will be a full service with the senior pastor back in the building presenting his sermon together with the worship presenters.
Like most other churches in the area, in-person services are canceled well into April, and then the situation will be re-evaluated.