Two Concurrent exhibitions now on show at the Arts Center of Saint Peter both embody the idea of keeping old/simple styles alive in today's technological society.
"Primitive People; Playful and Predatory," by clay artist Cyle Gruver, is up alongside "Pillow Talk," by the Spinners and Fiber Artists, both showing through Sept. 28 at the Arts Center, with a public opening reception Sept. 14, 3-5 p.m. and artist remarks at 3:30 p.m.
Gruver's show is highly personal but also has a message for all.
In today's society, many of us may find ourselves wrapped up in the hustle and bustle of technology and maneuvering our way through an era which seems to be leaning toward a lifestyle of electronics and massive advancement in tech. Today's youth are learning much less in regard to simpler, old-fashioned ways of life; the ways of our ancestors.
For clay artist Gruver, primitiveness became the main focus when he decided to create his latest show.
Gruver, a potter and clay artist for more than 35 years, began his latest series of work with the notion that he would center his focus around disabilities, and he was initially inspired by a small bookmark featuring primitive ways of life and African art. This concept fascinated Gruver, and after two years of refining and defining his selective body of work, his show is finally complete.
Gruver is himself disabled; his mobility became limited in 2015 after a traumatic brain injury. For him, the study of primitiveness reflected much of his life, as a boy, as an artist, and as a man who has overcome and worked beyond his own disability.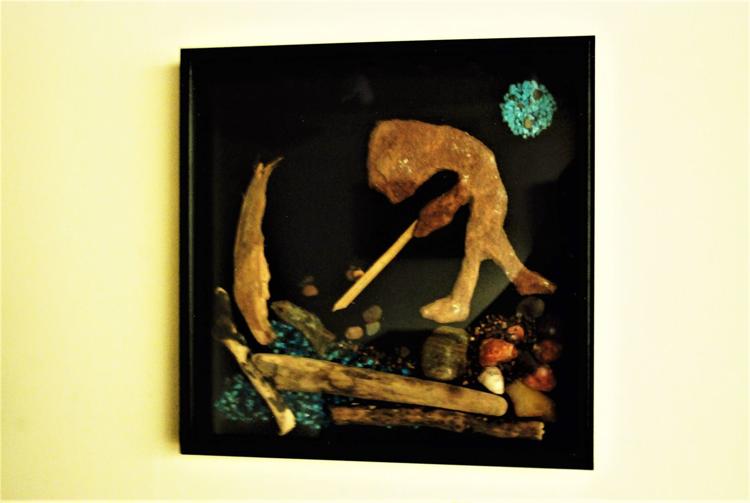 "As a boy, I spent a lot of time on Lake Superior with my mother. We were always looking for special rocks, agates, and twigs or sticks along the shore. It is one of my favorite spots to just sit and enjoy the outdoors and all of its beauty," said Gruver. "I spent a lot of time in nature with my father, as well; nature and hunting was prevalent during my childhood. I grew up there and I appreciate everything nature has to offer."
During his college years, Gruver worked as an advocate for people with disabilities, and after his injuries in 2015, he found himself having to relearn aspects of his life that many would take for granted.
After taking a year off from his studio work at the Arts Center clay studio, Gruver returned, and taught himself to once again work beyond barriers, through his passion of clay art, but did so with only the use of one arm and with limited sight.
"Cyle had a bit of trouble getting used to the fact that he had to make changes to his lifestyle because of his injury, and it was a hard transition to get used to; having the tables turned, so to speak," said Gruver's wife, Jan.
When Gruver began working on the primitive people body of work, his initial concept was to center on some form of handicap or disabilities, but also with the notion of creating primitive men, since this was such an interesting subject to Gruver. One of his first pieces of work, and also one of Gruver's favorites in his show, titled "Purple Prosthetic," featured two simple clay men, one helping the other to stand with the help of a large stick to stabilize him. The second clay image of a primitive man with an amethyst stone prosthetic leg. This, Gruver explained, was one of the stepping stones, if you will, to the rest of his body of work.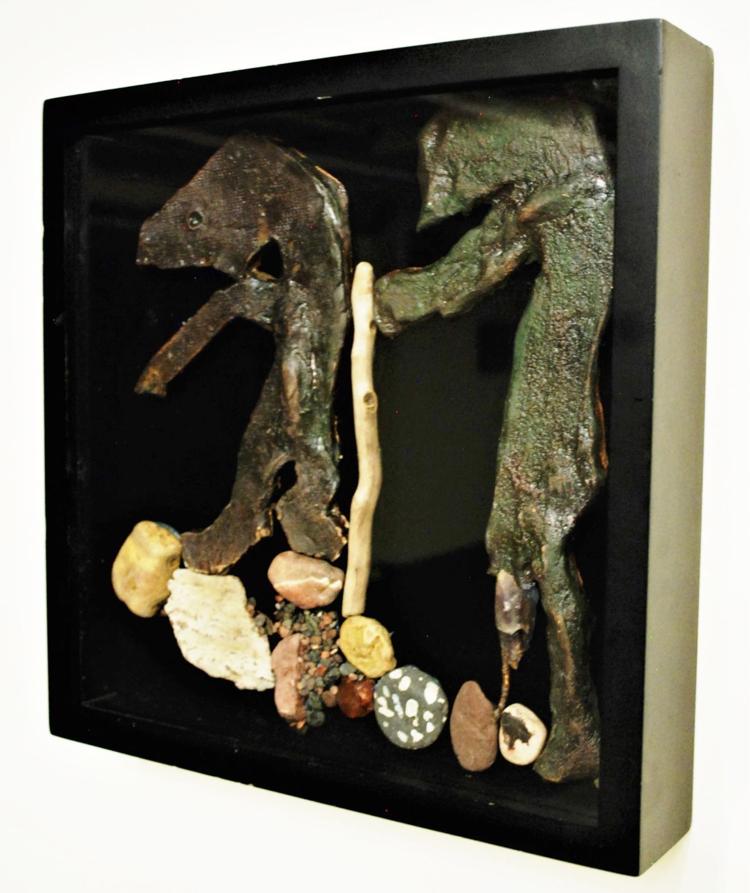 "I like the way this piece was created; with a stick for steadiness and the amethyst for a prosthetic, to get along," he said.
Each piece, individually and carefully purposed in sophisticated black shadow boxes shows the juxtaposition of the simple, primitiveness versus the complexity and elegance of their display cases.
According to Jan, Cyle spent numerous hours just assembling the boxes and creating each scene.
"We had tables of agates and stones, twigs, and sticks and relics from Cycle's childhood laid out, so that he could pick and choose what he felt worked best within each of his pieces," she said. "Each box took about two to three hours to create, and this doesn't even include the time it took to create the clay men, as well."
Each body of work centers around primitive men who are scavenging, fighting, playing, or hunting for food, according to Gruver. Much like his childhood, Gruver created these pieces with many aspects of his life filtered within the collection.
Many of the rocks and some of the agates are primarily from Lake Superior, collected throughout the years. This brought back many memories and stories for Gruver, who explained of adventures by the lake, digging through the dirt and sand along the shoreline for special pieces to take home.
When Gruver's parents passed away, four ammunition boxes became part of the legacy of his life; they had been carefully preserved throughout the years by Gruver's mother. In her passing, Gruver's initial reaction was to throw all the rocks away, as he did not feel he had a purpose for keeping them.
"I am very happy that I decided to keep the collection my mother left to me. I found that I really couldn't part with them," he said. "It has been a good way to reflect on my life, and my relationship with my parents as I have created this collection of simple, playful primitive art."
Many of the red agates in the show's pieces come from the ammo boxes, as well as several Arkansas agates. The Arkansas agates do not have red iron in them and are a different type of agate, not common to Minnesota, noted Gruver.
Another aspect of Gruver's body of work centered on was simplicity and the act of simple things that primitive people would have done, but also a reflection on the abilities of those with disabilities, as well.
One such piece in Gruver's show, and also one of his first pieces, is displayed on a light background, unlike the dark, night-like backgrounds that most of his other pieces are displayed upon. The concept of simple fishing, spearing fish and the representation of scavenging, embodied the concept of beauty in nature, and a simplified complexity of man versus animal, and the development or breakdown of the relationship between human-kind and and appreciation of where our society once came from.
"Primitive people aren't much different from us today," added Gruver. "We still hunt for much of our food and we fish, as well. The difference today is that we pay others to hunt for us, and while many people may feel we are nothing like our ancestors, we still are very similar. Just as those with disabilities have similar ways to get along, they have adapted their lifestyle to meet their own needs."
Gruver plans to carry out his idea of another show designed around disabilities at a future date and continues to work with ideas surrounding this concept. This is Gruver's third clay exhibit and he says his future work remains to be seen.