It was 16 years ago that St. Peter lost an artist and an icon in Paul T. Granlund.
An artist, and world renowned bronze sculptor, Granlund spent more than 50 years creating figurative works of art and influenced many artists, and lovers of art, throughout his life, many of which took place as the sculptor in residence at his alma mater Gustavus Adolphus College in St. Peter, which was a 'crossroads of sorts,' for Granlund, according to his son, Jonathan Granlund.
The man, himself, may have passed on, but the Legacy of Paul Granlund is quickly becoming more than the idea and concept that it was just a few short years ago. After attending an art advocacy event in St. Paul in 2014, Arts Center of Saint Peter Director Ann Fee took down the name and number of Jonathan Granlund; they had struck up a conversation over lunch and made the hometown connection regarding Jonathan's late father, Paul.
Fee recognized that Jonathan could be a great source of information for creating a (future) art show, or speaking at the center about his father's work. When the current idea to create a sculpture garden recognizing the work and life of Paul Granlund came into play at the Arts Center this past year, Fee contacted Jonathan, asking for his input regarding the plans to create the garden, and the concept began to fall into place from there.
"After the July 6th Arts Center 40th Anniversary, the initial concept viewing received a strongly positive response by center attendees. The response was positive both to the idea of showcasing the Granlund Legacy and showcasing the Minnesota River in a way that hasn't been seen or accessed before in St. Peter," Fee explained.
The concept and idea for the Granlund Legacy Park is to allow visitors to see each of the sculptures in the park as backdrops to one another. In addition, the city of St. Peter, which will ultimately decide on whether to implement the proposed sculpture garden, is looking at a riverwalk, elevated from the ground winding through the new park. This would all be located on the eastern edge of town, along the Minnesota River, just south of the Hwy. 99 bridge.
"We want park visitors to enjoy the park as a place that created that sense of inspiration for (Paul Granlund) and show the representation of his crossroads through each of the pieces within the park; such as being able to look across the valley, or up and down the river, and see the correlation with his life journey," Jonathan Granlund said.
Paul Granlund earned his Bachelor of Art degree from Gustavus in 1952. He spent several years studying sculpture in Italy, both on a Fulbright scholarship, immediately following the completion of his Master of Fine Art degree from Cranbrook Academy of Art in Michigan. He returned to Italy between 1957-1959 on Guggenheim Foundation fellowships to continue with his sculpture studies. Upon his return to the United States, Granlund spent more than 14 years chairing the sculpture department, and as a faculty member, at the Minneapolis College of Art and Design. In 1971, Granlund returned to Gustavus as sculptor-in-residence, until his retirement in 1996, but continued his work at the studio until his death, in 2003.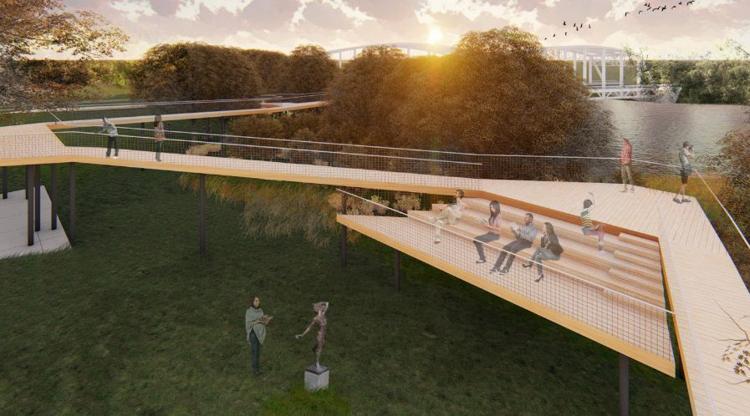 During his residency, Granlund influenced and taught many artists, including Minnesota bronze sculptor, Nicholas Legeros. Paul loved connecting with people; not only faculty and students at Gustavus, but also through demonstrations at local churches and elementary schools. Paul's connection with prospective students and their families who came through the studio on campus tours had a very great impact on some local artists who took interest in sculpture, and the art of bronzing. Dave Hyduke, a local visual artist, was one of these. Hyduke started on his journey into the art world, and developed his love for sculpting, after visiting Granlund's studio, shortly after Paul became an artist in residence.
"I consider Paul Granlund my mentor into the arts. I became fascinated with the bronze casting process, after visiting his studio and bugged him long enough that he finally had to take me on as an assistant," said Hyduke.
During this time, Hyduke established his own 'backyard' version of a foundry. When Paul's career blossomed, he asked Hyduke if he would be interested in starting his own foundry on a full time basis to help with some of Granlund's smaller castings. Hyduke continues to sculpt and run his foundry to this day, and attributes his career path to Granlund, and the passion he imbued.
"My father was all about people who were interested in sculpture, and wanted to try what he loved and knew," said Jonathan. "So many people have gone on to start their own studios, and their own companies, because of my Dad. It's amazing that he had such a positive impact on all these people, who really wanted to become artists, themselves, especially many local students."
He added, "St. Peter became the crossroads for my father. He came here as a student eager to study art, moved away, and when he returned he became even more famous and well known. My Dad loved art and his life as an artist. He would do the impossible for those that took interest in what he loved, and that was what embodied his art."
Amazing things happened throughout the years.
Paul created over 700 original sculptures, but made several copies of each, thus creating several thousand 'bronzes' during his career. It wasn't until the last 25-27 years of Granlund's life that he became prolific in the art world, with most of his bronze installations being made at his Gustavus studio. Many of his works became well known regionally, but also reached international destinations as well.
Granlund created several sculptures that now connect the Granlund Legacy both regionally as well as internationally. Granlund's "Charles A. Lindbergh - The Boy and the Man" is on display at the Minnesota State Capitol, as well as the Le Bourget Airport, Paris, France. 'Constellation Earth," another original Granlund sculpture, is a permanent art piece at the University of St. Thomas, as well as at ground zero in Nagasaki, Japan. Granlund created "Saint Francis" for Gustavus Adolphus College, and also one for Assisi, Italy.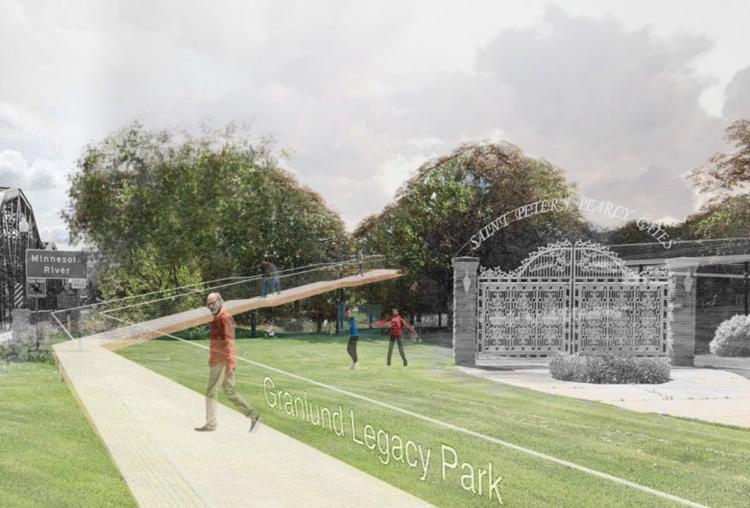 The Paul Granlund Legacy Park will be a place to celebrate the legacy that is Paul Granlund. The concept and idea behind it is to look at art and the surrounding spaces that contain the art, as if looking from a perspective that Paul would have seen his own art, explained his son.
Those who have been inspired by his work and have worked closely with Granlund, can attest to this concept and understand the passion that Paul had for art in general, and the many different elements that embodies each sculpture he created. Greg Mueller, a former St. Peter artist, investigated the idea of working and training under Granlund in the mid-90s and thought he would only spend the summer working alongside Granlund, but ended up staying for five years.
"Paul was like a great grandfather figure to me," Mueller said. "He taught me what it takes to be a successful artist. He showed me the process of sculpture and working side by side with a professional artist. Paul also taught me about the philosophy of art, and the history of art; the very essence of what art is about, and every aspect of that art."
Mueller found it a very unique opportunity to learn from a master, "a lost art of learning," he added. Years later, Mueller would return from living in North Carolina to take over Granlund's North Shore foundry at Lutsen, and carry on the legacy after his retirement from Gustavus.
Mueller said that given the opportunity to create a sculpture for the Legacy Park, he would gear his focus towards being more dependent on human interaction or activity. Creating a piece that embodies a participatory component, not just one that a viewer would look at, but one that would require viewer participation.
Jonathan Granlund noted,"The park will allow for visitors to put themselves (conceptually) into Paul's perspective on art by, not only looking at the actual art within the park, much like looking back in time, but also allowing for out-of-the-ordinary perspectives, such as above an art piece, and looking representationally out into the world and onto future possibilities, as well."