A fire broke out at a St. Peter business early Sunday, burning the building to the ground.
The KingPins bowling alley, located at 1671 S 3rd St. on the south side of St. Peter, was reported a total loss. The flames went up during the 7 a.m. hour Sunday, according to witnesses.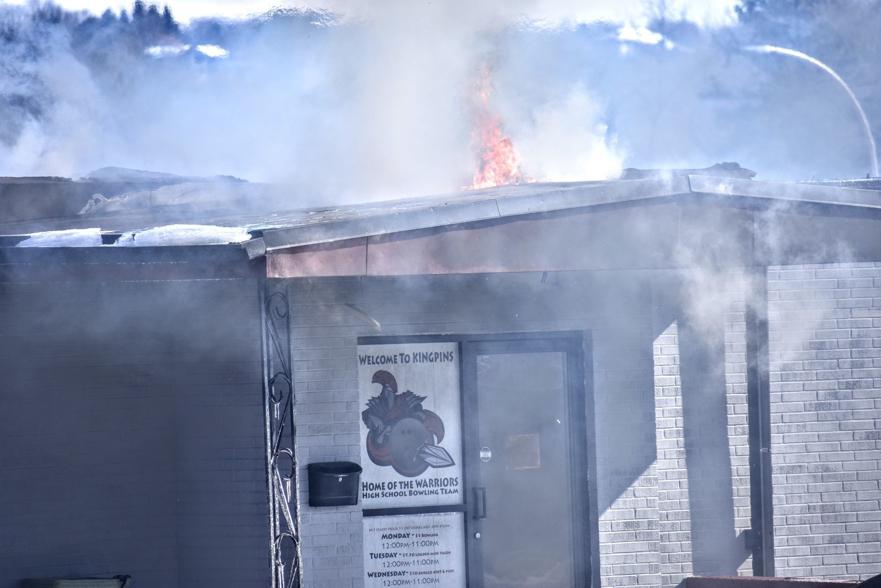 In a Sunday afternoon release, St. Peter Fire Department Chief Matt Ulman said the cause of the fire was being investigated; it may take a few weeks before anything is known. He noted that Kasota Fire Department and North Mankato Fire Department provided mutual aid in the response.
In a Monday interview, he spoke more about the incident.
"We were on scene for eight hours yesterday and back on scene for about two hours today, putting out hot spots," Ulman said. Hot spots are "small fires that couldn't go anywhere, but are nuisances."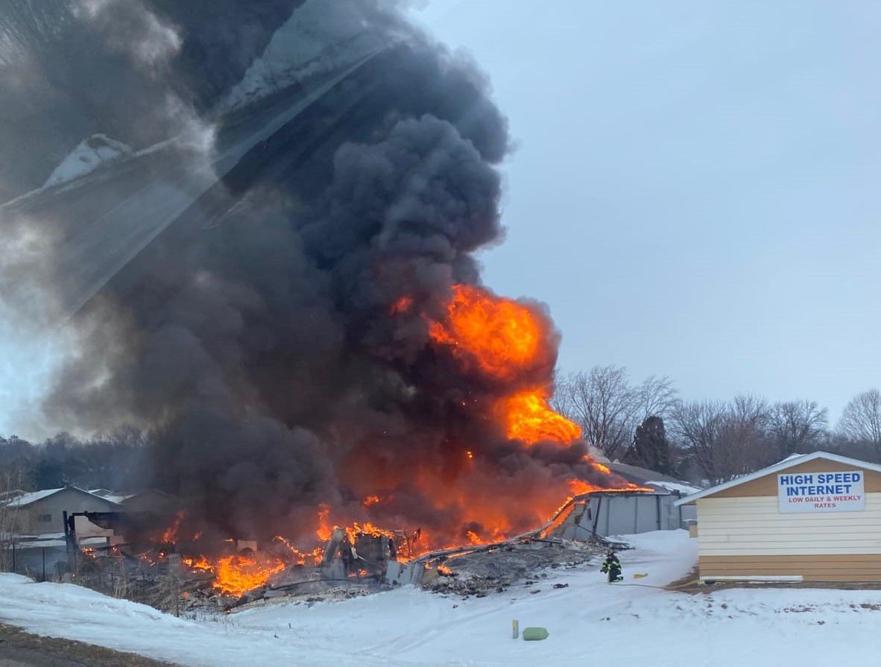 He said it took the team about four hours Sunday morning just to get the flames knocked down to a safe level, adding that, "To date, in town, it was one of the bigger fires I've seen. It's a wide open structure."
He praised the work of his team and that of assisting teams.
"I think our squad did an excellent job with the help of the Kasota and North Mankato crews," Ulman said.
Dwight Selders and Jessica Tonsfeldt, both of Le Sueur, purchased the property in 2014. It had already been named KingPins, and they wanted to continue the business.
"Our hearts are devastated," Tonsfeldt said. "The lives the bowling alley touched goes back generations. We are feeling the support of the community and patrons through this time."
Selders had a lifetime connection to the alley, having started bowling there at age 5.
"There's not any other bowling alley I'd like to own," he said in 2014.
Many St. Peter residents took to social media to express their condolences.
"So sad to hear that KingPins in St. Peter has been destroyed by fire just a few minutes ago," said Rep. Jeff Brand, a St. Peter resident, on Facebook Sunday morning. "Thank you to the (first responders) for keeping everyone safe and protecting the surrounding properties."
Norm Lager, who lives nearby the site of the fire, said there was "absolutely nothing" when he left his home just after 7 a.m. Sunday, but he got a call from a family member around 45 minutes later saying the building was on fire.
Scott Bur, who lives across the street from the site of the fire said it was about 7:45 a.m. when his family noticed it.
"Our dog started barking, and we thought, 'That's weird,'" Bur said. "And then my daughter said, 'Dad look,' and we looked out and, sure enough, the back end was on fire."
Bur also noted that "The flames were very big. And it was hot, too." His son Alex, added, "Yeah, you could feel it."
Bur said the work of the firefighters was "amazing to watch," noting that one of the responders "went down" and had to be taken into an ambulance. Ulman confirmed Monday that the firefighter is OK.
Resident Joe Reinemann was driving south on Hwy. 169 when he spotted black smoke and flames.
"I made a U-turn at Freeman Drive and called 911," he said. "I then went to the (neighboring Viking Motel) to make sure they were evacuating. I was able to hear two people banging on doors and telling the guests in the motel to leave."
No injuries were reported from the fire. And Ulman said there was no damage to adjacent properties.
"Luckily, it was contained to the one building only," the fire chief said. "It was awfully close to the hotel, but thank God the wind direction was going the right way."
According to property records, the building was first constructed in 1962 with a number of renovations since. It has served as a bowling alley for nearly 60 years, previously named Bowlero Lanes and Sioux Trail Lanes.