Voters were out in greater numbers for the 2019 local elections in St. Peter than in the recent past.
Four separate competitive city races helped to bring out St. Peter residents, while 10 candidates in the School Board election attracted thousands more votes from St. Peter and outer school district residents. In total, 1,664 people voted in the St. Peter mayoral race where Mayor Chuck Zieman defeated Shawn Schloesser to retain his seat. And in the School Board race, 7,082 votes were tallied, with two incumbents and two new members joining the board; that vote tally was increased partially because voters could select four candidates to elect.
Both are significant increases on the 2015 and 2017 elections, which also were limited to local races.
The 1,664 counted votes in the 2019 mayoral race is a boost from the 987 votes counted in the 2017 race, where Zieman ran unopposed. It was also a boost from the 2015 mayoral race, in which Zieman defeated Timothy Strand; that contest had 1,379 votes.
The 2019 mayoral race was also tighter than previous iterations.
Zieman won by 490 votes in 2015, showing a 35 percent gap between him and his opponent. In 2017, Zieman lost only 3% of the vote to write-in candidates. This year, Zieman's margin of victory was 23 votes, with just over a percentage point between him and Schloesser.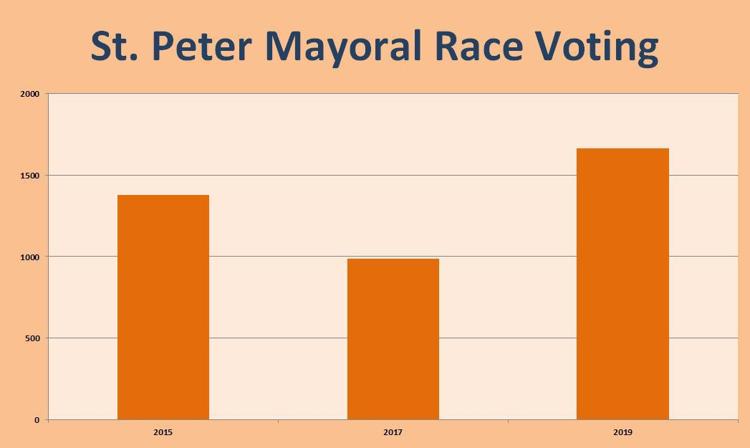 The 2019 race was split between the two wards in St. Peter. Zieman won both precincts in Ward I, while Schloesser won both in Ward II. Zieman, though, won his precincts by larger margins that Schloesser won his.
In Ward I, Precinct I, Zieman took the tally 328-299. In Ward II, Precinct II, he won 286-257. Schloesser's 92-61 win in Ward II, Precinct II and 168-164 win in Ward II, Precinct II were not enough to match Zieman's wins. There were also nine total write-in votes across the city.
Zieman's win keeps him in the mayor's seat through 2021.
Council races in St. Peter feature less votes, because they're split by ward. Still, the individual races in 2019 featured more votes than the individual races in 2015 or 2017 — for the most part.
In Ward I, Keri Johnson defeated Harry Youngvorst in a race that featured 1,090 votes. And in a Ward I special election to fill vacated seat of Susan Carlin, Shanon Nowell defeated Dustin Sharstrom with 1,078 total votes coming in.
Both of those races brought in more votes than a 2015 five-candidate race in Ward I that Jeff Brand won; that had 909 votes. The 2017 Ward I race drew more votes, 1,243, because two candidates were being elected from one race, meaning each voter was able to provide two votes in one race. But the number of actual voters was likely significantly less than in each of the 2019 races.
In Ward II, three of the candidates that ran in 2017 again ran in 2019. This time, though, two seats were up for grabs, which is part of the reason the race brought in more votes.
In 2019, 960 votes were split between four candidates, but only one person was being elected from that race. In 2017, 342 votes were split between the four candidates, plus five write-ins. And in 2015, 754 votes were split between three candidates, plus three write-ins.
The School Board race this year also seemed to garner greater interest than years' past.
In total, 7,082 votes were spread among 10 candidates. The number of actual voters is likely significantly less, as each voter had the option to choose four candidates. The total number of voters, though, was still likely around 2,000.
In 2017, 3,728 votes were spread among seven candidates. In that case, voters could only choose three candidates, but still the likely number of voters was closer to 1,300. In 2015, 4,932 votes were spread between seven candidates. Voters were able to choose four candidates in that race, and the likely number of voters also would've been around 1,300.
The 2019 winners were incumbents Ben Leonard and Tim Lokensgard, in addition to newcomers Tracy Stuewe and Bill Soderlund. Lokensgard took the fourth spot with 78 more votes than Bill Kautt in fifth.