Efraim Cadriel joined the military in 1995 and served for nearly 19 years as a combat medic and x-ray technologist.
When he returned from Afghanistan, he worked in the Mayo Clinic Health System as a nuclear medicine technologist. At first, he didn't realize he was experiencing PTSD and depression, but eventually discovered his trauma was triggered by working at the hospital, and in 2016 retired from the medical field.
A few years ago, Efraim and his wife, Jessica, moved to 2.8 acres in Kasota, Minnesota along with their four children. They enjoyed foraging for wild mushrooms throughout the area and were disappointed that their new property didn't have any morels, a highly sought-after mushroom that only grows in the spring. Efraim started to research the possibility of growing morels on their property, and quickly became absorbed in learning about the mushroom-growing process. Jessica took notice. "Jessica made the comment that she hadn't seen me so engaged in a while and told me that if I were to get into growing mushrooms she would support me 100 percent," he said.
The couple co-founded EJ Mushrooms — E for Efraim and J for Jessica – in 2018. They started growing Oyster, Chestnut and Lion's Mane mushrooms, all of which are considered gourmet with medicinal properties. Efraim's favorite is the Lion's Mane. "It's unique and looks like a snowball with icicles," he said. "It's used as a seafood substitute for a lot of dishes – people compare it to crab or lobster meat." Lion's Mane has also shown to improve cognitive function and could benefit people suffering from Alzheimer's or dementia.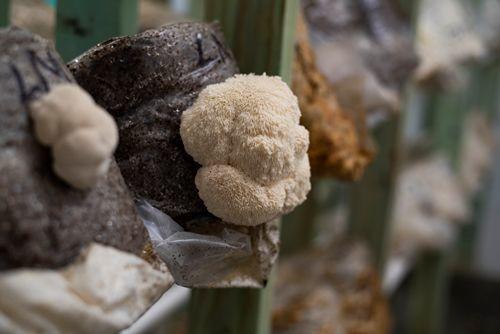 Efraim describes growing mushrooms as a four-stage process. First, a nutritional source called the substrate is mixed together and placed into a sterilizer for 24 hours. Once it is completely sterilized, it is brought into a lab where grain spawn is introduced for the specific species of mushroom they want to grow. The product is sealed in plastic bags and enters into an incubation period in a dark, warm room, for six to eight weeks depending on the species. Finally, the bags are brought into the "fruiting room" where the combination of light, cool temperature and high humidity trigger the mushrooms to grow. After about a week, they can be harvested.
When Efraim and Jessica launched their business, they sought support from the Small Business Development Center (SBDC) in Mankato. The SBDC helped them research different financing options which is how they came across the Grow a Farmer Fund. The fund, which offers low-interest loans of up to $15,000 to small scale, sustainable farmers in southern Minnesota, was supported by donors who wanted to see a stronger local food economy. The fund is managed by Southern Minnesota Initiative Foundation (SMIF) and is a partnership between SMIF, Renewing the Countryside and Slow Money Minnesota. Additional Grow a Farmer loan clients include Antonia Navarro (a chicken farmer in Faribault), and three vegetable farms — Hare and Tortoise Farm in Zumbro Falls, My Sweet Greens MN in Zumbrota and Pearson Organics in Oronoco.
EJ Mushrooms used their loan to convert a 25 x 28 detached garage into a year-round mushroom farm. They had to build walls and add air ducts and water softeners. The loan also supported the purchase of certain supplies like a humidifier, grow bags and the substrate.
These days you can find their mushrooms at Chankaska Creek Winery and the NaKato Bar & Grill. As the business continues to grow, Efraim hopes that one day they will be able to employ other veterans who are dealing with PTSD. "I know what it is to be at the end of your rope and not have hope," he said. "The program and the mushrooms have given me hope, and I want to share that message with people who have lost it."