In a surprise to nobody that's been paying close attention, emerald ash borer has reached Nicollet County. And while the invasive insect has not been located in St. Peter, the city continues to prepare, hoping to limit and reduce eventual impact.
The Minnesota Department of Agriculture announced Tuesday that Nicollet and Redwood were the latest counties with EAB discoveries, and emergency quarantines were put in place on wood movement. Thirty counties have now reported EAB, including neighbors Sibley, Brown and Blue Earth counties. There have been no discoveries in Le Sueur County, meanwhile, but it is almost completely surrounded by counties with sightings.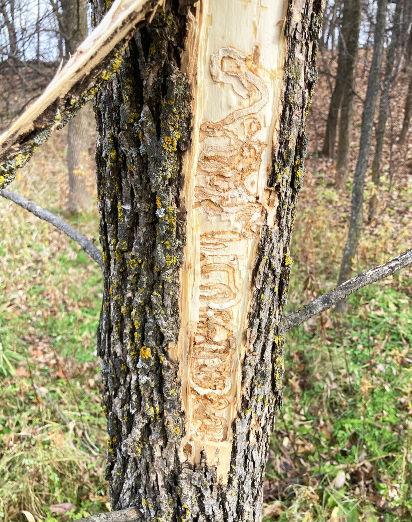 Jonathan Osthus, EAB technical assistance coordinator with the MDA, said he was on his way to check a known EAB site in Springfield when he noticed signs of the insect's presence on ash trees along Hwy. 15 in Lafayette Township, western Nicollet County. MDA staff were able to find live EAB larvae and collect samples for federal identification.
"Last week, I was doing some visual surveys throughout that area," Osthus said. "There was a report from a tree care specialist in Springfield where it had already been identified. On the way there, I noticed some trees along Hwy. 15 with excessive woodpecker holes, and I stopped over and noticed the signs of EAB. The woodpeckers will sort of strip at the bark and make the tree look a bit blonde. The winter time is actually the best time to look."
The sighting was near New Ulm on the opposite side of Nicollet County from St. Peter. However, Osthus noted that it can take up to three years before EAB's presence shows in ash trees, and while he wasn't going to speculate, he said it certainly could already be in St. Peter.
"By the time you see evidence, you're already behind," Osthus said.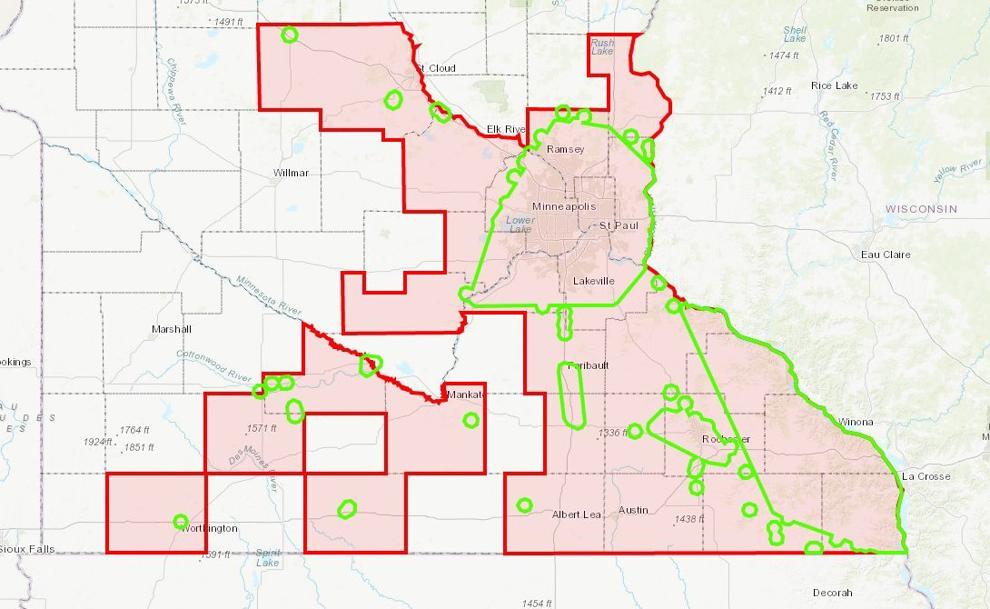 Emerald ash borer larvae kill ash trees by tunneling under the bark and feeding on the part of the tree that moves nutrients up and down the trunk. Often, the trees show several signs of infestation because of this. Woodpeckers like to feed on EAB larvae and woodpecker holes may indicate the presence of emerald ash borer. Also, the EAB tunneling can cause the bark to split open, revealing characteristic S-shaped galleries underneath. It was first spotted in Minnesota in 2009.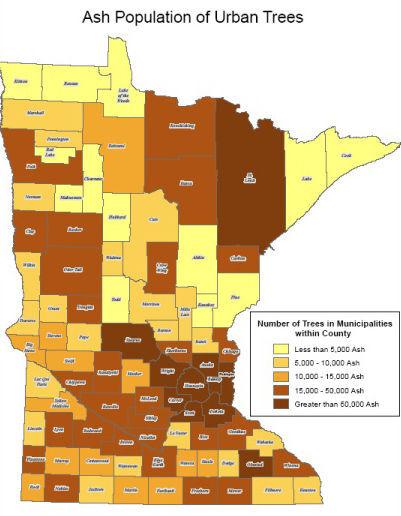 There are about 1 billion ash trees in the state of Minnesota. They were heavily planted in communities across the state in the 70s, 80s and beyond after many Elm trees were devastated by Dutch Elm disease. They are also common in natural settings.
Tree experts, like those at MDA, are encouraging communities to diversify their tree programs now, becoming less reliant on the ash, but they also hope to buy time, in order to better stave off the invasive insect.
"We hope to maintain and keep ash in the natural ecosystem," Osthus said.
Nicollet County Extension Educator Emma Severns said it was no surprise to hear EAB had been spotted in the county.
"Oh, it was definitely coming and expected," she said. "A lot of the surrounding counties already had it, so it was just a matter of time before it was spotted. Obviously, without people out there checking all the time, it's hard to know if it's in our county, but it was just a matter of time."
Related to St. Peter, she added, "I got a couple calls for technical assistance from people who suspected it, but it turned out to be another bug or disease. That doesn't mean it's not in the city, but I haven't seen it yet."
Nicollet County Extension offers technical assistance, where residents can call the Extension office (507-934-7828) if they suspect EAB or other tree diseases. Extension also offers kits to treat ash trees and help limit the spread of EAB. But most importantly, Extension wants to help educate residents on what to look for, so they can record and report EAB when needed.
"First of all, they need to know how to identify ash trees," Severns said. "The first thing would be to see if the ash trees have opposite branching, five to many leaflets and compound leaves. People may have to look up those terms."
On identifying EAB's presence, she said, "If you can see the bug on the plant, that's obviously a tell-tale sign. The main thing you can see on the tree is woodpecker holes, as they peck the tree to go for larvae; another sign would be bark that's cracking or splitting along the tree. And if you see the s-shape galleries under the bark, that's another thing to look for."
The city of St. Peter, meanwhile, already has an EAB plan in place.
"Within the EAB management plan there are three important strategies to help mitigate the effects of EAB," states the city's site at saintpetermn.gov/242/Emerald-Ash-Borer. "The city has adopted a proactive treatment and/or removal of ash trees, removing those in decline and those requested to be removed. The intent is to slow the spread of EAB by reducing certain host trees. The city shall consider pesticide use for EAB on public trees to protect trees and reduce beetle populations in potential infested areas. Finally, replanting, as ash trees are removed, is perhaps the most important part of the EAB Management Plan. Reforestation with diverse species of young trees is the primary objective in retaining the city's urban forest. While it is impossible to avoid pests and diseases, diversity in planting with mixed planting schemes can reduce the impact."
In 2018, the city has approximately 1,000 ash trees in the public right of way, which makes up about 22% of all boulevard trees. In the years since, Public Works staff has removed a number of the weaker trees, according to a classification system, which labels trees by size, age, class and more.
"We removed some trees that are weaker and more susceptible to EAB," said City Administrator Todd Prafke. "The plan, and the hope, based on the University of Minnesota model, is that getting rid of some of the weaker trees would help EAB pass over some of the other trees. They've found EAB tends to congregate, so where we can eliminate trees that are weaker, it serves the stronger ones."
The overall goal, according to Prafke, is to "prevent and reduce impact' for when EAB does arrive. And that time seems to be getting closer and closer, if not now.