It was hotter than a pepper sprout at the first St. Peter Farmers Market of the year June 5, and yet vendors still saw strong first day sales, a sign of the continued growth of the market.
According to St. Peter Farmers Market Manager Nicole Jensen, the market has grown in the last two years, including during the pandemic. Jensen, who operates Late Night Baker from her home, took over in 2018, taking the reins from Margo Brown, Deb Attenberger and Crystal Bock.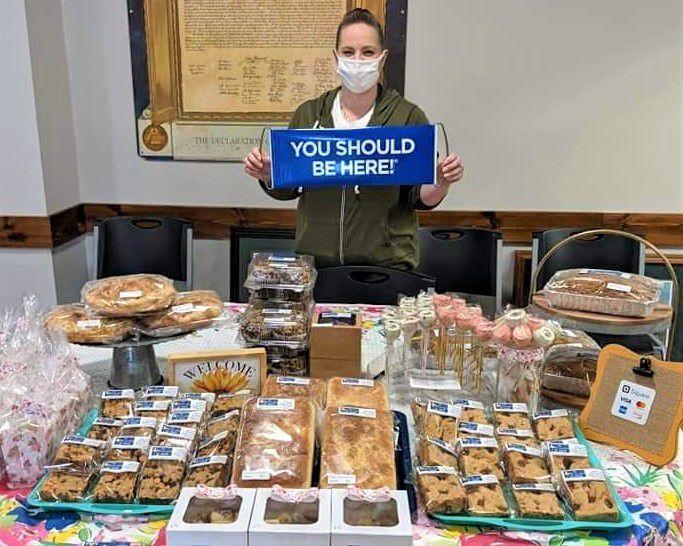 She said that 2020 was a surprisingly good year.
"Because of the pandemic, all of the craft venues and places that people were selling their wares at closed, and some of those vendors came to us," Jensen said. "So we actually gained some new vendors that had such a good time that they're going to keep with us."
She added, "It ended up being a really good year for growth at the market. I think, in the end, we got creative and pulled together and had one of our best years in terms of growth and sales." She also noted that the St. Peter Tourism and Visitors Bureau awarded a $1,500 grant to the market for promotion and advertisement.
In 2020, the market had about 12 vendors during peak season, an uptick from previous years, and Jensen expects that to be up to 15 by the end of June this year. She said that vendors also reported about a third higher sales in 2020 than they did in 2018 or 2019. And attendance in peak season went from around 250-275 to 450-475. The goal this year is to get over 500 attendees weekly during the peak season.
Helping the market to reach these new heights is the new variety in vendors. New booths include the Brancamp family from Peaceful Valley Campground, selling maple syrup and baked treats. Another new offering is from Triple E Farms, who brings a refrigerated truck with various cuts of meat, including hamburgers roasts, steaks, and some specialties, like tongue, liver and more.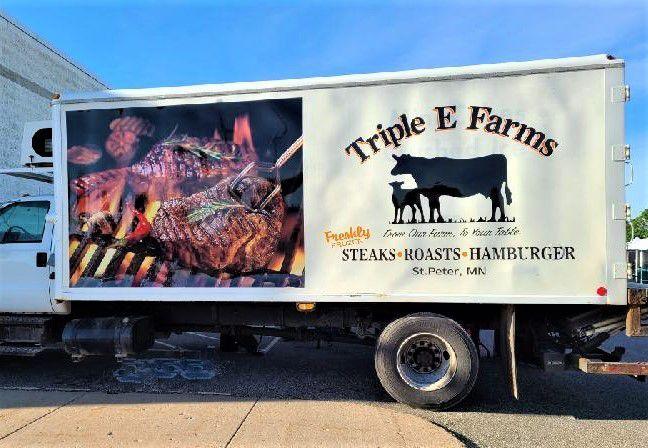 Triple E is a family operation just five miles west of St. Peter. The farm has 300 acres of crop rotation with corn, soybeans, and alfalfa, plus a cattle operation. It has about a 20-head calf grouping and a 30-head cow feed lot, with cows ranging from 500 to 1,600 pounds.
"We raise from calf to finish," said Triple E co-owner Leighton Enz. "We butcher about 15 to 20 per year. We're a small operator. To get more acres is pretty competitive, but we'd like to grow the beef herd more."
This is Triple E's first year doing farmers markets. It started at the farmers market in Mankato in May, but now that St. Peter is open, the business intends to give up its Saturday slot in Mankato for the smaller market closer to home; it'll still head to Mankato for Tuesdays and Thursdays.
This is a new way of doing sales for the farm.
"Before, we usually sold wholesale, so people would buy a whole or quarter animal. We'd take it up to Schmidt's (Meat Market in Nicollet) to have it processed, and people would pick it up there," Enz said. "We still do that; we still sell halves, wholes and quarters. But we know everyone can't afford that, so we decided to start selling cuts of meat for fair prices. We're not gouging anyone; we're competitive; maybe even a little cheaper than the grocery stores."
According to Enz, the first run at the St. Peter Farmers Market exceeded expectations.
"I was a little nervous with how few vendors were there, but we actually did a lot better than we were expecting," he said. "We had a better first day than we had in Mankato. A lot of people that were going to the grocery store or the Co-op just walked over and bought some meat."
Other vendors at the St. Peter market are telling similar stories, and for Jensen, it's exciting times. She believes in what farmers markets can offer.
"If (the vendors) are all from St. Peter, we're not only bringing people to town, but anyone who buys there is putting money into town," she said. "Anyone we can attract from outside of town is obviously bringing more recognition and money to the city."