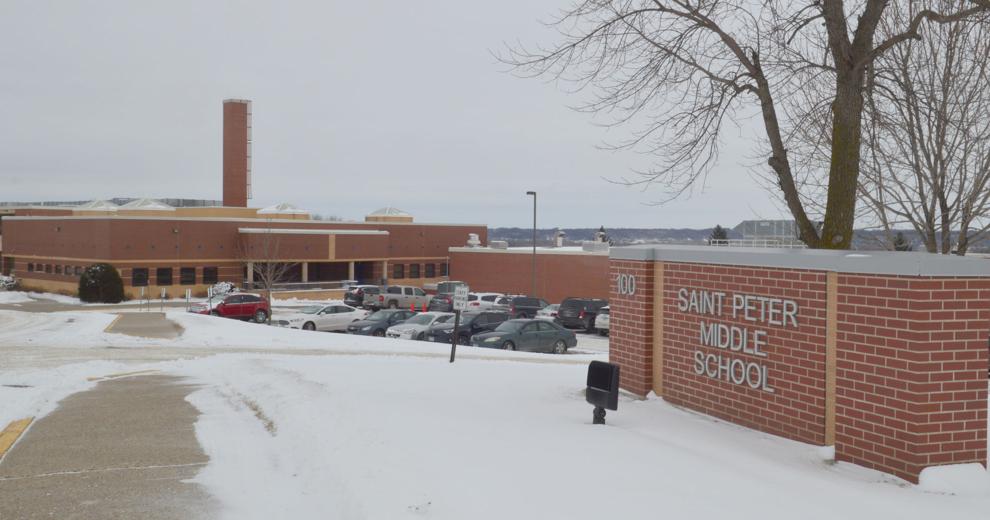 Amid an increasing spread of COVID-19 infections among students and staff, St. Peter Public Schools converted the Jan. 13 school day into an at-home flexible learning day.
The flexible learning day was followed by a teacher work day Friday, which teachers utilized for prep time, while students had the full day off. Students were also off Monday for Martin Luther King Jr. Day. All those who weren't quarantining returned to in-person learning Tuesday.
"We had a five-day separation with the flexible learning day, teacher work day and holiday," Superintendent Gronseth said. "We had been monitoring the number of new cases coming in, and while we continue to have new cases every day, our numbers are slightly lower than they were last week. What we hear from the Department of Health is that we are either nearing the peak or at the peak, so we think we can continue to provide in-person learning."
The move covered the entire school district, including St. Peter Early Childhood, South Elementary, North Elementary, St. Peter Middle School, Saint Peter High School, Rock Bend and Hoffmann Learning Center.
However, middle school and high school students were still permitted to attend extracurricular activities. Community Education swimming lessons also continued as planned on Thursday and Saturday.
Unlike a day off from school, students were still expected to perform classwork on the flexible learning day.
PreK teachers sent flexible learning BINGO sheets home with children, assigning preschool friendly learning activities at-home. Families and teachers could communicate throughout the day on online learning programs like Homeroom or Seesaw or by call and email.
South and North Elementary School learners were assigned learning tasks over their Seesaw accounts and could connect with teachers over phone, email or Google Meet. Middle and High School teachers assigned work to their students over Google Classrooms and were available to answer questions through Google Classroom or email.
Ahead of the flexible learning day, Superintendent Bill Gronseth wrote in an announcement that the flexible learning day was timed to give students five consecutive days out of the classroom to hopefully curb the spread of positive COVID cases.
By Wednesday, Jan. 12, infections totaled over 50 cases among students and staff, wrote Gronseth. Approximately half the cases were at St. Peter High School, 12 were detected at St. Peter Middle School and five to six cases were reported at each elementary school.
"We hadn't planned on doing a flexible learning day today, but we were seeing a significant increase in COVID cases among students and staff. We had over 20 new cases yesterday," said Gronseth in an interview Jan. 13. "Knowing that we already had a four-day weekend, because Friday is a teacher work day already planned and Monday is an MLK Day holiday, with so many staff and students out, we thought it best to create a five-day separation for folks and hopefully get on top of cases in our schools and the community."
St. Peter Public Schools isn't the only Minnesota district struggling with absences amid the Omicron surge. In the past week, schools in Faribault, Minneapolis, St. Paul, Shakopee, Farmington, Minnetonka and more transitioned into temporary distance learning models to curb the spread.
The school district has no plans to implement distance learning going forward. However, Gronseth said distance learning is an option on the table if needed.
"We're really hoping to avoid going to distance learning. We know in-person learning works best and we want to protect that as much as we can," said Gronseth. "If taking a shorter break will allow us to stay in school for the long run, that's what we want to try to do."
If circumstances do force distance learning, the district would aim to take a more "focused" approach then the all-distance learning method of the 2020-21 school year.
"Last year, all of the students went to distance learning, and if we ran into those circumstances this year, we would take a more situational approach," Gronseth said in a Jan. 19 interview. "Like, in some of our special needs classes, where students aren't able to wear masks, we've had some go to distance learning, but it's been very short periods of time. So, if we had a situation where a class or teacher or building had to make some changes, we'd do that. It wouldn't necessarily be the whole school district."
The district currently requires masks for students and staff at the K-8 level, but Gronseth said there has been a noticeable uptick in mask wearing at the high school level recently, too. District leaders hope to see a decrease in cases as the Omicron variant possibly comes down from a peak in the coming weeks.