The St. Peter Public Schools community was in a stir after a school resource officer posted on Facebook that his position would be cut at the end of the school year. The post led to two petitions, one in support of the SRO and one opposed, with the latter accusing him of making racist and sexist remarks on duty, which the school district must now investigate.
St. Peter Police Department Officer Tom Winsell is one of two assigned as school resources officers at the local district for 2020-21. On what is apparently his public Facebook page — OT Winsell — he posted May 4: "As many of you have heard, I have been informed, at the conclusion of this school year, I will no longer be the Saint Peter School Resource Officer. It has been decided that the program will be reduced in size from two officers to one."
The post went on to express Winsell's gratitude for having served in the position, and while he encouraged residents to keep things positive, the post also noted they could reach out to a school official to advocate for the position to be maintained.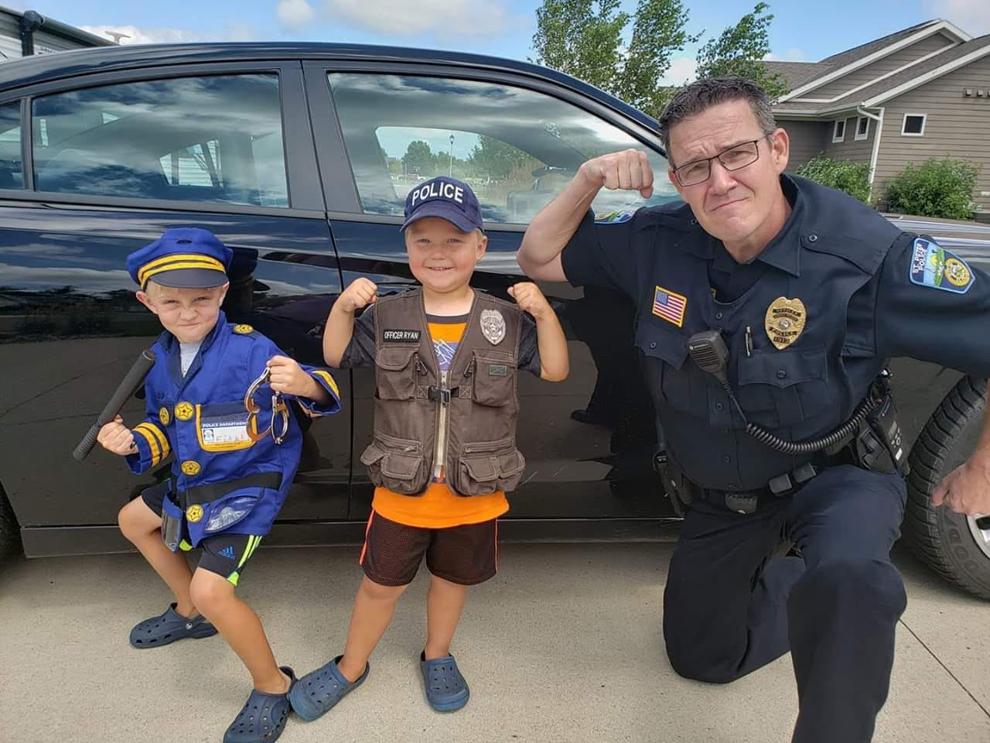 Community feedback to the post was strong enough that the district felt the need to respond through an email sent out by Superintendent Bill Gronseth. In the email, Gronseth noted miscommunication in the community regarding the reduction of the SRO position .
He further stated that the district would retain both SRO positions, at least temporarily.
"Because we value open, honest communication, and your input, we've decided to temporarily put a hold on the decision to reduce an SRO position to replace it with a licensed mental health professional," the email stated. "We will still be hiring an additional social worker to support the needs of our students and families."
Gronseth added, "We will be gathering more information and feedback from the community. More to come on this in the near future."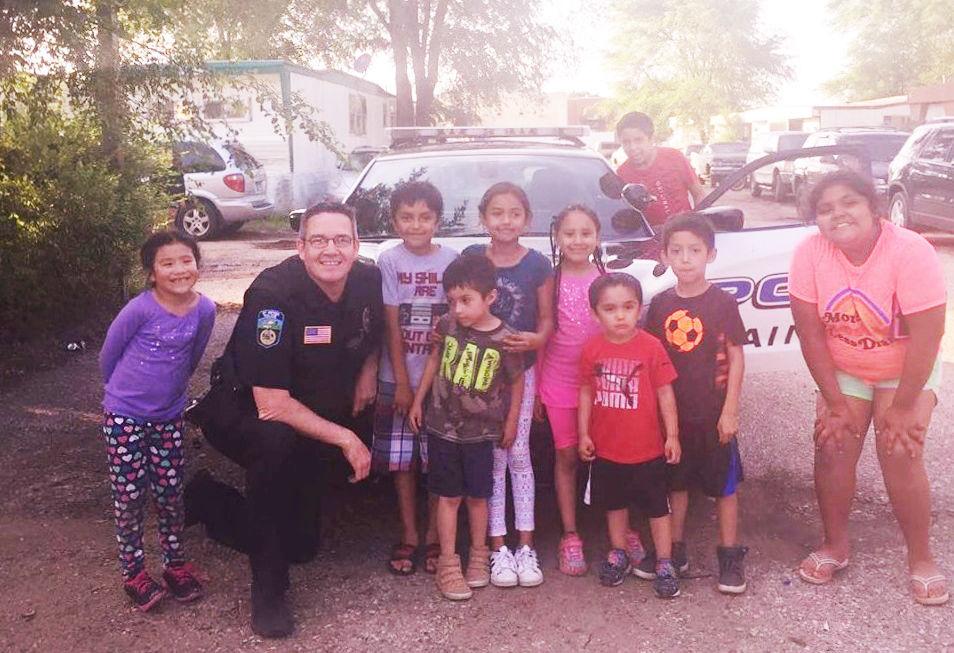 On the OT Winsell Facebook page, a new post, dated May 10, said, "I am truly honored that I will continue to be your School Resource Officer."
Within a couple days of Winsell's Facebook post, the petitions in support and removal of his position at the school district were established.
The petition in support — "Save School Resource Officer's Job" — was started by Wendy Fischer on May 6 and by the 12th had over 1,640 signatures. The petition stated, "During this Critical time in America we believe the School Resource Officer Program is more crucial than ever. To dismantle or reduce positions in this program would be a grave disservice to our children and our community."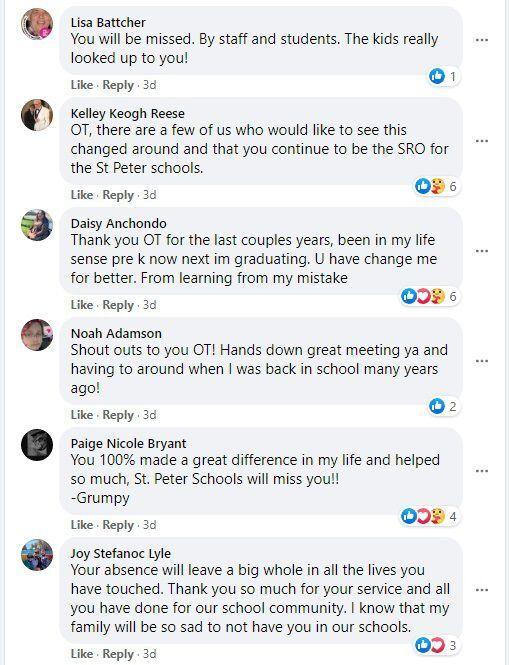 It continued, "Officer Winsell, known to many as OT, has been working for St. Peter School District for many years. He has spent countless hours building long lasting relationships with the students in this community. He has selflessly given himself to ensuring that we, as parents, can feel secure in knowing that our children are safe when we send them to school."
The petition calling for removal of Officer Winsell — "Support the Removal of Former SRO Officer Tom Winsell" — was started by Dan Leonhardt on May 6. That petition had 86 signatures as of May 12 and included specific allegations of misconduct.
"Many students do not feel safer with him there," the petition said. "This includes white students and students of color. He is ineffective at building relationships with a diverse student body. He has made racist and sexist remarks and politicizes his position."
It further stated, "Saint Peter is an increasingly diverse community. There is no place in a school district for any person, especially an authority figure, who represents, endorses, and makes comments for the purpose of intimidation, promoting sexism, racism, and xenophobia."
Superintendent Gronseth told the St. Peter Herald that the district is required to investigate the claims.
"We have a legal obligation to investigate all complaints of this nature," Gronseth said. "The school district is currently seeking legal advice regarding the concerns that have been shared."
St. Peter City Administrator Todd Prafke said that, since Winsell is under contract to work for the school district, the city would allow the district to complete any investigation before the city looked into the matter. The city also denied St. Peter Herald's request to speak with Winsell, due to the pending investigation.
While the district has acknowledged the accusations against Winsell, its initial decision to replace one school resource officer position with a social worker and its later decision to delay any cuts were an effort by district officials to shift more resources toward mental health response, rather than enforcement.
"(The petition) was brought to our attention after the announcement that we would be holding off on our decision to reduce an SRO position," Gronseth said.
Both of the district's school resources officers are employees of the city's Police Department. The district pays 60% of the annual personnel costs for resource officers, while the city pays 40%. It is in district staff's purview, similar to teachers, administrators, etc., to make changes to the position. If the district chose to cut one of the resource officers, that person would remain a Police Department employee but have a different assignment.
The position of police officers in schools has drawn ire and debate across the country in recent years. And while it's fair to say SROs serve a different purpose in smaller districts, like St. Peter, than they do in larger ones, local School Board and City Council members have raised the question of what is needed locally.
A second resource officer was added to the district ahead of the 2019-20 school year, after the School Board Security Committee found that the district had become too spread out for one SRO to interact with all students. But administration concluded more recently that the costs to employ two SROs could be better spent elsewhere.
Gronseth said that district leaders, during their annual discussions on staffing, felt there was a need for more mental health support for students and families.
"Some of the tasks that our SROs are asked to do are things a social worker could be doing," Gronseth said, "so we were looking to make that adjustment."
With the strong reaction of the community, the district decided to hold off on any cuts, but with added COVID relief funding coming, it will still add a mental health professional.
"Given the input from the community surrounding this topic, we've decided to slow it down," Gronseth said, "because we really value the input and discussion from the community, so we want to take some more time and gather more input before making a final decision."