The St. Peter School District will honor its 2020 class with a virtual graduation that has already been taped and will be broadcasted on the school website and on the St. Peter Public Access channel from 7 p.m. Friday, May 29.
While it's not what most seniors likely wanted for their final official recognition, they can at least say they were part of something historic, as it will be the first ever virtual ceremony for the high school. When St. Peter High School Principal Annette Engeldinger announced the news, she noted that it was personal for her, too, as her own child is graduating this year. Interim Superintendent Jeff Olson has a grandchild graduating, too.
"Please know that no one cares more about providing these graduates a special and memorable event," Engeldinger said. "We wish something different for them — something much more like the experience that we had at our own high school graduations. That being said, we are also ethically responsible for following the rules and guidelines provided by the Minnesota Department of Health, the Center for Disease Control, and Gov. Tim Walz. While there are many fun and creative ideas for graduations, the size of our graduating class (more than 180 students) prohibits them, as they do not adhere to the rules which are in place to protect our students, their families, and our staff."
Instead, around 170 members of the St. Peter High School senior class took part in the 2020 SPHS Virtual Graduation walk-through taping sessions over two days last week at the Performing Arts Center. SPHS seniors were allowed to have up to two parents/guardians/family members on stage during the taping sessions when they received their diplomas. The walk-throughs were spaced out over a two-day period so social distancing guidelines could be followed.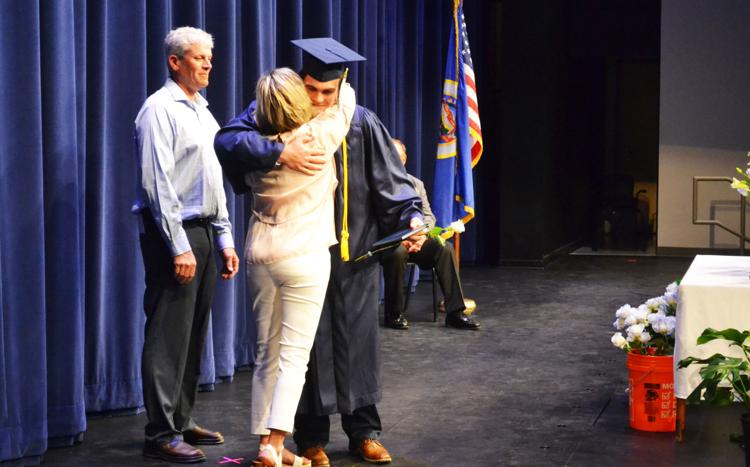 Community efforts
Outside of the official district ceremony, community members are working on their own plans to honor the seniors.
A St. Peter class of 2020 support group, headed by two-senior parent Emily Soderlund, is hosting a parade for the seniors on May 28 at 7:30 p.m. The seniors will be parked along County Road 20, and the community can enter the route from Broadway and exit northbound. The community and the seniors must stay in their vehicles at all times. No passing of cards, gifts, food or drinks.
The students will be on the route for one hour.
"We encourage the community to honk, make signs, decorate their vehicles and celebrate the graduating class of 2020," Soderlund said.
The community group also wanted to host a fireworks show for the graduating class in St. Peter, but St. Peter city staff felt there wasn't a realistic way to arrange all of the necessary components, in order to qualify for a permit in time.
"The city has never done a fireworks show," City Administrator Todd Prafke said. "The Fourth of July show has always been done by the Fourth of July organizing committee. We provide a permit to allow that to happen. In this situation, they would have to submit a plan that meets all the requirements, and I believe, frankly, that's a challenge."
Prafke added, "We wish all the best to all the seniors. There is likely to be a parade, and the details there have been worked out by the parents and community members. Congratulations to those seniors. They're going to go out and solve the problems we have today, and we're so lucky to have them."
The community group, though, still had its eyes on a fireworks show and found a willing host in the city of Kasota. The show is anticipated to take place 10 p.m. Friday, May 29. More details to come.