United States Sen. Tina Smith said she hadn't "been out seeing people" for a long time during the coronavirus pandemic, but she came out Tuesday for a tour of small town businesses in Montgomery, Waseca and Mankato.
"I'm interested in hearing from businesses, especially from small businesses, on how they're handling this health and economic crisis of COVID-19," said Smith after touring Montgomery Brewing Tuesday afternoon.
Smith's goal with her tour was to see if some of the government's efforts to help small businesses have worked out and find out what these businesses need most at this time. Next week, Smith will return to Washington, D.C., and determine what work needs to be done.
"There's no substitute for getting out and talking to people," said Smith.
At her first stop, Smith and her associates visited with Montgomery Brewing owner Charles Dorsey and brewer Josh Kaderlik. Dorsey said his brewery is open to customers at 50% capacity during the week, and 60% on Saturdays during street closures outside the facility.
During her visit, Smith asked Dorsey if he applied for loans like the Paycheck Protection Program. Dorsey said he applied for that, which, coupled with Economic Injury Disaster Loan, allowed him to keep his workers on payroll.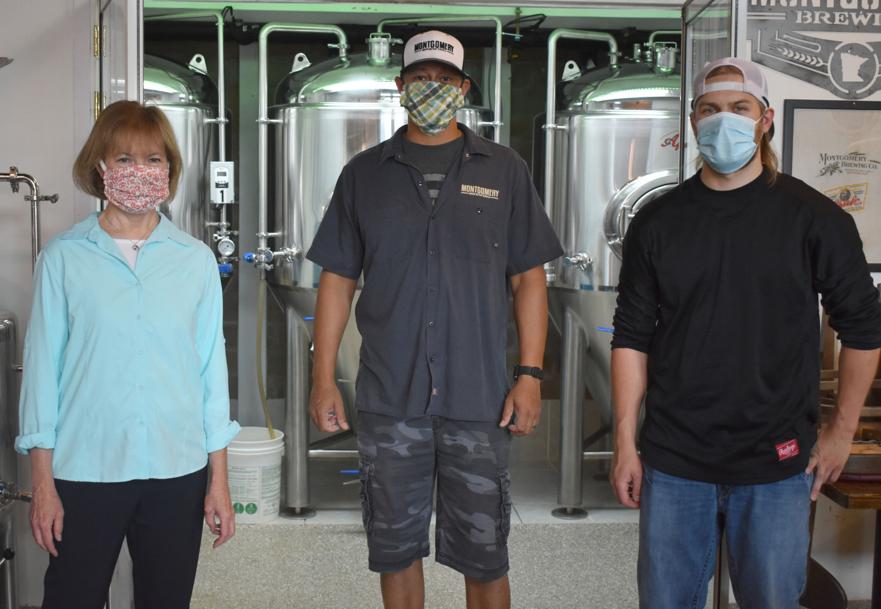 Smith also asked Dorsey what she can do for Montgomery Brewing. He asked her to advocate for the ability to sell 12- and 16-ounce cans at breweries, which the state currently prohibits. While breweries may sell crowlers, growlers, and 750-milliliter bottles to go, Dorsey said much of his site's canned beer has gone to waste during the pandemic.
Dorsey also explained that foot traffic impacts the sales of alcohol at breweries, unlike a liquor store, where customers make a quick stop. But one of his biggest challenges during the pandemic, he said, is staying updated on changing rules and regulations for businesses.
Smith empathized; she said it's understood now that the coronavirus won't "go away when the sun comes out." While hopeful about the development of a vaccine, she said, "We just have to be realistic" about its immediate effectiveness and accessibility.
"I've never met a senator before," said Dorsey. "I think it's great a small town like this is recognized by a congress member and given a platform."
After visiting Montgomery Brewing, Smith ventured to Waseca to talk with the owners of Trio Coffee, Wine & Ale House and to Mankato to visit with Rahma Abdi, owner of Karshe Tea.