The 2021 Arts Center Member Show has a lot to offer — like, a lot.
The show features a record number of submissions — over 120 — sent in by members of the center eager to display their pieces after a year off caused by the COVID-19 pandemic. The show is on display now at the Arts Center until Aug. 28 during gallery hours, which can be found at artscentersp.org.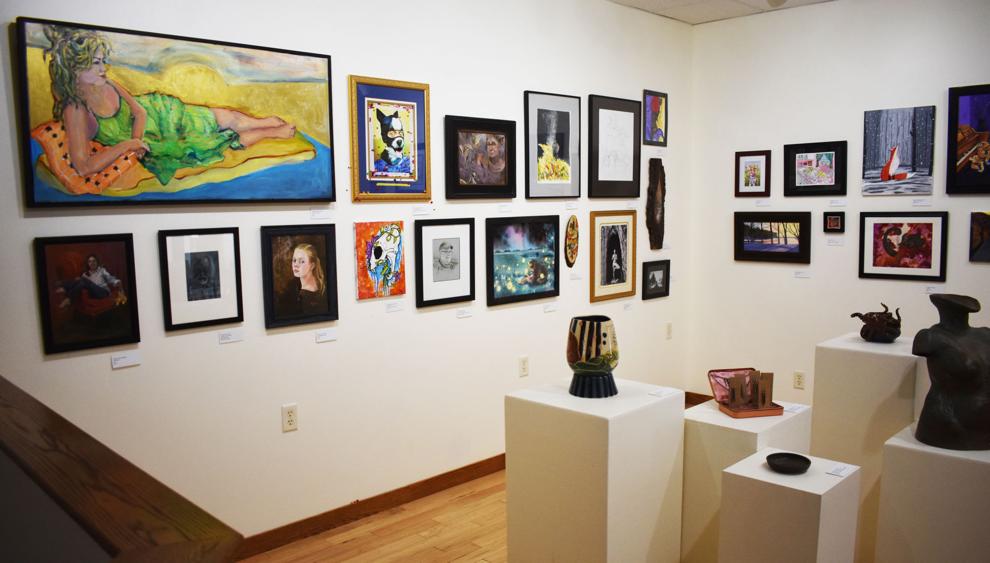 "It's nuts," Arts Center Executive Director Ann Rosenquist Fee said. "We've never had to fill the walls like this, but I think it looks good."
There is a huge variety at this year's show, too, whether it be sculpture, painting, drawing, digital art, weaving or anything else. No two works are exactly alike and most vary wildly.
"It's my favorite show of the year," said Eva Hendrickson. "You just get to see what people in the community are interested in and what they want to spend their time thinking about and creating. It's really cool and just the variety is awesome."
Hendrickson is a high school art teacher for the St. Peter School District; she graduated from Gustavus in 1996 and then MNSU with a master's in 1998; she came back to St. Peter for teaching about six years ago.
She submitted her piece Covid Heart. It's a heart, bigger than a head, made entirely of burrs she found on the ground while taking walks during her extra time at home during the pandemic.
"I walk every morning and evening with my dog and live in a rural setting, and so I encounter a lot of art materials on my walk," she said. "There are many treasures I find, but burrs are a common occurrence. I was thinking about how they are modular, like Legos, and can be joined together. I was thinking about the 3M guy who got the idea for Velcro from burrs, and I just started sticking them together."
She and her husband were working on a home renovation at the time, which she described as "challenging," and to mark the time period, they built the burr heart into a box made of leftover wood from the renovation. They jokingly title the project Stick With Me.
The reason for the heart, Hendrickson said, is because of the instant poetic connection there, but also because she felt it left the piece more ambiguous.
"I kept going with that idea, because there was potential for a lot of interpretations from those who see it, which is always a goal for me," she said.
Another artist at the show, Rob Foster, has worked at Cactus Tattoo in Mankato for about 20 years. Foster is a lifelong artist, but with the full-time job and with a family at home, he doesn't usually much have free time for his own artwork.
"It's a lot of juggling between my fun artwork and my tattoos, which are fun, too, of course," Foster said. "After 20 years of being told what to draw (for tattoos), it can actually be hard when you actually have the freedom."
He had a little more time for personal artwork during COVID, although there were still plenty of stressors, with his work closed for months and kids in the house doing distance learning.
"As long as I stayed focus and kept doing artwork, it helped my artistic mind for sure," Foster said. "There were just so many questions for everybody, whether at home or at work."
The pieces he submitted to the show were done utilizing a grant from the Prairie Lakes Regional Arts Council; the grants were centered around art involving nature. So Foster did colored pencil drawings on pieces of wood.
One piece, "Hoarder," features a squirrel and its nuts, drawn in the knot-hole of a particularly "barky" piece of wood, Foster said. The other piece, named "Butterfly Crime Scene" by his step-daughter, features a skull with a dagger through it, plus some butterflies "for some color balance."
"The one with the skull I actually did during the pandemic. I was at home for two-and-a-half months, so rather than stay home and watch Netflix, I tried to stay busy — whether it was artwork or studying tattoos or color theory," Foster said. "So I think the skull was me just wishing I could be tattooing."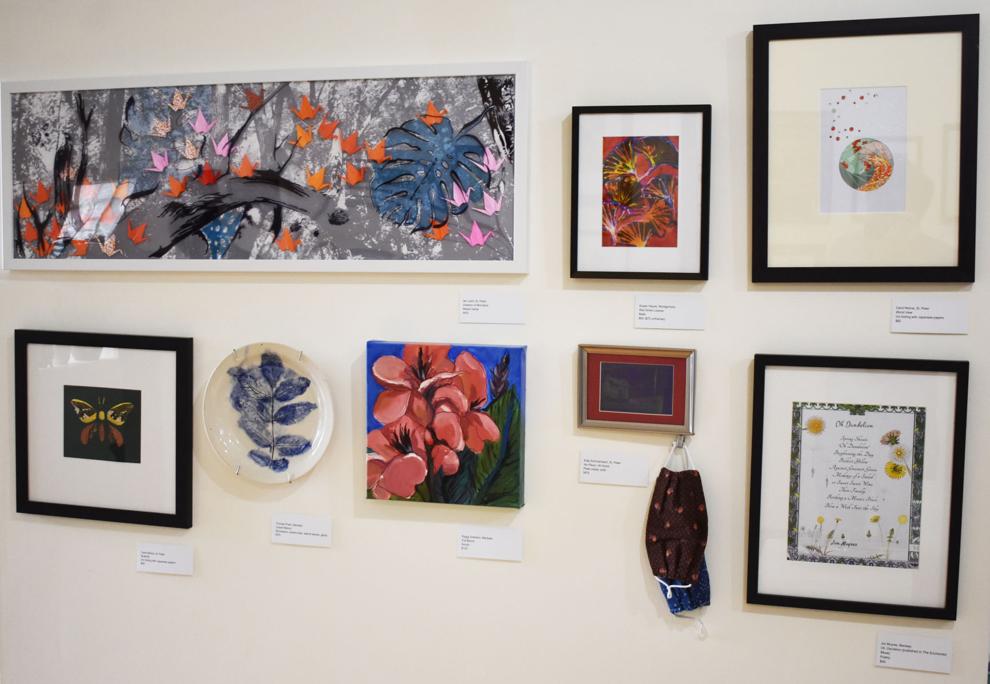 Hendrickson's and Foster's works are just a few of the many spread around the two levels of the Arts Center. Entrance into the gallery is free for any and all who'd like to view the show.