Like many establishments, the Blue Moon Bar and Grill has relied upon an in-house atmosphere with live music and entertainment, sports, billiards and more to invite customers in for a drink. But all that came to an abrupt end for the Kasota establishment when the COVID-19 pandemic forced bars and restaurants to shutter last month. Once a hot spot for evening entertainment, Blue Moon Owner Bret Haslit reported that if he were less financially secure, he wouldn't be able to keep it open.
"If I relied on this place to support me and my employees we would have closed down a long time ago," said Haslip. "It is currently costing me about $3,000 a month or more."
Since closing its doors, Blue Moon has offered its menu of burgers, wraps, sandwiches and pizzas for just three hours of takeout, 5-8 p.m. daily. Staff spend the rest of their time cleaning and remodeling the bar for its deeply anticipated reopening. With the bar making just 20-30% of its regular revenues, that's all the Blue Moon can afford to do.
Adding to the woes of slow business, alcohol sales for Blue Moon are pretty much non-existent. While the bar is legally allowed to service customers with carryout beer and wine, Haslip said that it's a poor income source when liquor stores can perform the same service at a cheaper price.
"I don't know why they would buy a six-pack of beer from me for six times what they would get buying from the liquor store," said Haslip.
While the business has been poor, Haslip said that Blue Moon will be able to weather through the pandemic. The owner has supported the bar with money he had earned from selling rental properties.
But others are starting to worry about their businesses' survival. Mark McMillen, also known as "Mac," the head of Mac's Green Mill in Le Sueur, was uncertain about how long the bar could endure.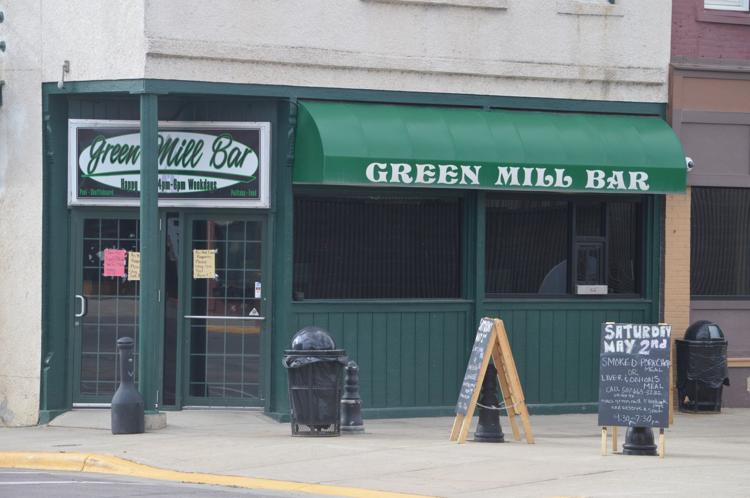 "It's destroying our business," said McMillen. "I'm really not sure how long we'll survive."
While other bars and restaurants have had to rely on their food service, Mac's Green Mill doesn't even have a full kitchen.
"Business has basically been non-existent," said McMillen. "We do not have the facility set up to provide large amounts of food. We do not have a kitchen per se. So everything we do has to be done under special event permits."
Mac's Green Mill has been kept afloat through large, but infrequent events — a meat raffle, fish dinner and pork chop dinner cooked up with smokers. While the events have been a success, they also require a lot of work from volunteers.
"When we do special events, we get great participation and sell an average of 135-150 meals," said McMillen. "But I only feel comfortable doing it so often, because it requires a bunch of friends to volunteer their time and come in and help volunteer during their Saturdays and what not. I feel guilty asking them to do that."
Food sales have made up a big difference for establishments like Blaschko's Embassy Bar and Grill in St. Peter. The bar has maintained decent food sales with daily specials, including burritos, steak and shrimp, wings and sloppy Joes which are available for take-out only.
"It helps to be in a small town where people know that we're known for our food," said bartender Kristi Klinger, who's worked at Blaschko's for six years. "We've had pretty decent lunches and suppers … We've been working with local businesses, too, to deliver food for orders from bigger companies. So we're trying to work with all the people in our local areas to continue providing food we enjoy serving."
"I think every bar is suffering by not having in-person sales of drinks and things like that, but luckily the Embassy is still serving off-sale," she added.
The Embassy, like many local bars, is waiting to reopen, but that could take longer than some had hoped. On Thursday, Gov. Walz extended the Minnesota stay-at-home order to May 18. The order requires dine-in service at bars and restaurants to remain closed during this time.
Kasota's Haslip wanted to see bars and restaurants reopened as soon as possible to prevent others from having to shut down.
"We need to open up," said Haslip. "There is going to be a lot of places that will currently probably not reopen, and the longer we are closed, the more places that are going to fold."