After losing just about everything dear to her in a short period of time, St. Peter artist Michelle Schloesser-Kaisersatt could've given up. Instead, she used art as an inspiration to keep going.
Her story will be featured in Project Bike, a Minnesota exclusive bicycle tour, covering more than 3,200 miles by bicycle, and powered through the mind and body driven dedication of Dana Sikkila and touring partner Kyle Zeiszler (who joined Sikkila in 2017).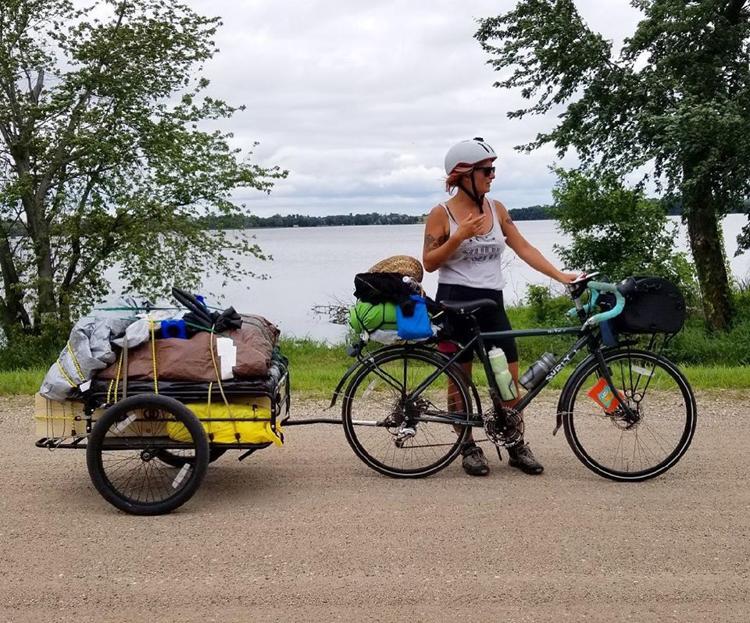 Sikkila, along with the help of the 410 Project of Mankato, which she helps lead, brought the bike tour to life in 2015, taking her to the highways and byways of communities throughout the state, including St. Peter this year. She personally cycled to each destination and conducted interviews featuring artists of all mediums.
"Project Bike started as nothing more than an idea that I had in 2012. I wanted to feature artists throughout the state from communities throughout Minnesota, who would not generally have the publicity they deserve," said Sikkila.
She added, "It has been so rewarding to see how much Project Bike has grown in popularity throughout the state since its beginning. Last year, we had more than 250 people who attended the short film debut from all over the state in support of this cause. It will be exciting to see the turnout for the 2020 full length documentary," Sikkila said.
From 7-9 p.m. Friday, Oct. 10 at the 410 Project in downtown Mankato, Sikkila will present the latest iteration of Project Bike, highlighting her travels and interviews from 2019, plus a sneak peak at the full length five-year compilation documentary, set to debut in spring 2020.
This year, Project Bike traveled through St. Peter, featuring local ceramic artist, Schloesser-Kaisersatt as one of the documentaries celebrated artists. Kaisersatt and her one-of-a-kind pottery embody the literal essence that her work is designed and created for — vessels created from body and soul to celebrate life.
"I never considered myself an artist, and I didn't think I had what it took to make a living as an artist. I had a dream to create a business for local artists, and my journey has brought me here." said Kaisersatt.
For Kaisersatt, life's hurdles provided a silver lining. Shortly after losing her father to a motorcycle crash, she found she was fighting stage three colon cancer. And when life couldn't seem to get any worse, her husband was diagnosed with stage four colon cancer just a year later. Then the couple lost their home to a house fire, stealing away their possessions, their memories, their security.
The odds seemed to be stacked against them. But they weren't going to wilt away.
"I believe we need to look for the silver lining in everything. We choose where to go from our experiences," said the very humbled Kaisersatt.
The couple rebuilt their home while they were both going through chemo treatments, and even through all of their tragedies and what seemed like an endless string of bad luck, they found joy in starting over.
Michelle did eventually lose her husband, who died from his cancer. But his presence still motivates her today.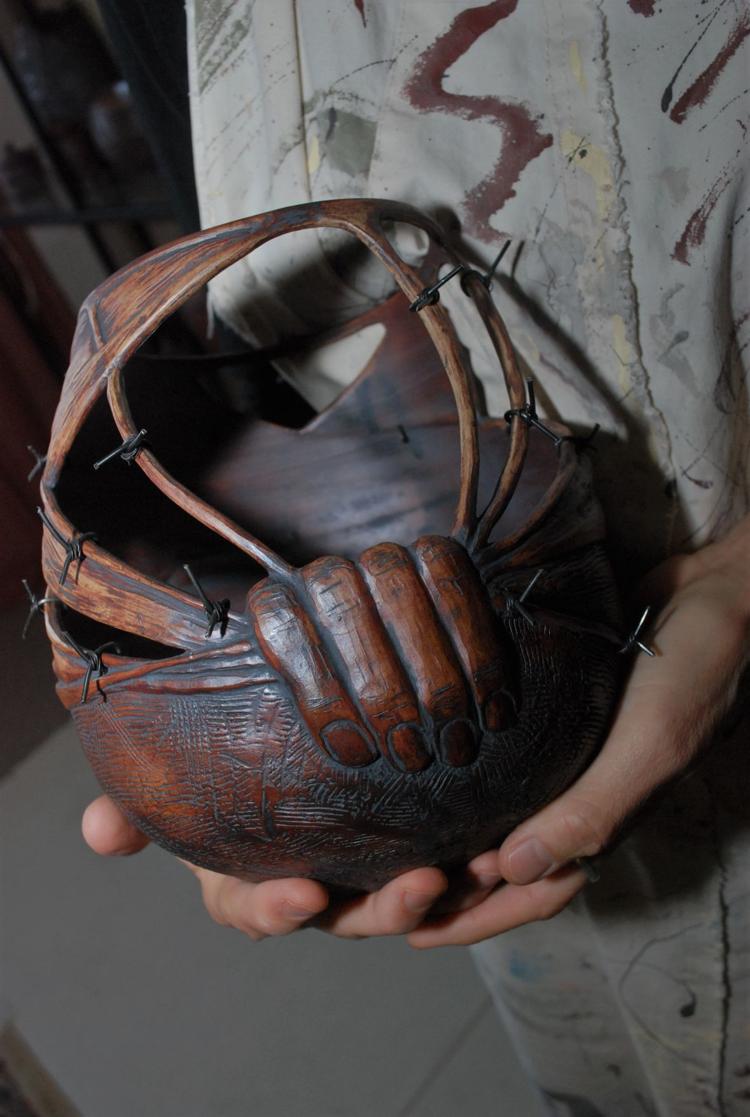 About a month before his death, the two were standing in a gallery space where Kaisersatt had an art show. The couple walked around the space, and they felt the energy that resonated from Michelle's art. Her husband, who hadn't before had the chance to take it all in, voiced his acceptance and validation of her work.
"I get it," he said. "I get why you are doing what you do; why you are creating these vessels of life."
This was a turning point for Kaisersatt, who explained that without this conversation, she would probably would not have realized that this was what she was supposed to be doing. Her husband passed away just a month later, and without that acknowledgment, she never would have had the drive to carry on, the courage to move forward without fear, and live the rest of her life creating art, sharing her talents with others.
"I have been working with urns since 2009, and talking about death is a comfort to me," she said. "I want to educate people that urns are much more than a vessel for the end of one's life, they can be a celebration of one's journey through life. By adding your own story into each piece, this is what makes each person who they are."
Kaisersatt shared a personal analogy of looking through a keyhole, and seeing just a little bit of what is on the other side; a person's journey here doesn't have to end on this side of the door. Everyone has the opportunity to share their life and their experiences in a variety of ways that can be incorporated into their vessel or by taking a stand through art. Everyone has a story to tell and a life to celebrate; it is what makes them unique.
"In my journey, I had to step outside the box and accept that I was an artist and could make a living doing what I love," Kaisersatt said. "I found, after my husband's passing, that it isn't about money or status as an artist. I create urns and vessels to celebrate life and what makes up our lives."