Five months after its grand opening, Cleveland's Anders Early Learning Center has filled up quickly.
While the new, nearly 4000-square foot building, located on the city's east side, has a capacity of 52, 40 kids are already enrolled, said owner Kate Anderson. Two children are waiting for an opening in the infant section.
Anderson was not surprised. With hers the only day care center in Cleveland and one of just five in Le Sueur County, she said there was a strong need for more quality childcare providers.
"I think that families need to work. I am not sure how the shortage occurred, but I do know that requirements to have an in-home daycare and childcare centers have gotten tougher, which they should be. We should be held to a higher standard since these are people's children we care for."
Formerly the director at the preschool and childcare center at All Saints Catholic Church in her hometown of Madison Lake, Anderson always knew that I wanted to do something in early childhood education and care.
"Growing up my parents did foster care, and my mom stayed home and ran an in-home daycare. I have four sisters and one brother, so we always were surrounded by kids. I just really enjoy kids. It truly is a passion for me."
While Madison Lake has ample openings for childcare, a study showed a need for more childcare in Cleveland. But Anderson said it was ultimately her interest in the city that promoted a decision to start a daycare there instead of somewhere else.
"Building a center anywhere else was never an option. I knew that I wanted to be in Cleveland. Our kids go to school here, so we are invested in the community. We would like to be a part of its growth."
She said the people of Cleveland and its surroundings have been supportive because they know that Anderson and company have their best interests in mind.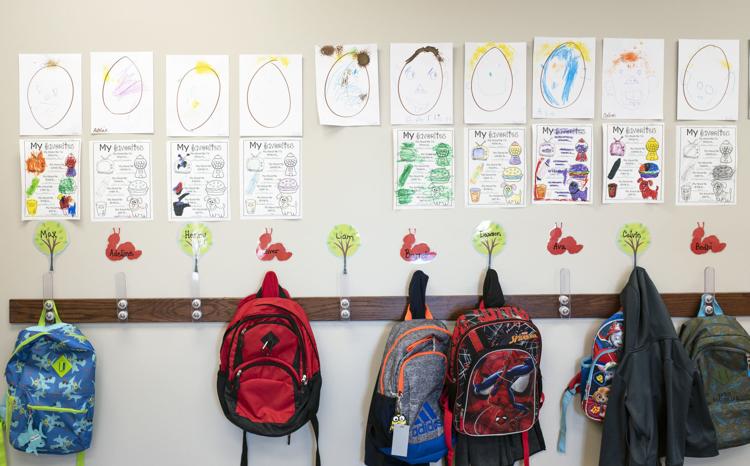 "We are in it for the right reasons. We believe that families and staff deserve the best care and work environment. We want everyone who walks through our door to feel comfortable and have it feel like home. Everything at the center is based around the families we serve.:
Anders Early Learning Center employs nine staff members and relies on two volunteers who come in and rock babies as well as help serve lunch and clean up afterwards.
The lunch is prepared at Cleveland school by its chef Monica Manzey.
"Monica has been amazing," Anderson said. "She gets our food ready in containers, and we send someone over to pick it up. When we are finished with lunch, she will come back and pick up the containers. We have a set amount per lunch that we are charged each month. It really works out awesome."
While Anderson has an office in the building, she is seldom in it.
"I do not enjoy sitting in my office. You can usually find me in one of the rooms helping out or mopping floors."
Construction of the Anders Early Learning Center was completed last spring. Anderson received a $10,000 grant from the Southern Minnesota Initiative Foundation to help with her startup costs. "Anders" is a truncated version of her last name.