The St. Peter School District is prepared to start bringing students back into schools for in-person learning, but it won't happen immediately and plans remain tentative as COVID-19 numbers continue to change.
A new learning model plan, approved by the St. Peter School Board at its Dec. 21 meeting, calls for early learners to return to full in-person learning first (Jan. 11), followed by elementary students (Jan. 19), and then, depending on county rates, middle and high school students (potentially February). The plan comes off the back of new guidance from the state of Minnesota, which emphasizes getting the youngest students back into schools.
Recent data, public health experts say, indicate that middle and high school students are impacted by and react to the virus similarly to adults, while younger children are less likely to spread the virus and do so at slower rates. There is also evidence to indicate that elementary students are most impacted by the lack of in-person learning opportunities.
"They really want to see the younger students back, much like we all do, so they're not so much focusing on the county level data for the lower grade levels," Superintendent Bill Gronseth said of the state's guidance.
Under the current plan, as school returns in early January, early learners would remain in distance mode for a week, starting Jan. 4.
"The (COVID-19 regional support team) really wants to see a bit more distance from that holiday period," Gronseth said.
There would be no school for early learners Thursday, Jan. 7 or Friday, Jan. 8, as teachers plan for a return to in-person learning. The students would then return to school Jan. 11.
The class sizes would be smaller than usual, but all students would be attending every day.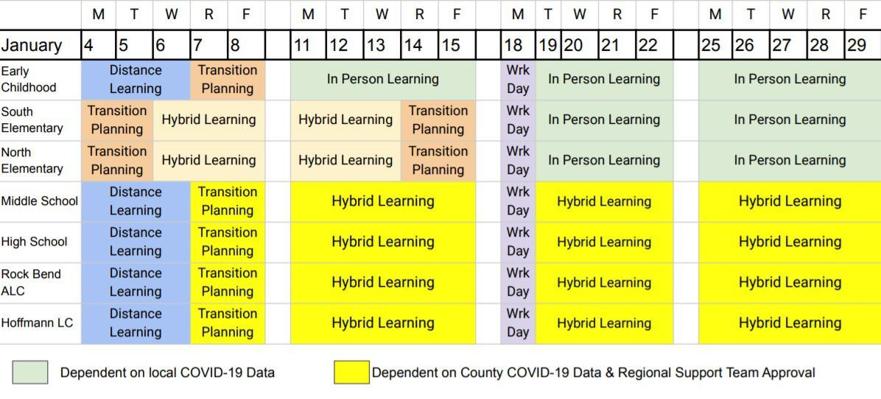 Students at South Elementary and North Elementary would have no school Monday, Jan. 4 and Tuesday, Jan. 5, as teachers begin transition planning.
Students would then moved into hybrid learning, starting Jan. 6. This would be the same A group and B group model that has been used in the district previously, where one group attends school Mondays and Wednesday, while the other group attends Tuesdays and Thursdays.
Then after a teacher work day Jan. 18, all elementary students would begin attending class in person daily Tuesday, Jan. 19.
The plan is less solid at the middle and high school levels. Students in these age groups are more likely to spread the virus, according to public health data, so their return to class is more closely tied to local case rates.
Current data shows case rates dropping in local counties, including Nicollet and Le Sueur, but they are still twice the rates of the recommended levels for even hybrid learning, nonetheless in-person.
"I think the general attitude is everyone wants the students back in the classroom; it's just about the safest way to do it," said Jody Fischenich, of Nicollet County Public Health.
Under the current plan, middle and high school students would begin in distance learning Jan. 4 for the first few days. They'd have no school Thursday, Jan. 8 and Friday, Jan. 9, as teachers worked on transition planning.
They would then move into hybrid learning Jan. 11, dependent on county case rates. While the elementary students move to all in-person learning by Jan. 19, the middle and high school students would continue in hybrid learning until the regional support team and the state give approval to move to in-person, possibly in February.
"We're hopeful we can move ahead on that plan, but if the numbers are too high, we'll have to pull back," Gronseth said. "We are hopeful that all students can attend in person by some time in February."
Before the School Board voted Dec. 21, a number of school community members spoke on the issue. Five adults and two students were included among the speakers.
Both of the students who spoke expressed a desire to remain in distance learning, as long as there is any question the virus could still be a danger to themselves or others. Isla Gassman said the district should choose to be safe, rather than taking any unnecessary risks.
"Frankly, teachers are doing a great job in a difficult time," Gassman said. "If we went back to hybrid learning right now, our teachers are still at risk of catching COVID-19, and then they'd have to go home and get a substitute, and that substitute could still get it, and it could just go on and on."
Eva Kracht shared the story of a classmate who lost her father to COVID-19. She felt it's important to think about those students and families as decisions are made.
"This disease is ruthless and this disease is dangerous," she said. "I ask of you tonight, as you cast your vote, to please consider the ramifications of your decision."
The adults who spoke varied in opinion. Bill Weber said he was speaking on behalf of his children and many of his friends when he said "we really, really need to get our kids back in school."
"My kids are done by noon every day, and then they're playing video games or reading books or whatever, and they are just not getting what they need," he said.
Cinde Wiebusch touted a holistic approach from the School Board, asking them to look beyond the basic facts and consider all evidence, as they work toward the ultimate goal of getting students back in school. Rita Rassbach, meanwhile, noted her husband is a physician in urgent care with Mayo and said the virus is as impactful as ever.
"We need to keep in mind that more people have died from COVID-19 than the past five flu seasons combined, and coronavirus is far more contagious," she said.
The School Board went back and forth on the plan. Member Tracy Stuewe expressed frustration, feeling it wasn't truly up the School Board and was instead a decision made by the regional support team (which advises districts in the area).
"It feels like if this or that is what we really want, it doesn't matter, because that's not what they want," she said.
Board Chair Ben Leonard said he understood her feelings on the issue, but he felt it's a positive that the state is giving specific direction and there is some local control in the process. The district is actually looking to move to hybrid at the middle and high schools before case rates are likely to drop below the recommended levels for that learning model.
"I think we decided, as a school district, that we want to listen to state guidelines," he said. "In some ways, this guidance is much more definitive than it was at the beginning of the year. Giving that regional team a chance to bend the rules, and this plan we're looking at is bending some of those rules, I think there is some local control."
Ultimately, the board approved the plan with an expressed desire to continue monitoring the COVID situation in local communities.