Candidates for St. Peter City Council and mayor had the opportunity to introduce themselves, in addition to their ideas, beliefs and philosophies, during a League of Women Voters candidate forum Oct. 3 at the Community Center.
The 2019 city races are all contested, and with voting day fast approaching Nov. 5, candidates are eager to get the message out on who they are and what they represent. They had that chance at the LWV forum, co-sponsored by the St. Peter Herald and the St. Peter Chamber of Commerce.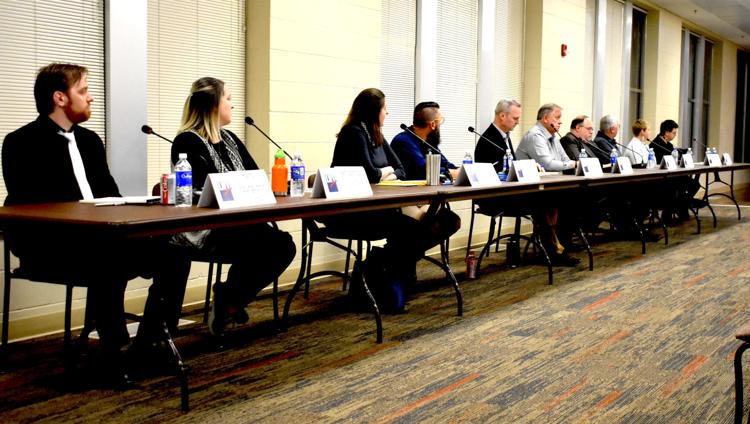 In the mayoral race, Mayor Chuck Zieman will have competition from Shawn Schloesser, an Arts Center of Saint Peter Board member, a prominent St. Peter Legion figure and a community and business development specialist at Region Nine Development Commission. Schloesser was also a Veterans and Military Affairs Field Representative in the office of Gov. Tim Walz when he was a representative in the United States House.
Zieman was first elected mayor in 2015 and was re-elected in 2017; he was a councilor for four years before that. He worked in the Nicollet County Assessor's Office for 16 years before retiring. In his time as mayor, he has supported projects like the updated Minnesota Square Park pavilion and the River's Edge Hospital update and expansion.
Keri Johnson was the first to file in the Ward I City Council election, but Harry Youngvorst joined her on the ballot. Roger Parras, who currently owns the seat, having been appointed at the beginning of 2019, said he will not file this election, citing tensions during the appointment process.
Dustin Sharstrom and Shanon Nowell, meanwhile, are the two candidates in the Ward I special election, where Susan Carlin has vacated her seat, preparing to leave the country for Thailand.
In Ward II, David B. McGuire, Terry L. Bergemann, Emily Bruflat and Bradley DeVos filed for two open seats. Current councilors there, John Kvamme and Jerry Pfeiffer, also said they will not run again.
Throughout the forum, it seemed obvious that there were a lot of similar philosophies and mindsets among the candidates, but each person tried to separate themselves with unique specific ideas or knowledge on particular topics.
The first question on the night asked the candidates about their "thoughts on the city government's role in responding" to the continually increasing diversity in the community.
All of the candidates at the forum spoke positively about the community's diversity, but there were some differences in where they chose to focus their answers. Ward II candidates had some varying responses.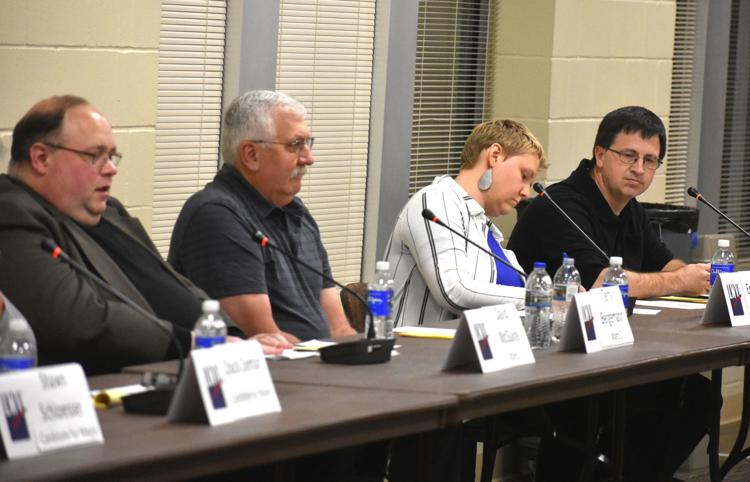 "What I've seen so far is really good," Bergemann said. "I haven't seen any negatives; all I see is positives."
McGuire was similarly succinct in his response: "St. Peter has always been about been about bringing diverse cultures together. They've had to learn how to get along. Hopefully we'll learn how to do it."
Bruflat expounded a bit more: "I was reflecting on diversity before I came over here, and I think St. Peter is home to many different peoples … So how do so many people get along and end up in the same city? My answer is respect and open-mindedness and common goals. I can't think of a family that doesn't desire the same goals — food and shelter and dependable income … I think our diversity is one of our biggest assets."
DeVos had some specific ideas: "I do believe the city has done a good job prospering, but there are challenges. The city should partner with the school district to help foster inclusiveness. I think the city and EDA can work on fostering businesses. A lot of it is being open to these new individuals, open to these new businesses and fostering relationships."
The night's second question was along the same line as the first, asking candidates whether they think the Human Rights Commission, currently handles by councilors on an as needed basis, should be formed of "citizens that meet regularly?"
The mayoral candidates had different takes on this topic.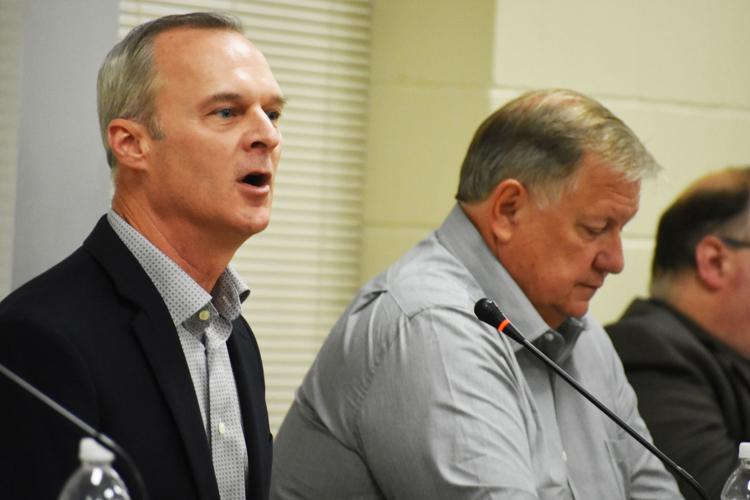 "The current council takes human rights very seriously," Zieman said, noting that as the current mayor he found himself almost defending what is already happening in the city. "We had a commission (with appointed members) and there wasn't much that needed to be done or there weren't many complaints coming up. That does not mean that in the future that we can't reorganize and form again. The current council would definitely undertake that."
Schloesser feels action could be taken now: "I would support having citizens join the HRC. If the councilors are the only ones on the commission, we don't have the diversity or breadth to help people with issues that we have no experiences with. We need to hear their voices, and that is one of the ways I think we can do that."
Most of the other candidates indicated they'd like to see appointed citizen members on an active commission, including the candidates in the Ward I regular election.
Youngvorst said, "Yes I would support that. In the past, I was on the St. Peter Park and Recreation advisory board and I see it as a similar function to that."
His opponent Johnson agreed, but with her own reasoning: "I do support that, and I know from watching some of the action recently that the council has adopted that role, so there isn't necessarily a separate group. We have some concerning history of some lesbian couples receiving hate mail. That is something a citizens group could focus on, protect those people and ensure that doesn't happen in our community."
Things shifted gears when candidates were asked about what they see as the "top financial or budgetary challenges in St. Peter" and how they would address those challenges.
In the Ward I special election, the candidates each presented their philosophy when it comes to spending taxpayer dollars.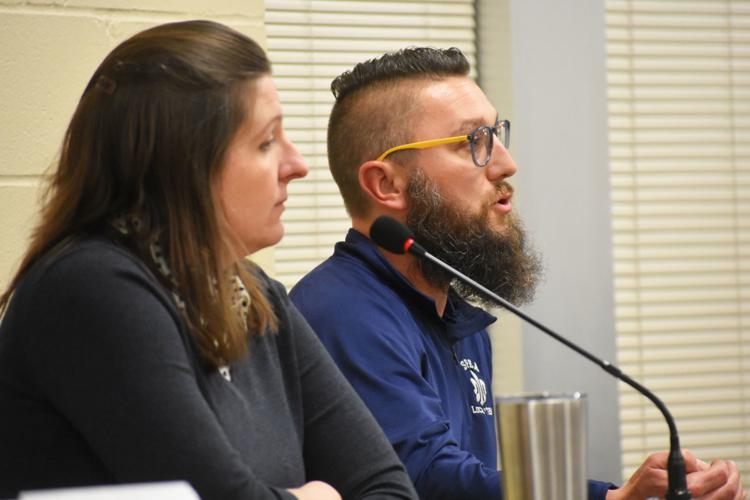 "We need to be clear in our priorities," Nowell said. "I believe we were downgraded in our bond rating, and that's serious. We need to keep our eye on it."
Sharstrom said, "The budget issue is a large issue and every door I've knocked on, that's brought up. What's the cost benefit analysis for the people of St. Peter. Is it responsible? Does it benefit everyone? Local governments are having increasing costs every year. We need to be responsible as a city and make informed decisions in everyone's interest."
The mayoral candidates came at the question with different perspectives.
Zieman was speaking from his position as the current mayor and formerly as a councilor: "We (the council) look at things very seriously. We have to look at the whole picture. We have to remain a vibrant, welcoming town for businesses and bringing people into town to support those businesses. Minnesota Square Park is one of the premier parks in southern Minnesota, and even more so now with that pavilion. The costs that are big in the city really are health insurance and raises for employees."
Schloesser said, "The financial budgetary challenges I see come from increases in health care costs and staffing needs. In order to keep the fine staff we have, providing excellent health care and wages competitive is something we need to do. The city staff has put together a lean budget — not a lot of areas to cut. What's important is understanding the budget, understanding the programs to be funded and deciding if these are programs we want, if there is something that can be more efficient, or some things that are not beneficial."
The next question targeted a more specific financial issue in the community, asking about thoughts on the proposed new fire hall and the funding needed for it.
The Ward II candidates generally agreed the new fire hall is needed, but had different answers related to funding.
"The fire station is very important," McGuire said. "When you need it, you're glad it's there. A new one would have more advances over the old one. We'll have to do more to study how to finance the new facility."
Bregemann said, "(Financing) being a split between property tax, sales tax and try for grants. People said try for donations. That would be great, too."
Bruflat offered her thoughts: "I did go to the State of the City presentation a couple weeks ago, and they mentioned some of the issues with the current fire hall and new regulations that need to be considered. One-hundred years ago, when a fire burned, it was just wood. These firefighters need better technology and equipment to be free of contaminants and be safe after fires. We need to upgrade our fire hall, and I agree with the ways of funding an being very creative — thinking outside the box."
DeVos focused on one funding mechanism: "I trust that the city would reach out for grants and donations that might alleviate the cost. Realistically, the city needs a new fire hall and the majority would be from taxes. I think sales tax is going to be the main vehicle for it. Implementing that could capture revenue from the students that go out in town. The people that work here and go to lunch. We can capture more from non-citizens by going that route."
Candidates were then asked about the council's and the city's role in addressing the effects of climate change.
Ward I candidate Youngvorst said, "There is a lot we can do as a city and a community, but as individuals as well. Recently, we hit a tipping point where renewable energy sources are becoming cost effective, and they're only going to become more cost effective as years go by, so I think it would be great for St. Peter to get on that train and invest more."
Johnson said, "The city is taking an active role in issues around sustainability. There are some incredible things we do that I don't think the word gets out about. We have a solar program that the community can tap into. The city has a whole page about rebates and savings that households can take advantage of. For now, we should spread the word about what we're doing."
The mayoral candidates also pitched in.
Zieman said, "The city does do things now. The solar program, offering that, as not a lot of people can afford to put them on their house. We went to a recycling service, which we thought would increase the volume. It did not increase the volume so far, so we're looking at that again. We have started a food waste program; many signed up, but the volume is not what we thought so far. The other thing the city has done, and we are blessed, but we have to take care of what we do with our wastewater. There is cost-benefit on a lot of these."
Schloesser said, "The city's role is encouragement , leadership, and as citizens, personal responsibility. The city can do their part, but if we, as community members, don't support the city in doing that, we're wasting our city resources. We need to take a more active role in climate change. The river certainly affects the community every spring, every fall, more and more frequently with the floods. At the end of day, climate change is about personal responsibility and our role."
The final question was on affordable housing and specifically on what can be done to "provide safe, affordable housing at all levels of income."
The Ward I special election candidates were the last to answer.
Sharstrom said it needs to be taken seriously: "This is a larger challenge then just a St. Peter challenge. St. Peter has done better than many communities. When I was buying, they were selling in two or three days. This is a real issue. We need to continue to work with the partner organizations."
Nowell shared similar sentiments: "It's about more than housing. It's more about the community we want to be. I don't see St. Peter as a premium community that only certain people can afford. Everyone who wants to contribute should be able to."