Bald eagles apparently didn't get the social distancing memo.
They're gathering together in big groups along the Minnesota River and surrounding areas during their annual spring migration. Whether off Hwy. 93 or at Buck Lake near Henderson, at the old Le Sueur sewer ponds, or over by Clear Lake near Le Center, the raptors seem quite content to post up in the valley.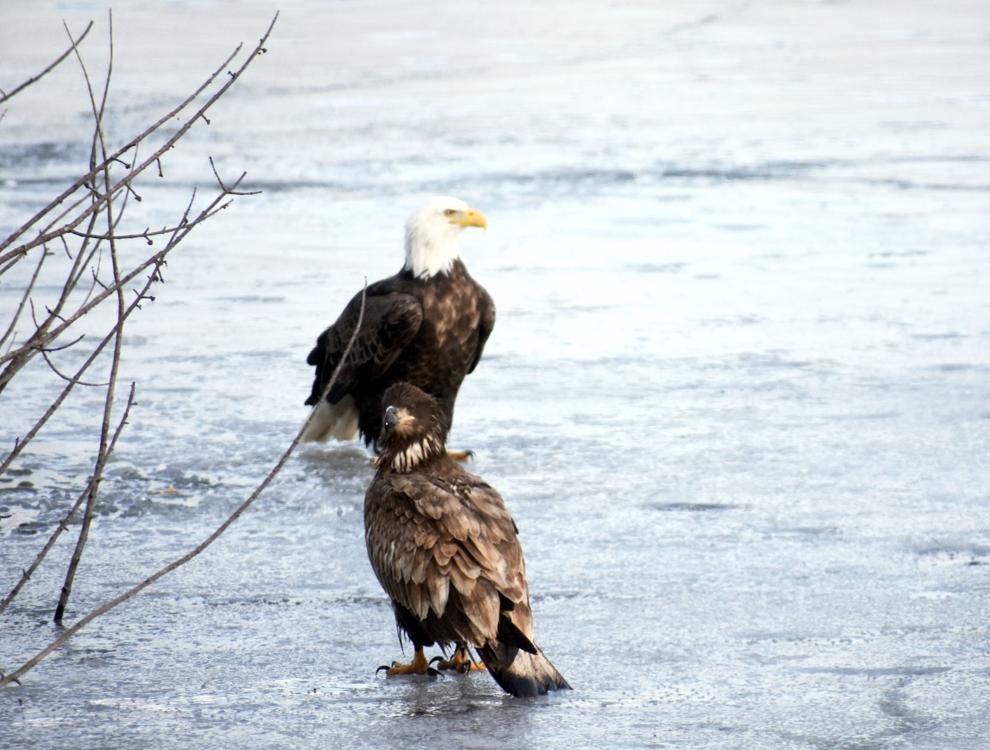 Le Sueur naturalists Art and Barb Straub said they saw 117 eagles within a quarter-mile of each on March 26. They were located on the Minnesota River, on Buck's Lake, a backwater of the Minnesota River between Le Sueur and Henderson, and around the former Le Sueur wastewater ponds, off Hwy. 169.
Other popular gathering spots include pockets of the Minnesota River around St. Peter, around the lakes near Le Center and Lexington, and generally all around the region. A Bethany Lutheran College professor tracked eagles flying over campus throughout the month of March, spending about three or four hours a day spotting, and counted 660 in all.
As the temperature warms, though, more of the eagles are taking flight and heading farther north.
"Yesterday and today, we've seen the fewest number in a good month and a half," said Art on April 2. "As if they've disappeared and moved to the north."
But for he and Barb, both in their 80s and still actively surveying, seeing the plentiful flocks in recent years has been a privilege.
"When I was 17 years old, I saw my first eagle," Art said. "When I was 35 years old, I saw my second eagle. From then on, and I'm 84 now, the chemical DDT was taken out of our system, and all of our raptor populations have grown. Barb and I call it an eagle explosion."
He continued, "On (March 26), a kettle of eagles moved above us, and took off to go north. A kettle is when eagles rise up and circle together before heading north. That left us breathless."
The bald eagles numbers have been climbing for decades. What was once an endangered species seems to now be thriving.
"Anecdotally, it's clear that bald eagles and their nests are much more abundant in southern Minnesota than when I started here in 1999," said Lisa Gelvin-Innvaer, Minnesota Department of Natural Resources Southern Region nongame wildlife specialist. "There used to be only about 10 nests in the DNR Southern Region, all along the Minnesota River. Now, these appear to be widely distributed, although there isn't a comprehensive tally or map because they're no longer tracked by the state."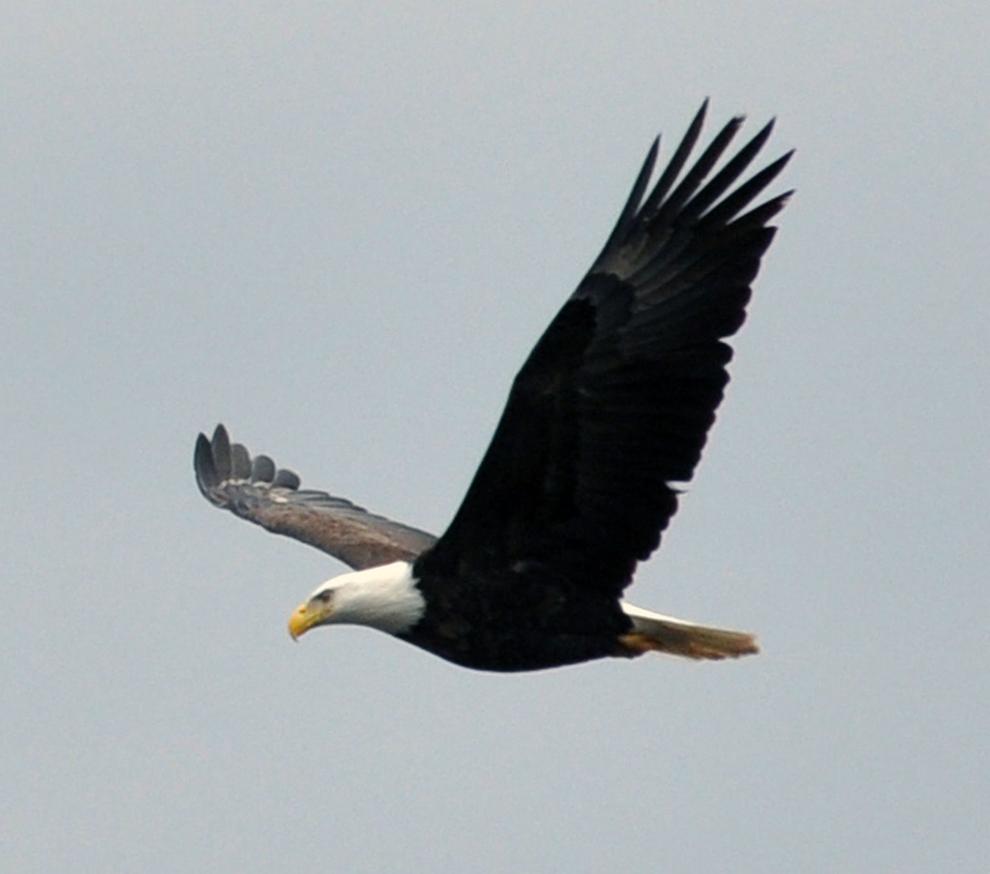 She added, "… as a general rule, the DNR doesn't give out locations of eagle nests in order to protect the eagles which are still protected and can be negatively impacted by disturbance. This also helps to protect the privacy of landowners, where nests occur on private property."
However, eagle sightings are posted to public sites, such as eBird and the Minnesota Ornithologists' Union websites. Although not comprehensive, these are resources for the public to explore and post bird sightings, including those of eagles for particular areas, including Le Sueur, Sibley and Nicollet counties.
Although the majority of bald eagles are found in the forested, northern half of the state, and along the St. Croix and Lower Mississippi rivers, the species has begun to reoccupy much of its former range in the southern half of Minnesota in recent years. It was taken off the federal list of threatened and endangered species in 2007, though the animal is still protected.
In 2005, the DNR reported 1,312 bald eagles in Minnesota, based on a tracking study. The DNR no longer tracks the number, as the bird is not on the endangered species list, but the U.S. Fish & Wildlife Service's most recent estimate of bald eagles is from 3,200-4,000 individuals.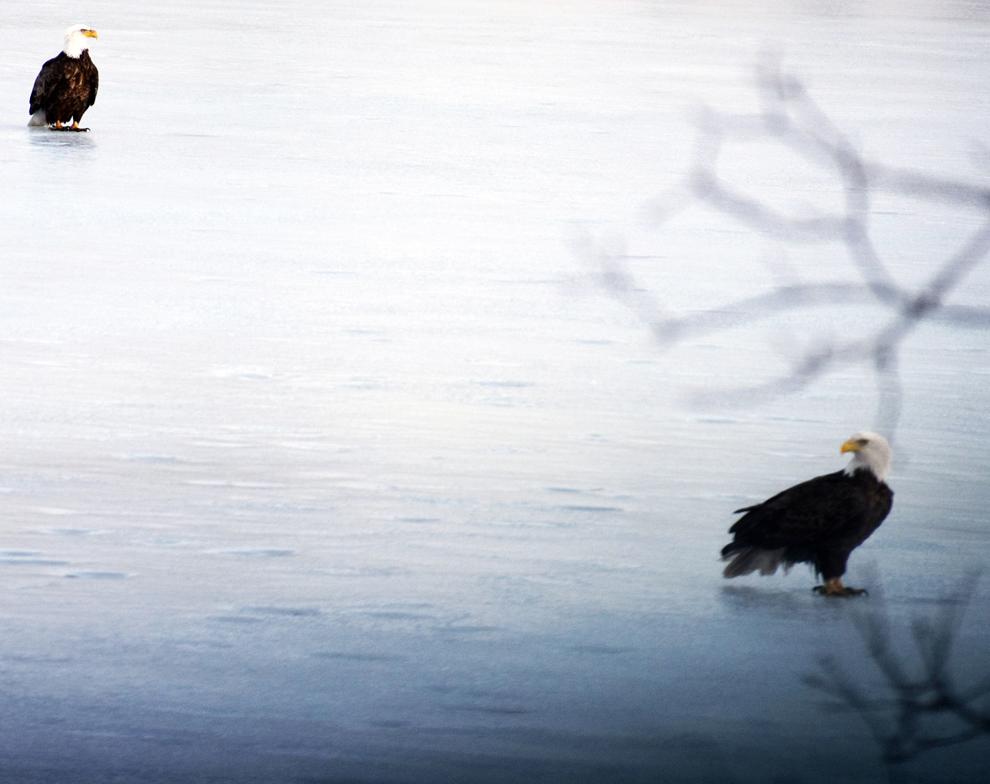 "The bald eagle certainly is a Minnesota and national success story," Gelvin-Innvaer said. She noted that it's "pretty safe to infer that the number of bald eagle nesting pairs has increased in Minnesota since that 2005 estimate. We've certain seen or heard of more nests in the DNR Southern Region."
If, during this pandemic time, people aren't able to get out to see eagles, they may still enjoy the MNDNR Eagle Cam — a MN-grown wildlife show by the Nongame Wildlife Program and made possible by citizen donations to the Nongame Wildlife Fund.
"This support allows us to continue providing this service and to conserve nongame wildlife like eagles, loons, butterflies, bees, turtles and more (vast majority of MN's wildlife in fact) and the habitats they need to survive and thrive," Gelvin-Innvaer said.
In Minnesota, the Nongame Wildlife Program has played a key role in recovering the beloved and national symbol: through cooperative habitat conservation efforts, expert technical guidance and survey and monitoring to gauge the health of the population in Minnesota.
Data from the 2005 surveys provided support for a U.S. Fish and Wildlife Service (USFWS) proposal to remove the bald eagle from the federal list of threatened and endangered species, but bald eagles and their nests are still protected under the Bald and Golden Eagle Protection Act.
Only two states, Florida and Alaska, have greater nesting populations of bald eagles than Minnesota.
According to the Straubs, the Minnesota River in southern Minnesota acts as a "fly away" point for bald eagles, as they travel between locations. There are plenty of trees for mated pairs to build and maintain nests over several years, and on some years, like this one, the fish are plentiful.
"What we discovered on those days (when many eagles were spotted) is that there were a lot of dead fish, and the eagles would take them, drag them onto an ice float and gather together," Art said. "It has to do with the number of fish trapped under the bodies of water and the speed at which the ice melts. We had the highest river levels, this past fall and going into winter, that we've ever experienced. The fish froze out, because those (former Le Sueur wastewater) ponds are very shallow, so a lot of dead fish."
In southern Minnesota, it's not uncommon for some nesting pairs to remain year-round, at least loosely associated with the area around the nest site, Gelvin-Innvaer noted.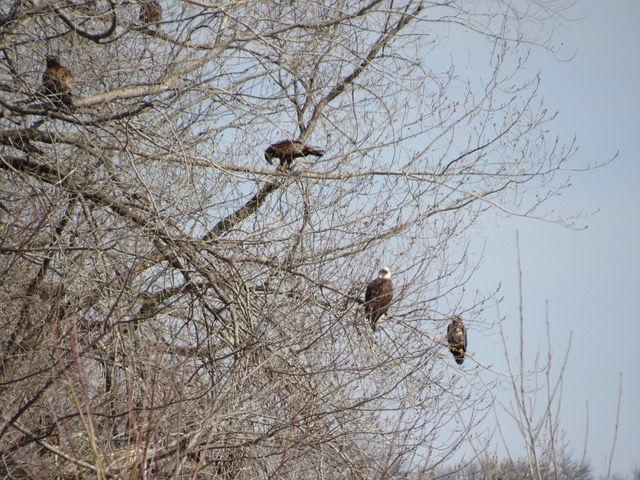 The Straubs observed a nest in the area of Buck's Lake recently and saw two eaglets hatch. That same nest has been there for at least five years, Art estimated.
"Sometimes, we see courtship and nest building/refurbishing as early as December, but that's more common in January. Egg laying is usually in February and hatching in March," she said. "We also tend to see a big surge in eagle sightings when the ice breaks up, with more eagles migrating. The eagles are often observed first along larger rivers and then later lakes and wetlands. They also are observed soaring along bluffs and ridges, riding the rising warm air. Some will stay, but many will move on to other parts of Minnesota or beyond."