As Minnesotans continue to wait for an update from the governor's office and health official related to the ongoing coronavirus pandemic, farmers markets are on the list of events trying to stay ahead of the unknown.
Local
The St. Peter Farmers Market opening is scheduled for June 6, and the market's plans haven't been disrupted too much by COVID-19. This year's farmer's market promises to have all the usual vendors plus a few more including beef seller from Stormy Creek Farms by New Ulm, a goat milk soap maker and a chocolatier from Sleepy Eye.
"It will look a little different this year, as is everything right now, but we are still going to have all the same vendors," said St. Peter Farmer's Market Manager Nicole Jensen. "We're just going to be taking extra precautions, per our farmers market guidelines from the state level."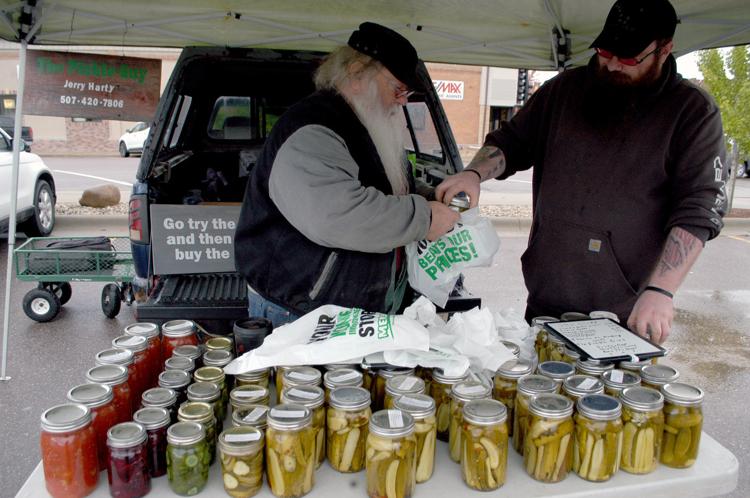 The new precautions are meant to ensure the market isn't a place the virus can easily be spread.
The St. Peter Farmers Market will open with signs reminding shoppers to keep six feet apart and a one-way loop of traffic. Rather than picking up what they want, customers will be asked to shop with their eyes and tell vendors what they want. Vendors themselves will come to the market wearing face masks and will utilize no-contact payment options, such as phone or electronic-based payment. Some vendors may even bring plexiglass barriers to limit contact with customers.
While a lot will be different, Jensen hopes that the sight of familiar faces at the market will help people feel more at home.
"We're trying to make it as familiar as possible as far as what we're selling and hopefully people will come down," she said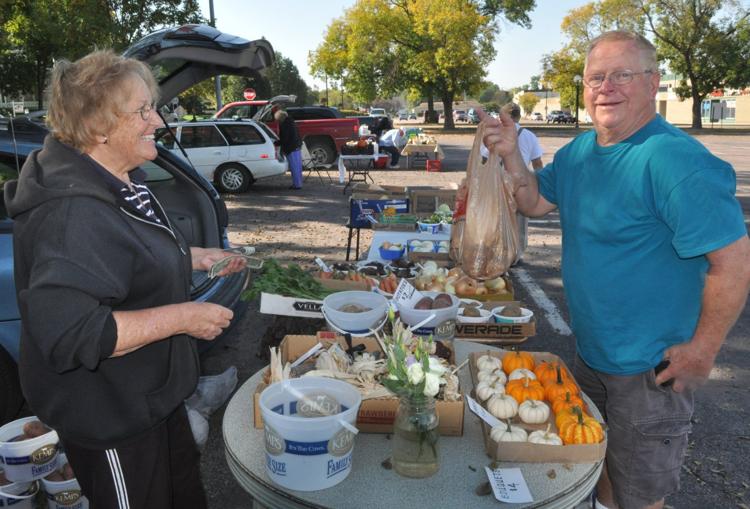 The Le Sueur Farmers Market is also taking safety precautions for its planned market fest. While initially planning to open by May 13, the Le Sueur Farmers Market pushed back that opening to July 10 with a number of new rules.
Seniors, health care workers and people with underlying health conditions will be invited to shop at the market during the first half hour, which starts at 4 p.m. Vendor booths will feature hand sanitizer, be spaced farther apart, use table coverings and will not offer free samples, and many will have electronic payment options to allow customers prepay online.
Shopping will be a different experience, too, with shoppers encouraged to shop with their eyes. Eating at the Farmers Market will also not be allowed, and families are encouraged to send a "designated shopper" to the market.
One thing that will not be returning is live music and programming, like the Power of Produce. The Le Sueur Farmers Market has told customers that this year's market will be a shopping experience rather than a social one.
Regional
The Owatonna Farmers Market, which was set to kickoff in May in Central Park, announced earlier that it would push back the start date to the first Saturday in June. John Meixner, owner of Little Professors Bookshop in downtown Owatonna and farmers market organizer, said that this decision gives everyone time make appropriate adjustments and prepare for a potentially different looking type of market.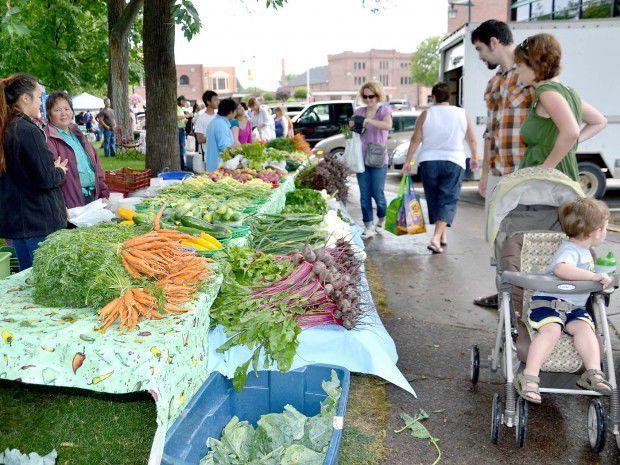 "When we made the decision we really didn't know what the situation was going to be like, but we thought it would be best to be safe than sorry and wait until June," Meixner said. "If situations change drastically, we could always open up early."
In Faribault, the farmers market starts in June, as scheduled, while the Medford market, now without an organizer, won't open at all.
Owatonna's Meixner said that they were lucky in that none of the vendors seemed upset or concerned with the decision to delay the opening, adding that the public will likely be more upset about not being able to spend their Saturday mornings at the market for another month.
"Whenever we open, I think it's going to have a nice big draw," Meixner said. "We don't know if there will be any state restrictions moving forward — or city ones — but I'm not too worried about it because I do think most people are pretty socially conscious about what's going on."
Meixner said that this is the first time in the history of the downtown farmers market that it has been postponed, stating that even inclement weather there always seems to be a couple of vendors and a handful of shoppers who make their way to the park.
"If there's a snowstorm and someone wants to come down and sell banana bread, that's up to them," he said. "Sometimes bad weather will mean not so many people will show up, but there are a few diehards here who will show up for anything."
Diehards could be one way to describe the vendors and shoppers of the Faribault Winter Farmers Market, which held its last event as scheduled on April 11 at the Rice County Fairgrounds, but vendor Theresa Bentz of Get Bentz Farm said that she believes they simply did it right.
"Tiffany Tripp who does the winter market just really did a fantastic job," said Bentz, who sells lamb meat, fiver products, and handcrafted soaps and lotions at both the Faribault Winter Market and the Riverwalk Market Fair in downtown Northfield. "Before we even arrived, she had taped out where every table would go to accommodate appropriate social distancing."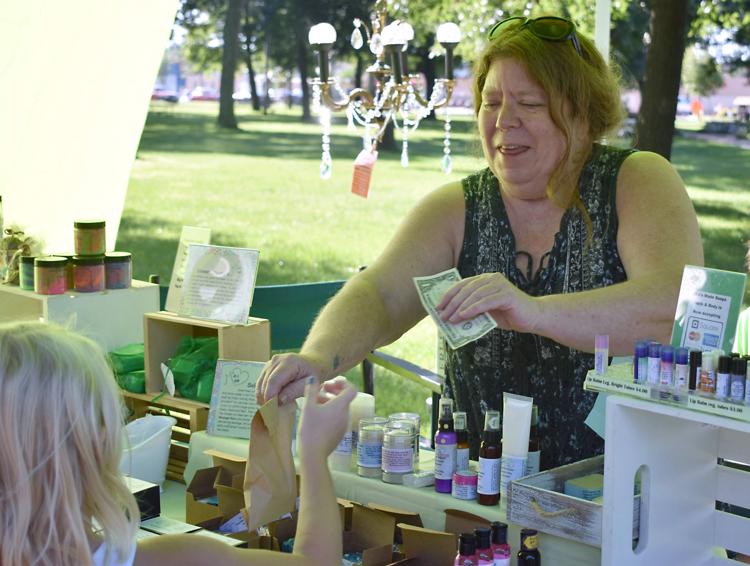 Bentz said multiple hand washing stations were set up throughout the market, as well as signs that reminded visitors to both wash their hands and to not touch anything unless they intended to purchase it. She added that the distance between each vendor was roughly 12 feet, and that the vendors were asked to bring two tables to help distance themselves from the shoppers.
"It was really smooth. The people that came all kept their distance from each other and from the vendors, which was great because as a vendor you are putting yourself at risk trying to sell your products," Bentz said, noting that every vendor wore a mask.
While the winter market normally brings out about 300-350 people, Bentz said there was probably only 150 people who attended that final Saturday, likely due to COVID-19. She believed that was OK, though, as everyone is still determining their level of comfort as they try to remain safe.
"I feel safe, and I'm not in the age range of people who are at higher risk of getting it, but I am definitely in that age range of people who can spread it," Bentz said. "It is important to me to make sure customers who came that were elderly and at risk knew that steps were taken so that they wouldn't be infected or possibly take something home with them."
The summer farmers market in Faribault is scheduled to begin June 6, as planned. According to Bentz, Tripp has been working with the organizer of the summer market to help them navigate through COVID-19.
Cancellations
Not all farmers markets have survived the pandemic – including the Medford Farmers Market and The North Market that took place at Grace Baptist Church in Owatonna. Former organizer for both markets Jennifer Kath said that after deciding this winter to step away from the markets that she was unable to find anyone to take on that role.
"In hindsight, that was probably a good decision because I can't even visualize what the market would look like," Kath said. "There is so much social interaction between vendors and customers."
Kath said that many of the larger farmers markets have been organizing pre-orders and pick-up only style markets, but that those markets are typically ones that have paid staff, such as the Rochester Farmers Market. She said she is uncertain, however, how the local residents would respond to that kind of setup.
For now, there will be no farmers market in Medford or at Grace Baptist Church until someone chooses to take over the organization. But as Meixner likes to point out, things continue to change day-by-day.
"We're five weeks away yet, so a lot could change," he said. "For the good or the bad."to as it was."