Almost exactly 40 years ago, a building was purchased in St. Peter for $1. It was a sale that would mean more to the community than those involved in the transaction may have ever predicted.
It was the beginning of the Arts Center of Saint Peter, and it meant, over the next four decades, that artists and art lovers from all walks of life would always have a place to call home.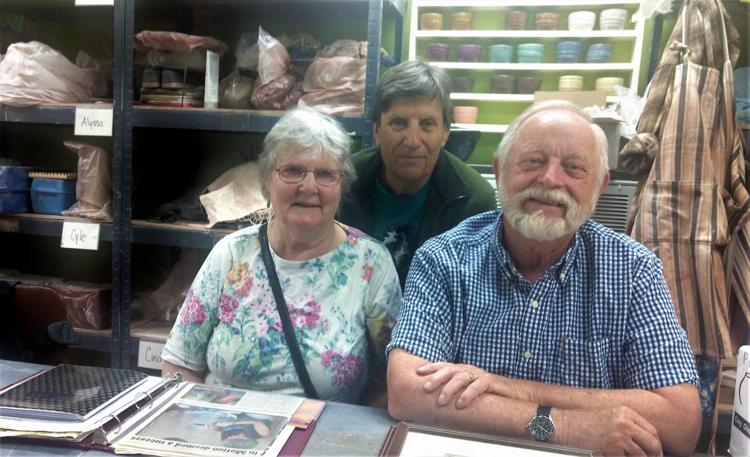 "People were interested in the arts — some artists, some that just appreciated the arts," said Joel Moline, one of the original Arts Center founders, along with his wife, Carol Moline.
So people came together, they found a space, and they made things happen. Artists suddenly had somewhere to work, to collaborate, to be among themselves. And today, as the Arts Center celebrates its 40th anniversary, the organization, though in a new location, still serves artists of all varieties.
Factor in inflation if you like, but regardless, it was a dollar well spent.
As Stephanie Thull, a younger leader at the Arts Center, puts it, "We're all working hard to be happy, and this makes people happy."
Starting out
It was 1978, and the artists and art lovers in St. Peter were longing for a home away from home. Well established as an education-based community, anchored by Gustavus Adolphus College, there were plenty of artists already doing their thing in the community. But inspiration may have been harder to come by.
"Artists need somewhere to bump up against each other," said Carol Moline.
Joel Moline added, "There wasn't too much going on at the time, and a group thought we could have an artist cooperative or artist center. A group coalesced and the art center idea came to the fore."
The group used its connections. With Barb Olmanson on their board and Don Olmanson, her husband, on the School Board, there was an opportunity for collaboration. The school district had a building for sale — it was the original high school building at 320 South Fifth Street built in 1870.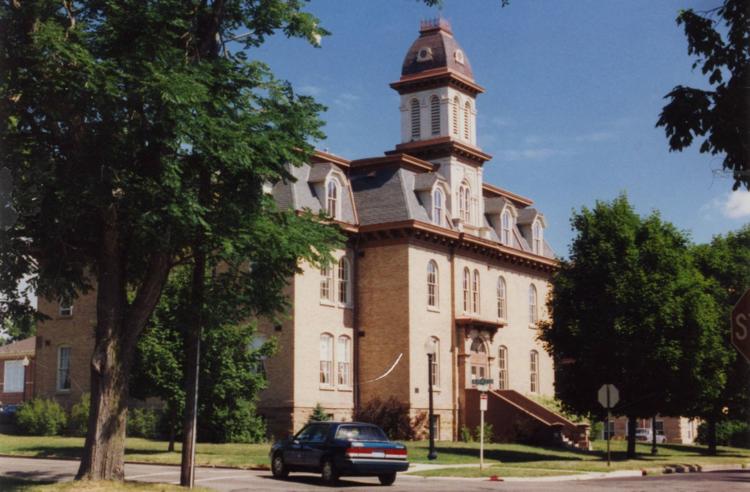 In July of 1979, the group made the $1 purchase and the Saint Peter Arts and Heritage Center was born. Starting off as a hybrid between heritage and arts, the building included studio spaces in the upstairs, including a dance room. There were two rooms for a gallery just down the stairs, plus a heritage room and a board room on the bottom floor. A ceramics area also developed in the basement.
"It was a place where artists could meet and greet, challenge each other," Carol Moline said. "It didn't feel like artists knew each other; I think that came with the organization."
For Gretchen Koehler, who joined as a member soon after the center started up, the draw was the space itself.
"I love old barns and old building, so I went to all the socials," she said. "It was gorgeous. The building is gorgeous."
Joel Moline added, "There was always rubbing shoulders within one another in the kitchen. We had turned a coat closet into the kitchen and during the holiday fair; we'd have soup and a Christmas tree, and it was festive."
"We did a lot of things — just a ton of fun things," Carol Moline said.
Post-tornado
While the group was always happy with its situation at Fifth Street, making any organizational process was a challenge.
"Money was always a trick," said Carol Moline. "It was particularly a trick because we had one board member who was very much against going after grants. He felt it should be raised from within the organization. That would've been the prime time to get funds. Could've done so much more, so much faster."
Rather than growing exponentially, the Arts Center just kept ticking along for its first 19 years. And then changed was forced upon it.
The tornado hit in March 1998, wreaking havoc across the community and devastating hundreds of structures, including the old Arts Center building. The damage Mother Nature did to the 1871 building was nothing short of spectacular, and the organization soon realized that salvaging the space was not an option.
"Everybody, of course, was sad," Carol Moline said. "It took them a while to realize they couldn't possibly bring back a building like that. It would've cost so much. The writing was on the wall, but it was tough for people to accept that."
While the nonprofit searched for a new home, leaders aimed to keep things going and not let the organization disappear entirely.
"I was on the board about the time we were doing the looking for buildings. It was a matter of trying to decide what to do next — locate a new place and so forth — while maintaining some organizational activities," Joel Moline said. "We had gallery shows at Chestnut Tree Coffee Shop, where Third Street Tavern is now."
They found their salvation right off the highway, the main drag. The organization leaders had never pictured the Arts Center as a storefront offering, but there was little for sale anywhere in the city, and the location at 315 Minnesota Ave. was undoubtedly a good one.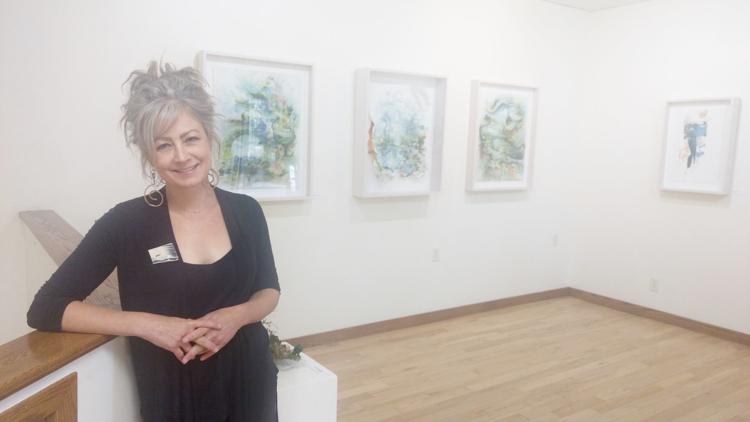 Arts Center Executive Director Ann Rosenquist Fee, who started in her position five years ago, noted that the change may have been positive, even necessary, as the organization moved into the modern day environment.
"This is a more standard, professional gallery space," she said. "And we're on people's list of places to shop on the main drag."
Carol Moline added, "We're reaching a broader scope here than the old place. We're reaching more of the younger folk."
Into the future
Today, the Arts Center offers a ceramic studio, painting studio and fiber arts studio. It hosts classes in all of those areas, plus creative writing and drawing. People host parties in the space, and the organization hosts live music and literary events once per month. In addition to all that, the building features a large gallery space, where the artists can show off whatever it is they're working on.
On a given day, the center might be crammed with people working at their crafts, including young people.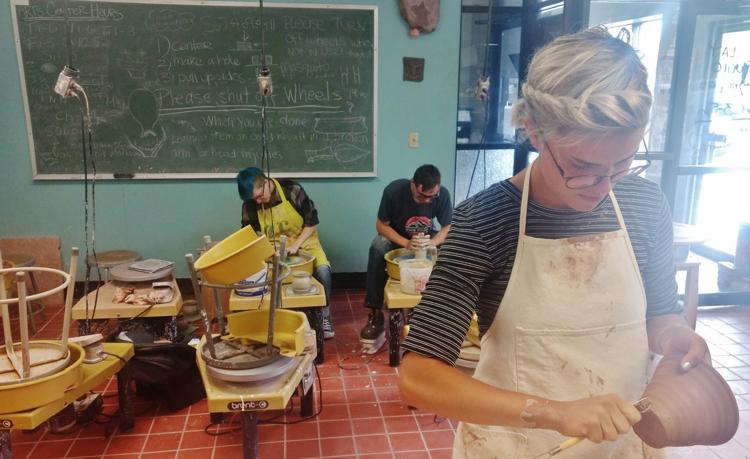 Caitlin Heyer has been coming for three years. She does ceramics for the most part, but she's branching out into weaving and does some teaching. She sees the center as a platform for what she loves to do.
"The community here (in St. Peter) really supports art," she said. "It's connected with the gallery. The people, despite having dozens of bowls, will come back for another one."
Mary Traxler has been coming since she was in high school in 2014, and she's now a clay center member, a teacher and an occasional performer. She loves it.
"It's one of the best learning environments I've ever experienced," she said. "It's kind of incredible."
For Shawn Bagley, who has been coming for three years to spin the ceramics wheel, the joy of the Arts Center is the people inside.
"All 15 renters are always talking about what we're working on and we help each other out," he said. "We inspire each other."
And that's exactly what the founders envisioned 40 years ago — artists rubbing shoulders.
For the future, Traxler pointed to the center's reach and how that might grow. She said she wants to see the center become a spider web, touching on other larger organizations in the community — like what it does now, teaching classes at the Regional Treatment Center or working with the city on a sculpture park.
Rosenquist Fee, who is delighted to leave all the power in the hands of the artists, agrees.
"What's going to drive our growth is staying a small and nimble organization, but partnering with larger organizations that have art needs," she said. "I would like to do more of that and then just see where it takes us."
The Arts Center of Saint Peter is destined to change, even more than it already has. And while the space might not be recognizable from the one created so organically 40 years ago, one thing has never changed.
"It feels like home," Carol Moline said.