Herbert Chilstrom was a doctor, a reverend and a bishop, but that wouldn't be enough to describe him. He was also a husband and a father. He was a neighbor and friend. And above all else, he was a leader.
"He was a very warm, down-to-earth person, who was very good at sharing his own joy, sorrows, difficulties," said Dennis Johnson, who was Chilstrom's successor at First Lutheran Church in St. Peter in the 1970s. "And he was a great encourager to all of the pastors who served with him in the church. He was a very wise counselor with a steady hand on the wheel. He was thoughtful. He was an articulate spokesman on church issues. He was a strong advocate for marginalized people. And he had a great sense of humor."
Chilstrom died on Jan. 19 at 88 years old. He was survived by his wife of 65 years, Corinne, daughter Mary Cress, son Christopher Holt, and four sisters. He was preceded in death by his son Andrew, brother David, and sisters Adeline and Lorraine.
After leading First Lutheran Church for six years, he served as the bishop for the Minnesota Synod of the Lutheran Church in America for 11 years. And after the merger of three Lutheran churches in 1987, he became the first presiding bishop of the Evangelical Lutheran Church of America, serving for eight years. In retirement, he and Corrine returned to St. Peter, splitting time between there and Arizona.
Whether he was leading millions of people through the ELCA or a handful of community volunteers at the Gustavus Arboretum, Chilstrom showed himself to be a man of kindness, compassion and intelligence.
"He was a leader, no question about that," said Bruce Gray, a St. Peter resident and long-time friend to Chilstrom. "That's what he was all about: helping others."
A pastor in St. Peter
Chilstrom was born in Litchfield in 1931.
After high school, he completed academic degrees at Augsburg University, Augustana Seminary, Lutheran School of Theology at Chicago, Princeton Seminary and New York University, where he earned a doctor of education degree.
Around the same time, he married Corrine, also a pastor, and they started their family.
He then served Lutheran congregations in Pelican Rapids and Elizabeth, before arriving in St. Peter in 1970. He was brought in to serve as the senior pastor at First Lutheran Church. Donna Green, a St. Peter resident, was in his congregation and served as his secretary one summer.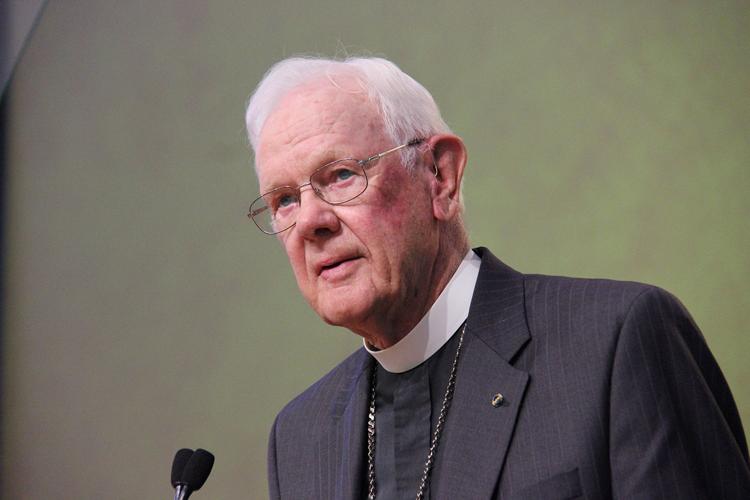 "I would describe him as gentle, friendly, kind, considerate," Green said.
It's difficult to think back 45-50 years ago and remember Chilstrom's sermons in St. Peter, but Green had some general recollections.
"At the time, we found them very truthful, insightful, learned, inclusive," she said. "He was thoughtful."
Gray was also a member of Chilstrom's congregation in St. Peter.
"He was compassionate about life," Gray said.
Pastor Johnson came to First Lutheran immediately after Chilstrom and continued to connect with the mentor into the future.
"His warm, down-to-earth manner made him very approachable. And he always spoke his mind. You never had to wonder," Johnson said. "Herb was a very serious person, but he approached his work with a lighthearted seriousness. He didn't take himself so seriously as to think he had all the answers, and he was as willing to learn as he was to teach."
While Chilstrom was always engaged in outer-world issues and was a consistent advocate for social issues, everything he did was grounded in faith.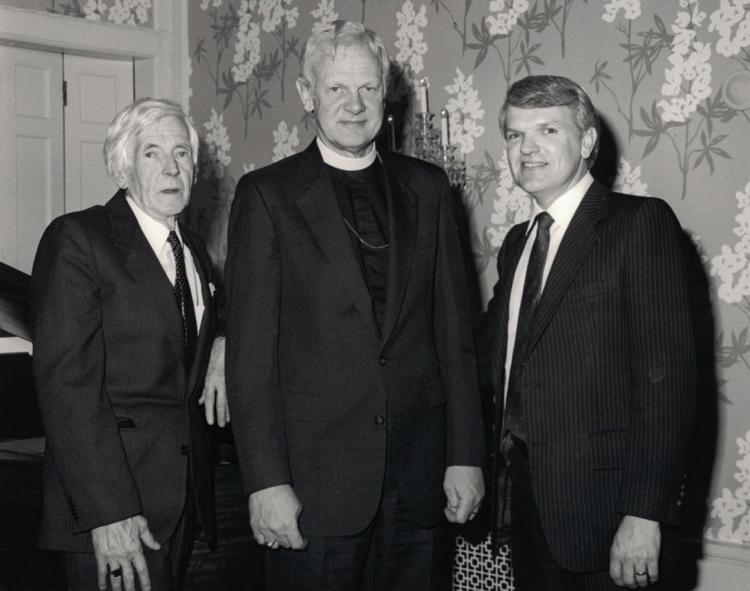 "He had a quiet confidence in the Gospel of Jesus Christ and the love of God for all people," Johnson said. "That was the center of his life. He was an Evangelical with a social conscience."
Chilstrom got himself involved in the St. Peter community, sitting on a number of boards, including at Gustavus, where he also served as the interim director of the Linnaeus Arboretum and later as a gardener.
"The Gustavus community joins together with our partners at the ELCA and Lutherans across the country in mourning the loss of Rev. Dr. Chilstrom," Gustavus President Rebecca M. Bergman said. "He lived his life with a deep humility and sense of compassion that compelled him to share God's love with everyone equally. Whether dining with world leaders or teaching inquisitive schoolchildren in the Linnaeus Arboretum, Herb was a kind, gentle, and thoughtful man."
A bishop in the ELCA
In 1976, pastors and delegates from the Lutheran Church in America congregations elected Chilstrom to become the bishop of the Minnesota Synod.
"Herb had that sense of 'You follow the call,' and if the church wants you to do a job, you do it," Johnson said. "Understanding that you're willing to put yourself forward, and if the church chooses you, that's something. It's not an office you go out and seek; people are a little suspicious of someone who wants that.
Johnson laughed and added, "Herb himself used to say, 'People who want that job will get what they deserve.' Meaning it's a really hard job."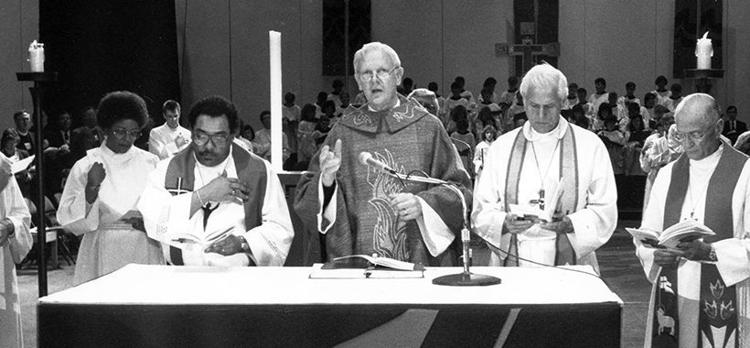 Chilstrom proved himself a capable and popular leader in Minnesota. When several Lutheran denominations merged to become the Evangelical Lutheran Church of America in 1987, he was chosen to be the first presiding bishop, with 5.2 million congregants to serve.
In a letter to the church, the current Presiding Bishop Rev. Elizabeth Eaton, said he was the exact right person for the job at that time.
"Many of you knew him in those early days when the ELCA was just getting started – there was no furniture at the Lutheran Center, files were in boxes, phones were on the floor, and the skeleton staff worked on card tables and folding chairs," Eaton said. "He was once told by a corporate executive sitting next to him on a plane that this was no way to start a corporation and it would never work."
She added, "I can't imagine the uncertainty and chaos of those first months, but all I know is we were filled with hope for this new church the Spirit had brought into being. And I know that Bishop Chilstrom served out of the conviction that it was God's will to raise up an ELCA witness to the gospel, and with God, all things are possible."
Chilstrom would go on to shake hands with ministers, presidents, popes. But it was not always easy; he had ideas, and some were a challenge to old traditions of the church. Most famously, Chilstrom took on the shunning of LGBTQ churchgoers, calling for their acceptance in the ELCA.
"It was a big controversy, and we've moved quite a bit on that in the last 20 to 30 years," Johnson said. "I don't know that Herb was the first, but he was a strong voice."
The church has become less stringent on the issue and continues in a progressive direction, but some 800 congregations left the church because of the issue, and Chilstrom noted in a 2015 Herald article that it "hurt the church financially." But he noted a lot of that has been recovered, and he said the ELCA today should not be seen as declining, but changing.
A neighbor in retirement
In 1995, Herb and Corrine retired to a Pelican Rapids lake home. He eventually surprised Corinne, suggesting they move back to St. Peter, the community he once served.
They continued their lives, splitting time between St. Peter and Arizona, as Chilstrom continued to garden, and they both wrote. Chilstrom completed multiple books, including "My friend Jonah … and other dogs I've loved" and "Remembering Dave: 28 stories from life with my developmentally challenged brother."
The rest of the time, he was busy volunteering, organizing community get-togethers and just being a friendly neighbor.
"He was a good friend," said Green, who became Chilstrom's neighbor when he moved back to the community in retirement. "He became a familiar sight in his floppy sun hat, walking his Cairn Terrier, Jonah, around the neighborhood. He and Corrine hosted a neighborhood picnic every Fourth of July, for which he grilled the hot dogs and hamburgers."
She added, "He welcomed you to stop in and have a discussion of thorny theological issues, always open to questions and never putting one down for opposite views, but being quietly persuasive in his own views."
Gray and his wife, Sue, who were neighbors to the Chilstroms during their first tenure in the community, remained friends with the couple for years.
"I'm going to miss his little dog, Jonah. My wife and I have a dog, and he'd be out walking and we'd get together and just talk," Gray said. "It was just one of those wonderful neighborhood things."
He added, "And in the summer, when the vegetables grew at the arboretum, Herb would bring us tomatoes, beans, all the good food in the summer time. And we weren't the only ones. He'd go around and give it to everyone. He and his wife were giving people."
Indeed, whether he was filling the role of a national church leader or just a neighbor down the street, Chilstrom was always a leader, always someone to look up to.
"It was one of the blessings of my life to know him," Johnson said.