The Arts Center of Saint Peter recently debuted, "Songshare: An Evening of Songs and Stories with local songwriters." This new series, hosted by local musicians Colin Scharf and Laura Schultz, invites local songwriters and musicians to an intimate, personal setting, making their work and their experiences the frontline subject for the evening.
Scharf and Schultz previously hosted the house concert series "The Gold Mine," and have moved from their living room gatherings, to the Arts Center location in downtown St. Peter, to center and focus on the essence and personal stories that revolve around each of their guests for the evening.
"We wanted to continue to grow and nourish this listening room vibe that we benefit from so much, and that others benefit from. And offer an experience for folks who really deserve to have a night in the spotlight, which some of our guests may not often get to have, when they play in loud bars or concert settings," said Schultz.
September's guest, Ian Hilner, has been playing the bar and outdoor concert scene for more than 20 years.
"Ian deserves to be foreground music, just as all of our other guests deserve to have the opportunity to shine and be the center of the night; that is why we wanted to do this series," said Schultz.
With brief introduction and explanation by Arts Center board member Dana Melius, the 'golden voices and great talent' took center stage to the captive art center audience of all ages.
Many stories of past experiences, such as playing a show in a small bar in Nebraska during a snowstorm, for no more than the sound guy were mirrored by other personal experiences the artists shared.
Hilner described his first experience with music. His father, a country singer, recorded with the late, Freddy Fender, a country and rock and roll musician. This exposure to the music world paved the way for Hilner, who, years later, found himself stowed away in his bedroom, with a stolen guitar, writing his first song.
Schultz, who was introduced to the music world through voice lessons at the Wausau Conservatory of Music in Wausau, Wisconsin, met one of her closest friends there and was inspired by her to learn to play the guitar. Schultz went on to explain that for herself, as well as many musicians, when lyrics are written, they may not know exactly why they are writing what they write at the moment but later come to realize the meaning.
Schultz added to Hilner's introduction of 'first songs' by sharing a selection she wrote when she was 18 years old.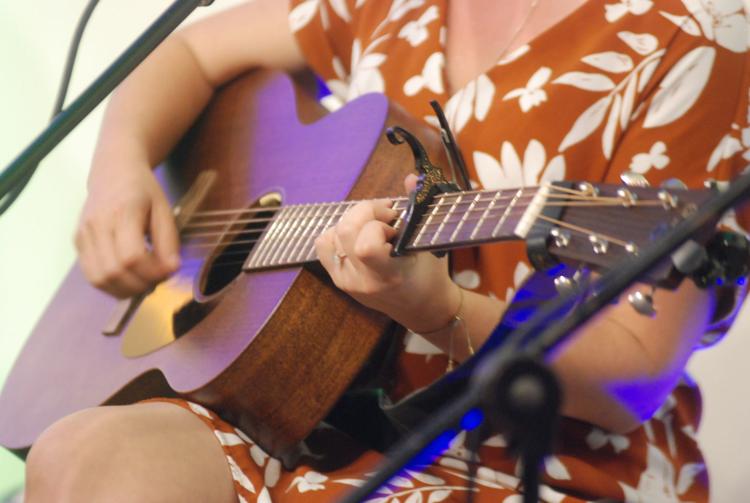 "I look back at my life, when I wrote my first song, and even though I didn't really know what I was writing about at the time, I now can see how the lyrics I had written then were very much about change for me and how difficult that was at the time; how much I struggled to come to terms with those changes," Schultz said.
Scharf, who is married to Schultz, grew up listening to the squeaky, power distorted sounds of 1990s American rock bands Eve 6 and Green Day, and knew at age 13, that he wanted a guitar.
"I loved playing heavy, edgy, rock and roll and punk rock songs in my earlier music writing career, but later challenged myself to navigate the folky music writing waters, with the likes of Bob Dylan and Paul McCartney," he said.
While attending graduate school for writing, Scharf was inundated with art of all forms. After experiencing a vivid, very detailed dream, he explained, Scharf knew this was a turning point in his understanding of art and music and what he wanted to convey through his work.
"I want to experience something that is so all-encompassing and overwhelming that (you) feel cleansed after you experience it. (We) do this with our music — the lyrics and the feeling we portray when we perform and share this with others," he said.
For Scharf, this overwhelming experience has been his stepping-stone, and even through lyrics, that may have seemed unrelated to the underlying experience when they were written, can later transform into raw, unedited emotions, paving a path less traveled, but promising forgiveness or hope, joy or elation.
Building off Scharf, Hilner went on to share a very personal story of his 2-year-old daughter, who was sitting on her grandmother's lap one day and asked, "Did you hear that?" and then said, "Papa says 'Hello.'" The grandfather had recently died after a brief bout with cancer.
Hilner went into his song: "They say time heals everything. Time won't heal everything. Now we live in a haunted house; he is here with us, it's gotta be. We don't believe; but how can we explain the little sounds and everything. The cold spot by the old man's chair …"
After telling the story and sharing the very intimate lyrics, not a dry eye could be found among the crowd. The intimate setting and highly engaged crowd at Songshare proved the perfect venue for sharing a story like Hilner's. The program seemed to open the music up to the audience in the way a traditional small music setting cannot. And that's the goal.
The Songshare series will continue with its next feature on Nov. 21 at the Arts Center, with special guest Nate 'Boots,' and a third installment taking place in January 2020. Community and area music lovers are encouraged to attend.
"We hope this will keep growing," Schultz added. "Music is one of the places we feel most alive and most ourselves. And anytime we can tap into our own feed and gain a broader perspective on our own self knowledge, it only makes us that much more successful at what we do, both individually, as well as when we work within a group."