On Saturday, July 25, a new mandate went into effect statewide, calling all Minnesotans to wear masks in indoor public settings, if they are able to do so. The mandate is an attempt to quell the spread of COVID-19, which continues to impact communities across the United States.
It's a statewide order, but members of local communities, of course, have their own opinions. 
The medical community across Minnesota has issued support for the masking rule, believing it can help slow the spread of the infectious disease and help hospitals avoid being overwhelmed; local hospital leaders echoed those sentiments. But perhaps no working group is more impacted by the mandate than law enforcement, as agencies and departments will need to make decisions at local levels on how to handle non-compliance and complaints related to the new mandate.
The order from Gov. Tim Walz says "… people in Minnesota are required to wear a face covering in all indoor businesses and public indoor spaces, unless alone. Additionally, workers are required to wear a face covering when working outdoors in situations where social distancing cannot be maintained. Research has shown that use of face coverings can greatly reduce the risk of infection when combined with other prevention efforts such as social distancing and hand hygiene."
For member of the local medical community, the new masking requirement is pretty straightforward.
"I support the governor's mask mandate," said David Larson, a doctor and chief of staff at Ridgeview Medical Center, which has a location in Le Sueur. "It helps prevent airborne transmission of the virus."
That fact alone is enough to make the mandate favorable to most in the medical community. Slowing the spread of the virus is the goal. If the spread can slow, then contact tracing can help medical teams to stifle and eventually contain the virus. That strategy has been seemingly successful for a number of countries across the world.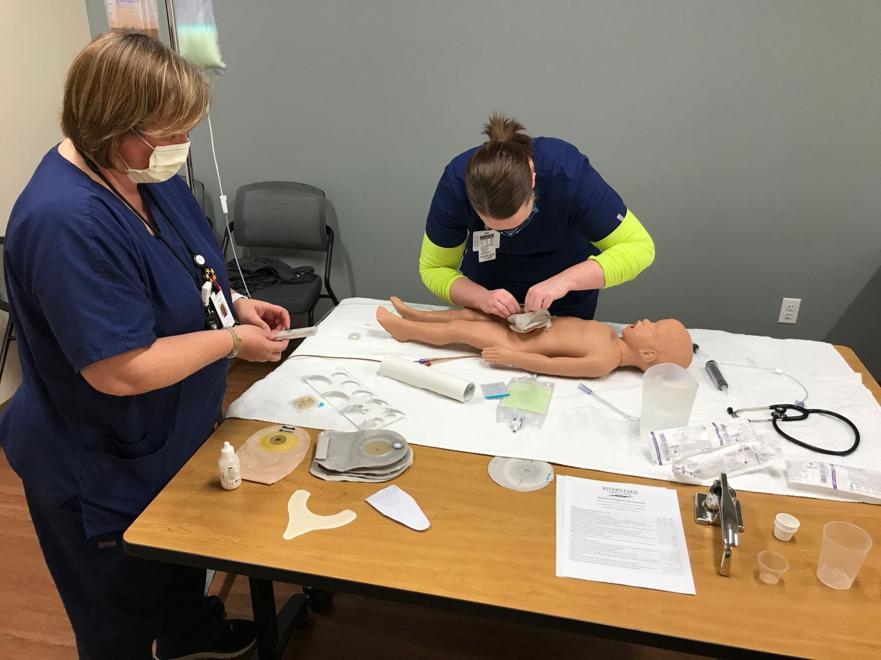 St. Peter River's Edge Chief Quality Officer Janelle Rauchmann elaborated on the masks' impact. She noted that many people have the virus without knowing it, and masking is all about preventing yourself from spreading it to others.
"The masking helps stop the germs from infecting others; it helps protect others, as well as yourselves," she said. "I think the key there is that we know there are asymptomatic individuals, and they don't even know their sick. And with so many asymptomatic individuals that the tests are showing, that's why they're recommending this. I think it's a good thing; the more we can do to protect each other, the better we'll be."
Researchers believe the coronavirus, which causes COVID-19, is spread via droplets, which are released whens someone sneezes or coughs, but also just when one is talking or breathing out.
"Currently, they're saying COVID is droplet, so surgical masks and cloth masks are enough to help," Rauchmann said. "That's enough to reduce the risk of you giving it to someone else."
In terms of what impact the mask requirement can have, Ridgeview's Larson said, "Our hope is that the mask mandate will slow down the spread of COVID-19 and, at the same time, continue to keep businesses open." 
Rauchmann said, "I don't know that it will push the (infection) numbers down fast. My hope is that if everyone is taking the proper precautions, social distancing, wearing the masks, washing their hands, that will help us keep that curve from peaking and help us keep things under control.
Both Ridgeview and River's Edge have been moving toward normal operation over the summer. Non-essential surgeries, which were temporarily barred across the state, are now allowed again, and that has helped many hospitals to get closer to normal revenues again. The hospitals are still taking extra precautions amid COVID-19, though, and are prepared for potential surges.
It's a completely different perspective for law enforcement workers, who do not need to have an opinion on the mandate but do need to deal with the impact it has on their work.
St. Peter Police Department Chief Matthew Peters said his biggest concern is contradictory direction from the state. He noted that the actual executive order has very specific language, calling for specific enforcement procedures, but then guidance from the Minnesota Department of Public Safety called for less rigid, education-based enforcement.
"The order does not say exactly the same things (as the guidance)," Peters said. "That can create confusion, because it's presented as very serious, but then what is actually told to us might be different."
The executive order lays out specific penalties for non-compliance. An individual who violates the order, and is not exempt from it in anyway, is guilty a petty misdemeanor, which may include a fine not to exceed $100. A business, owner or supervisor that does not comply with the order is guilty of a misdemeanor, which may include a fine of up to $1,000.
However, guidance sent out by Minnesota DPS Commissioner John Harrington to local law enforcement agencies notes the $100 fine option for individuals but encourages law enforcement to focus on education first: "It is important to emphasize that when a suspected violation occurs, education is the first priority. There are many reasons an individual may not be able to wear a face covering and advising the individual of the executive order and then providing a face covering (if available) is a best practice."
The guidance also notes that an individual should not be arrested solely for failing to wear a face covering, but if the person refuses to leave the public premises at the owner's request, law enforcement may determine an arrest, related to trespassing, is appropriate. 
That type of advice seems to tow the line, according to Peters, who was still working out how his department would handle non-compliance in the days leading up to the mandate.
"It's going to be very difficult for agencies across Minnesota to be mask police," he said. "The commissioner notes that the issue has become increasingly volatile. He then passes the buck to local agencies and councils for how best to handle complaints."
Peters had not made any final determinations on local policy and noted that things can change, but he said, "My thinking is that, if this is as serious of a concern for the public that it requires a public health mandate, then it should be OK for us to issues citation in response to violating the mandate. I find it hard to believe that we'd still need to educate people on this."
He said the biggest concern is that this is a new law, going into effect quickly, and it's quite broad in detail.
"I wish I had an easy answer, but we're still working through how we're going to handle this," Peters said.