Options are limited for the St. Peter School District when it comes to the 2020 graduation ceremony. While administrative leaders have conjured up some creative, but still safe, ways to celebrate this year's graduating class, an in-person ceremony is pretty much out of the question. The opportunity for students to celebrate the occasion together is low, amidst the coronavirus pandemic.
In a message to district parents and students, school leaders announced a May 29 virtual graduation ceremony will be available online. The time will be announced closer to graduation day. The district has hired a filmmaker to shoot and edit a graduation ceremony as well as the senior awards night.
Graduates will be scheduled for specific times to come to the high school in their cap and gown to have their name read, walk across the stage, receive their diploma, class flower, and take pictures with their parents or guardians. Every graduate will be able to be accompanied by up to four adults of their choice with two participating and two observing. Filming will take place next May 13 and 14.
"Should guidelines for gatherings change prior to May 29th, we will be ready to pivot and develop a new plan for a more traditional graduation ceremony," Principal Annette Engeldinger said in the announcement.
On a brighter note for senior students, prom has been tentatively rescheduled for July 18, provided the rules and regulations for size of gatherings change by then. The annual All Night Graduation Party is a no go, though, and instead, graduating seniors will each receive $20 in cash.
Community celebration
To make up for this year's loss, some community members are actively pursuing a social distancing celebration for the senior class, complete with a parade and fireworks.
At the May 4 virtual School Board meeting, Emily Soderlund, mom to St. Peter High School seniors Emma and Kayla Soderlund, shared details of the hopeful festivities, tentatively planned for the end of May. She noted that the planners are receiving guidance and, she hopes, support from the city of St. Peter, the St. Peter Area Chamber of Commerce and the St. Peter Lions Club.
The St. Peter City Council will consider a resolution of support for the parade and a fireworks show (separate days) at its May 11 council meeting. The council will need to determine if the events can take place safely and in adherence to whatever statewide social distancing policies may still be in place at the end of the month.
The School Board at the May 4 meeting was just listening to the plans and didn't put forward any official resolution of support, but members did express their gratitude to the parents and community members who were working hard to find ways to celebrate this year's class. Board Chair Ben Leonard did note that he sees these as "community-led events" and not official district activities.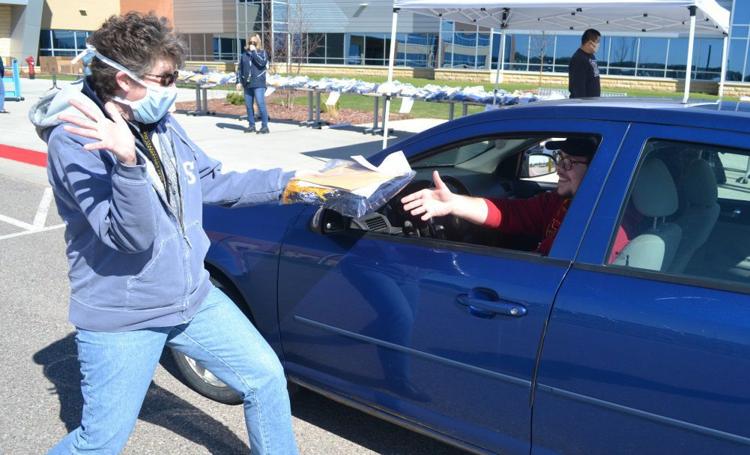 Soderlund, who started a 2020 Saints support group on Facebook with fellow senior parent Crystal Winterfeldt, explained what the parade might look like, though the details are still being worked out. The community would park their vehicles along the parade route, and the students, with their families, would drive by in their own vehicles. Soderlund said community members would be encouraged to make signs, honk their horns and clap, as the seniors passed by. For seniors without vehicles, a volunteer list is being established to safely drive them along the rout.
The fireworks show, meanwhile, would take place near the high school, with students watching from the parking lot there. A St. Peter Police Department presence would be required to ensure social distancing rules were applied. Organizers are hoping to raise $12,000 for the show, and the St. Peter Lions Club is leading the donation collection efforts.
Soderlund feels the loss of the final months of seniors year is no small issue for the many students and families that are impacted.
"Emma and Kayla are my first-born children, and while they are adjusting to the circumstances, they are in no way doing great. As a parent, I have felt helpless, and as a member of this community, I can't help but to think that so many other parents and families are feeling the same," she said. "The senior parade and fireworks show are a way we, as a school community, can set the bar high for all of our neighboring communities."