As we've endured some difficult times over the last year — locally, regionally and beyond — local food shelves have been a staple for many individuals and families. As we climb out of the COVID-19 period, those shelves are reassessing their circumstances and determining what's to come.
In St. Peter, a new, young leadership team is trying to build a shelf for the future. Andie Kukacka, 23, a Montgomery/New Prague area native and a Gustavus graduate, took over at the St. Peter Area Food Shelf director in August 2020. Almost a year into his position, Kukacka has not been able to open the shelf's doors, serving curbside only in an effort to protect both clients and volunteers, many of whom are seniors.
But he has visions of opening those doors eventually and much more.
"We are currently rolling out demographic surveys, and that's the first time we've done that," Kukacka said. "We are asking for people's race; it's not something we would normally ask, but as this community becomes more diverse, I feel it's something absolutely necessary to know who were serving. We're also asking their thoughts on our services — what ways they prefer to get their food; how much access do they have to food; any disabilities they may have. We'll be wrapping up those surveys at the beginning of August. We'll decide from there whether to reach out with mobilized outreach efforts, whether to expand hours and whether to open up."
Already, Kukacka has made some changes at the local shelf, which covers the St. Peter School District area, plus out to Cleveland, Nicollet and toward the borders of Blue Earth and Sibley counties.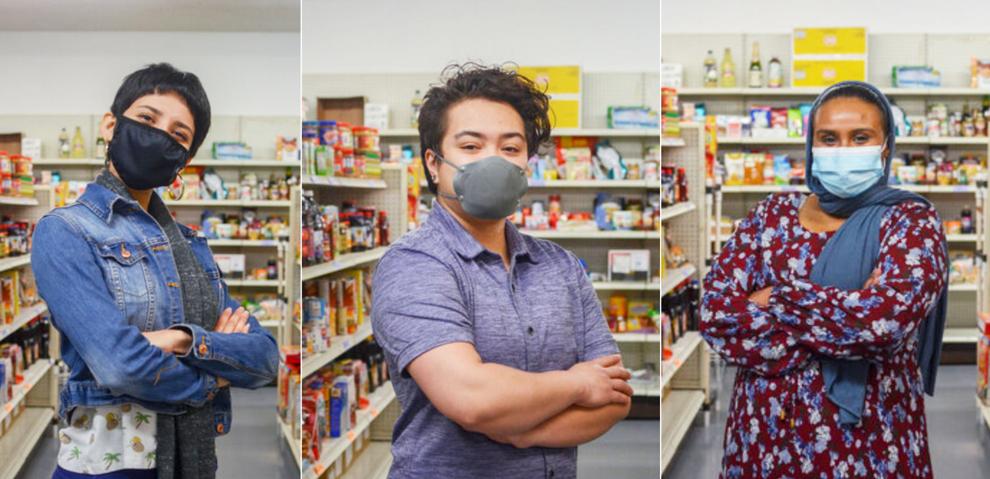 The biggest change has been the addition of two translators, both working part-time, the same as Kukacka. Reem Ibrahim, 23, is helping with the local Somali community, which continues to grow locally, and Gisel Murillo, is helping with the local Hispanic community, which has long had a presence in the St. Peter area.
"My family has been using the food shelf for a few years and when I saw that opportunity to be a translator, I jumped on it," Ibrahim said. "I took the position, because I noticed some things needed to be kind of changed and updated. It was just very hard for, like my mom, to communicate with some of the volunteers because of that language barrier. So when I saw I could close that gap and be a mediator, I wanted the job."
Before making any changes and bringing on new staff, Kukacka had to find his own footing. Coming into the position near the peak of the pandemic, he had a lot to figure out. He also had to dial back his eagerness early on.
"I found that the first six months was a lot of me training myself and kind of gauging what the community needs are and how to interact," he said. "It was interesting at the beginning, because I feel like I was at a place of wishful thinking. A lot of clients wanted to come in for shopping, but a lot of volunteers felt it was too risky. So when the spikes of COVID came in the fall, I had to realize and take a step back to see that I really was wishful thinking. My volunteers are vulnerable and they are pretty much indispensable."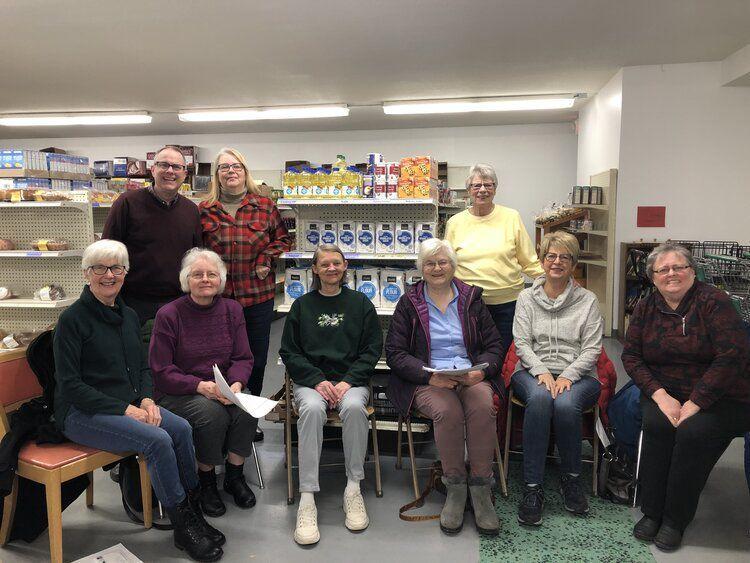 The Food Shelf has a steady cast of volunteers, mostly over the age of 65, who were a particularly vulnerable population during the pandemic. And besides the volunteers, many of the shelf's clients were and are vulnerable, due to a lack of access to health care and vaccines in some cases.
Another truth Kukacka needed to accept was that numbers were down since the onset of the pandemic, and there was no obvious solution for that. They're still down, in fact. Before COVID-19 impacted the area in March 2020, the St. Peter Food Shelf might've expected more than 200, sometimes more near 300, households served per month. The shelf is currently serving about 90 to 100 households.
"That seems to be an ongoing issue for most shelves across Minnesota," Kukacka said. "We know there are people that need help, because this is one of the worst recessions we've had since the Great Recession. Something is not lining up between the number of people that need help and the number of people using our services."
As the pandemic (hopefully) winds down, the Food Shelf team is starting to do the work to ensure the shelf is reaching everyone who needs it.
Kukacka has noticed a number of families and individuals, who absolutely qualify for Food Shelf support, don't realize the local shelf exists or don't think they are eligible to be served.
"There was a family who had their house literally burn down, and they told us they didn't know they were eligible, because they received SNAP benefits," Kukacka said. "There are just a lot of people who don't think they're eligible or deserving of our services."
The new requirements, instituted at the beginning of this month, for being eligible to use a local food shelf, are incomes at 300% of the federal poverty level or lower for individuals and families. Those numbers can be found at the St. Peter Area Food Shelf website. There is no need for clients to fill out paperwork; they just need to verbally confirm their financial status.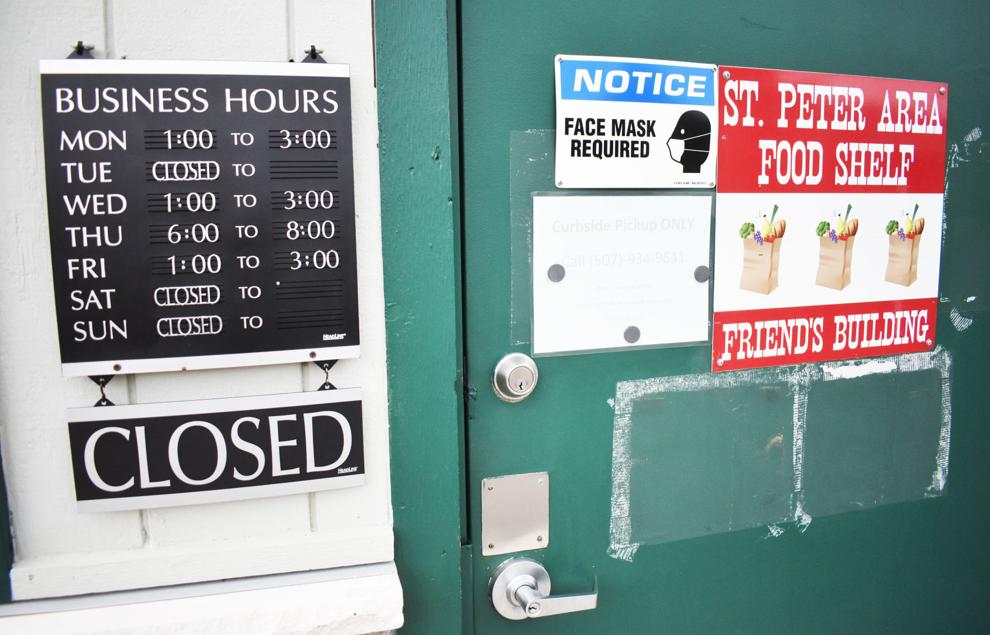 Beyond simply getting the word out that the Food Shelf exists, the new team wants to get the word out to local people of color communities.
"(Translators Ibrahim and Murillo) have been focusing a lot on community outreach, so getting out print advertisements and word of mouth advertisements; also working with the school district liaisons — oftentimes, they're already linked up with families on the free and reduced lunch programs," Kukacka said. "So that work has brought many a new client to us. Our translators are here for families and individuals to speak with in person, or they can speak over the phone. They translate our advertisements too."
For Ibrahim, who hopes to become a paralegal, it's all about helping her community.
"It's like, 'How is it not important?'," she said of the work. "People need food, and there is only so many ways you can get help with food, besides the regular government benefits. I just love to be able to connect people, especially my people, to these amazing resources."
Ibrahim also helped the Food Shelf introduce Halal meats, meaning the appropriate cuts according to the Islamic religion.
"It was just a conscious thing," she said. "When my family is going shopping, we only keep the eggs or the fish, and I thought maybe more families would come in if they knew there were Halal meats. We've gotten a lot of good reviews on that."
Beyond expanding access and reaching more people, the Food Shelf is also putting in the extra effort to meet people where there at. While the service is strictly curbside since the pandemic started, volunteers have driven out to people's homes when necessary. Anything it takes to make sure those who need food are getting food.
"We're eager to receive feedback from our surveys, and we want to remind people that our facility is open for anybody who qualifies to use," Kukacka said. "If they have questions, just call and ask, and anyone who finds themselves in a state of need, we'll never turn them away, as long as we have food on our shelves."