While back-to-school plans remain ambiguous for public schools, private schools in the St. Peter and Le Sueur area are gearing up to return to in-person learning in the fall.
Under state guidance released July 30, Minnesota public schools will work with the state Health and Education departments to determine whether to use in-person instruction, online learning or a hybrid model, and will have the ability to become more or less restrictive depending on the virus.
But private schools have the ability to develop their back-to-school plans independently. Now, administrators at St. Anne's School, St. Peter Lutheran School and John Ireland School are taking advantage of this independence and their small sizes to open up their buildings next month.
For the 2020-2021 school year, St. Peter Lutheran School released a detailed "Plan A" which would open the school for in-person learning. Principal Brad Gurgel told families that the school was guided by two shared goals: a desire to create an effective learning environment and a safe learning environment.
"Here at St. Peter Lutheran Schools, we strongly feel face-to-face learning is by far the most effective way for our children to succeed academically," said Gurgel in a message to parents.
In this plan, each classroom group — including preschool, K-1, 2-3, 4-5 and 6-8 — will remain isolated from one another in new class arrangements. Class sizes will be smaller and desks will be spread further apart in this new setup. The isolated classrooms are intended to prevent and mitigate the level of exposure between classes.
"We do have the advantage of having a much smaller student body size than public schools," said Gurgel. "Which means our children are going to be far less exposed to other children throughout each day which allows us to be present more often."
Under plan A, the school year will begin with a number of added safety measures. Daily temperature screenings will take place at the entrance each day and students with fever will be sent home. Hand sanitizer stations will be installed in K-8 classrooms and classroom surfaces and shared items will be disinfected daily. There will be markers as well to remind students to social distance.
During lunch and recess, classes will receive hot lunch one at a time and eat in separate spaces. Classroom groups will also remain in separate areas of the playground. The microwave and fridge will not be available for student use. In lunch, recess and gym class, students will have "mask breaks" where they can play, exercise and eat without a face mask.
Inter-classroom activities such as choir and band will be put on hold until COVID-19 risks are minimized. Chapel services will also be held over livestream, rather than in-person.
Precautionary measures are also in place if a student or teacher tests positive for COVID-19. If a teacher or student in a single classroom tests positive, the entire class will move to remote learning for the week. If students across classrooms contract the virus, the entire school will close for the week for distance learning. Throughout the year, teachers will post assignments and lessons online for students that are absent, sick or quarantined.
Like other local private schools, St. Peter Lutheran School relies on St. Peter public schools for busing. If busing is unavailable, a before and after school program will be implemented to give parents time to drop off and pick up their children.
John Ireland Catholic School in St. Peter is still in the process of completing a back-to-school plan, but Principal Colleen Wenner confirmed that the district would release an in-person learning plan to the public by Friday, Aug. 14.
"We are doing in-person instruction because we have small classes and lots of space," said Wenner.
For the next school year, John Ireland is capping classes at 15 students per room, which Wenner said would allow social distancing within the classroom. Class sizes currently range from 9-13, said Wenner, so there is room for a growing number of families enrolling in the school.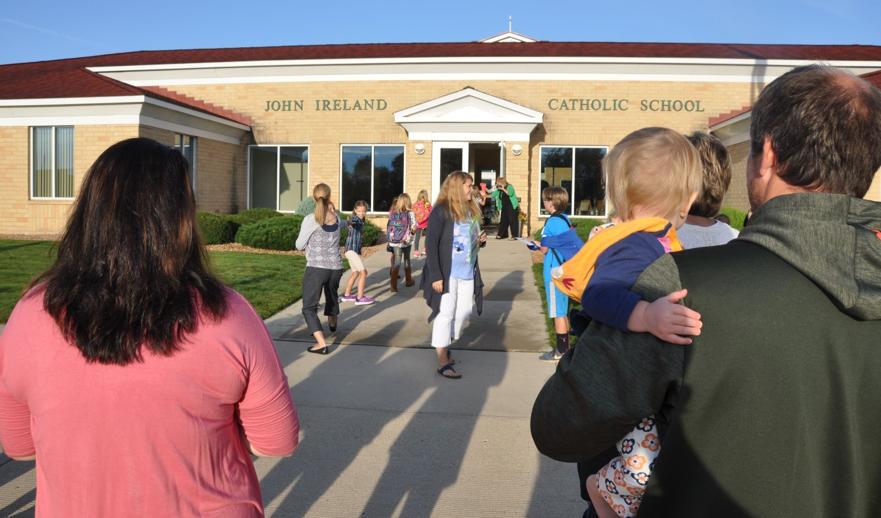 "We have been getting inquiries from a lot of families joining," said Wenner. "But we will have a cap on 15, because that's what we can safely have in a classroom."
While the John Ireland School building will be opening, Wenner anticipated that the students may need additional learning at home. At the beginning of the year, students will be assessed academically to find out which skills the school will need to prioritize.
"Obviously, with social distancing in the spring and summer generally kids lose a little bit," said Wenner. "So we're going to kind of ease back into things and really prioritize what are the key things we want them to gain in-person and then having those other skills they could maybe practice at home."
Wenner stated that the school would be following CDC and MDH guidelines and requirements including temperature screenings, checking for symptoms, wearing masks and frequent handwashing. Social distancing will be required and lunch service will be simplified to reduce contact — with pre-plating food as a potential option.
Distance learning will not be available as an alternative option for students attending John Ireland. Wenner said that the school did not have the staffing and resources necessary to provide distance learning as an option alongside in-person learning.
Transportation remains up in the air, as the school relies on St. Peter Schools for busing needs. If busing is unavailable, Wenner said that parents may need to be responsible for taking their children to school.
While the school plans on in-person learning, Wenner said that the school will continue to monitor the scope of COVID-19 and would change the model if it became unsafe to hold in-person learning.
"We're monitoring things and will ultimately do what's best for our families," said Wenner. "If we need to change our model,w e will definitely do that as well as looking at what the district is doing and what's happening with cases in the county … To be in-person to start the year and to do it as long as we can is really important to us because we know that's what's best for our student's mental health as well as their academic and spiritual well-being."
St. Anne's School, a Catholic school which serves children pre-k through fifth grade in the Le Sueur area, released its back-to-school plan on July 30. The plan is part of a four-phase approach to eventually reopen the school without restrictions. The school expects to start in phase three — offering in-person learning with some restrictions.
Those restrictions include a number of additional public health and safety precautions. St. Anne's will commit to temperature screenings at the entrance of the school, educating students on handwashing and respiratory etiquette (such as covering your cough), sanitizing high traffic areas throughout the school day and keeping a nurse on duty everyday throughout the month of September.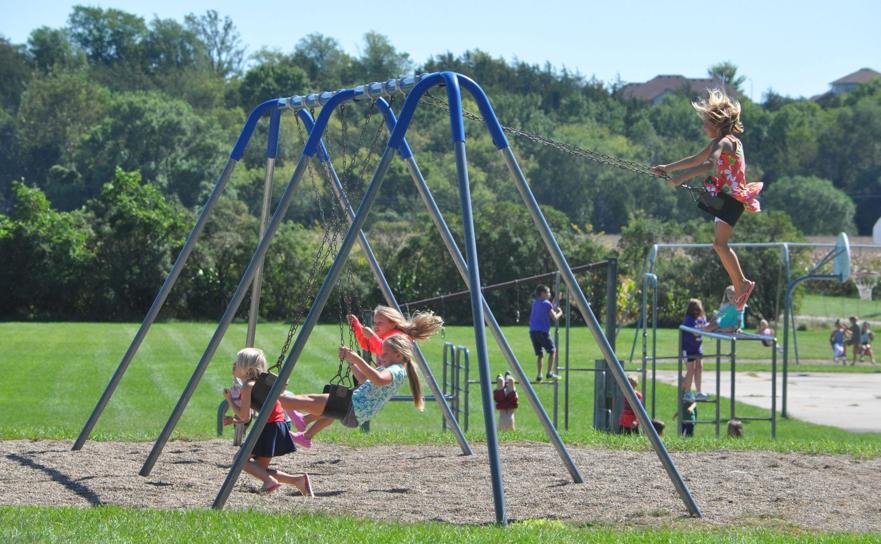 Classrooms will also look different this year. Desks will be placed 3 feet apart at the K-5 level and each classroom will be equipped with hand sanitizer. In addition, just one class will be in a hallway at a time.
Schedules for both lunch and recess will be staggered. Tuesday mass will be reserved for grades 2-5 while special arrangements will be made for younger grades.
After school activities, large gatherings and public visitation to mass will all be prohibited. School visitors will also need to be screened before entering.
For students unable to attend due to vulnerabilities, illness, symptoms, or quarantine, St. Anne's will offer a hybrid online learning option. A plan for hybrid online learning has not been developed because no families have expressed interest in it.
A transportation plan is also still in development. St. Anne's relies on Le Sueur-Henderson to bus kids, so how St. Anne's gets to school will depend on what the district is allowed to do.
To create these measures, the St. Anne's archdiocese assembled a task force made up of the bishop and archdiocese office as well as principals and teachers mainly in Minneapolis and St. Paul area. Administration, teachers, parents, the school nurse and Father Chris Shofner at the St. Anne's School in Le Sueur then worked to localize the plan for the needs of the area.
"We're going to follow guidelines of the MDE and MDH," said Principal Anner Lewis. "When it comes to our school we have 140 [students]. Our class sizes are capped at 20 so that our class sizes are small … So we have a little bit of flexibility there."
Lewis said that opening the building for in-person learning was a goal of the school. St. Anne's plans to begin its fall semester in the first week of September in order to offset the last school year ending early due to distance learning and to catch students up to speed.
"Education is essential and these kids need to be back in school," said Lewis. "The benefits outweigh the risks at this point and that was the archdiocese opinion and I agree. Kids need to be in school and we're going to try it to see if we can get it to work. If it doesn't we can say that we tried and move to that next phase."