The former Le Center United Methodist property is home to a new church that brings a different flavor to its services. 
The Iglesia Pentecostes Nueva Jerusalem (New Jerusalem Church) has purchased the former United Methodist Church property in Le Center. Nueva Jerusalem is a Spanish speaking church that brings its own style to the building — an emphasis on Bible teachings, sermons entirely in Spanish, and even some exorcisms.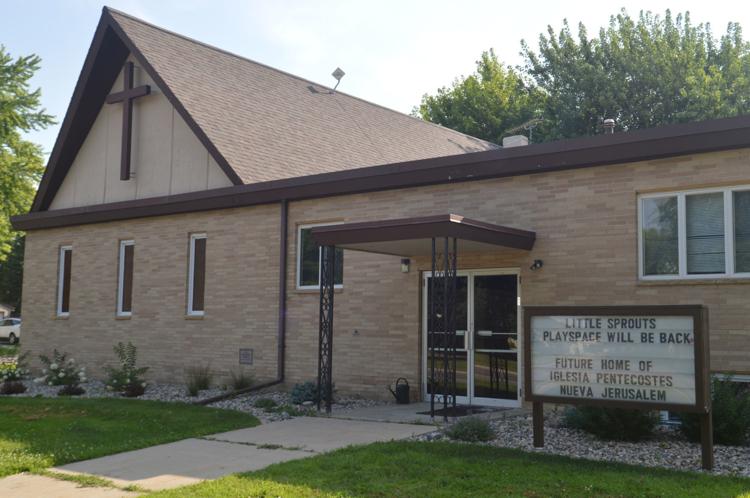 Nueva Jeruslaem first got its start in 2001 in Faribault with just 10 people, operating from the home of Nueva Jerusalem's President and head staffer Rosibelle Tobar. Since then, the parish has grown to encompass hundreds of people, with locations established in St. Peter, Mankato, Montevideo, Northfield and Le Center.
"God is working his way to help us," said Tobar. "I'm very proud of how the church has grown."
The location in Le Center is headed by Pastor Raymond Rocha and his wife Myra, who currently live in Faribault and make the trip down to Le Center. Myra Rocha is also Tobar's sister.
"When we originally came here to visit a friend, we saw plenty of Christian churches, but we didn't see a Spanish Christian Church," said Raymond Rocha.
"We felt there was a need for a Spanish speaking church as more Hispanic people were moving into Le Center," said Myra Rocha.
In 2006, Nueva Jerusalem began doing outreach in Le Center. Members of the church started preaching door-to-door at parks and apartment buildings, eventually amassing a following that today consists of 40 families and over 100 people.
"We noticed that people were coming to God," said Raymond Rocha.
With a new congregation, Nueva Jerusalem began renting out the St. Paul Episcopal Church building. The Rochas used the building as their base of operations in Le Center to hold services every week.
However, the building did not provide much room for Bible studies, and the Rochas prayed that they would one day have a building of their own.
"In 2016, we brought in a priest from Guatemala who had spoken with God, and he told us God would move us to a better building" said Myra Rocha. "He told us to believe and wait. We prayed and we wondered when we would get it and where we would go."
The Rochas have driven to Le Center from Faribault 4-5 times a week for 14 years, regardless of rain, sleet or snow. In winter 2014, the two were engaged in a head-on collision, breaking four of Raymond Rocha's ribs, but the trips to Le Center continued through it all.
"We had no issue with that, because God has called us to Le Center," said Myra Rocha. "We are happy to still be working here."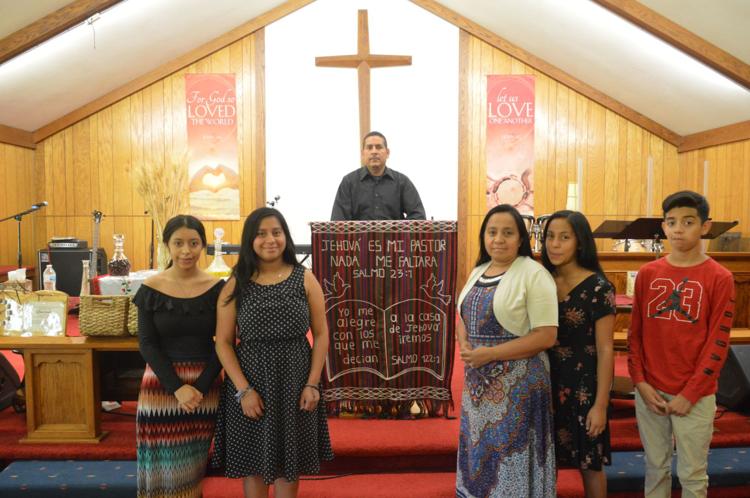 In 2019, the Rochas received a knock on their door from United Methodist Church. United Methodist's congregation had dwindled in recent years, and with their pastor retiring, leaders decided to sell the building to Iglesia Pentecostes Nueva Jerusalem.
"We just charged them a few dollars to take care of it," said Rich Bornholdt, a member of the United Methodist Church. "We didn't want it to turn into a rental property or something like that, so we were grateful another church was willing to take it."
It was the opportunity the Rochas had been waiting for.
"We knew the word that God had said and we accepted," said Myra Rocha. "We are blessed and happy that God chose us to lead the church."
Iglesia Pentecostes Nueva Jerusalem holds a variety of church and community activities. One major focus of Nueva Jerusalem is Bible readings; the church offers Bible study classes for kids and adults.
"You can have a religion, but you may not have to read the Bible," said Raymond Rocha. "You can ask people 'Do you believe in God?' and many will say, 'Yes,' but if you ask, 'Have you read the Bible?,' many will say 'No.' We teach Christianity as it is taught in the Bible."
On the weekends, the church has special days where a group — the men, the women or the children — will put on an activity. The church also performs plays with biblical messages.
Another function of Nueva Jerusalem is their performance of exorcisms.
"We are visited by higher spirits like the Holy Spirit. People are also visited by the Devil," said Raymond Rocha. "So we have exorcists that come in and talk to the Devil and shout at the Devil, you know, and exorcise the Devil.
Beyond their spiritual function, the exorcisms have helped bring in new faces to the church.
"We have a lot of people that come visit us for that experience," Raymond Rocha said. "They want to see what it's all about."
Nueva Jerusalem also engages in plenty of community outreach. One tradition of the church is to go out to trailer parks and perform services in homes.
"We all get together in a house and we all talk about the Bible, and that's how people get to know the church," said Myra Rocha.
Tobar added, "Going door-to-door is the way of letting people, especially the Hispanic community, know that there is a place of worship. It takes a lot of praying and a lot of courage to go out and invite people."
Besides celebrating the new location, the Nueva Jerusalem Le Center congregation is also hosting its 14-year anniversary at 5 p.m. Aug. 31, which will be open to the parish and to the community.
"It's going to be a great time," said Raymond Rocha. "We will all celebrate and there will be Mexican food for everyone."
While church services are currently held only in Spanish, the church does have access to Spanish-to-English translators which they may bring in if more English speakers join the church.
"Everybody is welcome to come," said Tabor. "We want to be a place where whoever wants a place to feel safe and worship feels comfortable. We want a place for people of all kinds; it's not just for Hispanic people."
Something Nueva Jerusalem prides itself on is the internationality of the congregation, and the Rochas are considering decorating the church with flags from the United States, Guatemala, Mexico and more.
"God will bring us people from different countries and languages," Raymond Rocha said.
As one long-held religious community filters out in Le Center, the Nueva Jerusalem leaders hope to be seen as a new place to go.
"We have a beautiful service and beautiful music and a place for the kids," Myra Rocha said. "People can come to this church and make it their home."