The commercial redevelopment of the property at 1123 (and 1125) S Minnesota Ave. is now complete.
After Dunkin Donuts took one corner of the former Mary's Flowers building and CCF bank took another, a new AT&T retail store has taken the middle. The last business held an official ribbon cutting ceremony on Oct. 8.
"We're excited to open this new AT&T store in St. Peter and expand our retail presence in Minnesota," said Paul Weirtz, president of AT&T Minnesota. "This new location will help our customers connect seamlessly to the mobile technologies and entertainment they love. We're proud of our continued investment in Minnesota."
This is the first ever AT&T store in the city of St. Peter; it opened in July.
"It's all about convenience, so when we look where our distribution is placed before, we want to make sure we're convenient for our customers, where they don't have to travel to far to get to an AT&T," said Brian West, assistant vice president. "When we looked at the opportunities between Minneapolis and Mankato, we looked at communities like St. Peter as a great opportunity."
He said the location off S Minnesota Ave. in southern St. Peter is a "great spot," noting the recent growth in the area and the addition of a Dunkin' Donuts next door.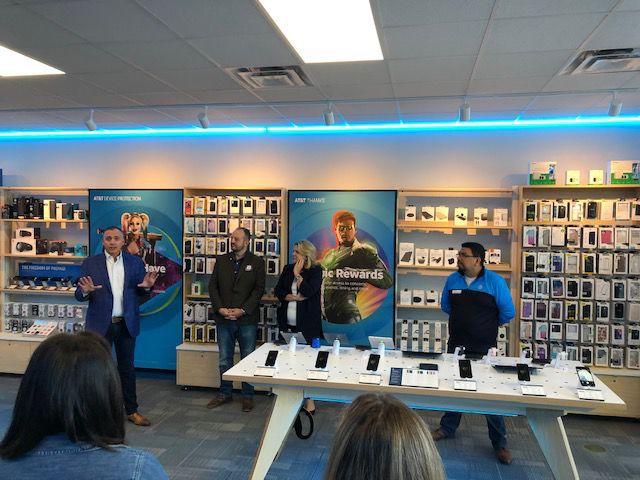 The store will provide wireless options, including cell phones and the plans that go with them. It will also DirecTV packages.
Local community and business officials joined AT&T at the ribbon cutting for the new St. Peter store, including officials with the St. Peter Area Chamber of Commerce.
"We are excited to help cut the ribbon on this new AT&T store in St. Peter," said Ed Lee, executive director of the St. Peter Area Chamber of Commerce. "Our mission is to promote economic growth in St. Peter, and we are thrilled whenever we can open a new store that will help promote growth in our community."
Minnesota Sen. Nick Frentz added, "It is a pleasure to welcome AT&T to St. Peter. Business development is critical to making sure St. Peter continues to thrive as a vibrant community to live, work, and visit."
Rep. Jeff Brand offered similar remakrs: "In an increasingly mobile world, this AT&T store will represent another option for St. Peter businesses and residents looking for the latest in mobile technologies and devices."
A new start
After Mary's Flowers closed in 2017, the city quickly looked for new options at the site and whispers of a Dunkin' Donuts were soon out. In order to make the project happen, the city needed to rezone the 1125 S Minnesota Ave. lot, just to the north of the commercial site, to allow it as part of the Dunkin' project.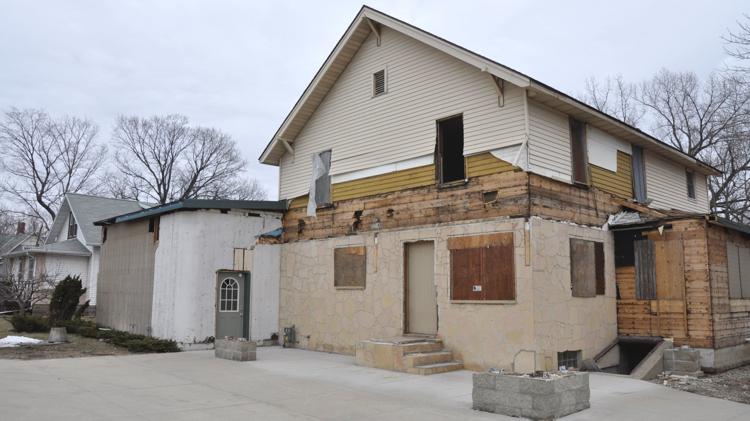 The rezoning was approved in April 2017, and the opportunity to develop a small strip mall in the two-lot space was suddenly apparent.
There were some concerns of "commercial creep," as some city leaders wondered if commercial development was taking away from the historic stretch of roadway along 169/Minnesota Avenue in St. Peter.
Councilor John Kvamme pointed, during an April 2017 council meeting, to several houses being demolished in the past to pave way for the AmericInn motel at 700 N Minnesota Ave., as an example, as well as the development of the more recent O'Reilly's Auto Parts store at 801 N Minnesota Ave. in north St. Peter, which opened Sept. 24, 2016.
"We're not giving future councils the chance to say 'No,'" said Kvamme at the time.
A later proposal from the city aimed to prevent further commercial creep. The rezoning proposal's most significant limitations were a ban on subdividing or combining parcels for property facing Minnesota Square Park or Minnesota Avenue from Holy Communion Church to AmericInn. Any reconstruction on those parcels would need to maintain a residential design, with pitched roofs, low fences and rear parking, even if they become businesses.
But for the 1123 and 1125 S Minnesota Ave. project, ultimately, leaders decided it was best for the city to allow continued business development there, increasing options for residents and visitors, in addition to better spreading out property taxes. Since that time, the Dunkin' Donuts opened, CCF bank opened and now the AT&T has completed the strip mall.
As a former St. Peter City Council member, Rep. Brand was part of the rezoning process at the strip mall location. He's glad it came to fruition.
"It's really neat to see we finally have 100 percent occupancy rate, and I think this is going to help propel folks to St. Peter as a destination," he said.