A multi-million-dollar home in construction on the northeastern shore of Lake Minnetonka burned down Feb. 13 morning. It belonged to a member of a prominent local business family.
Jon Davis, former CEO of Davisco Foods (previously St. Peter Creamery), was the owner of the in development mansion in Wayzata. In addition to other businesses, the Davis family also owns the Le Sueur-based Cambria; Jon's brother, Marty, is CEO.
The siblings grew up in St. Peter.
According to reports, authorities said the home burned for more than half a day. Wayzata Fire Chief Kevin Klapprich told the Star Tribune the unoccupied property at 2750 Gale Road on Breezy Point in Woodland, caught fire at about 6:15 p.m. Wednesday. Soon after, one firefighter reported "a large explosion" as flames overwhelmed the structure, according to emergency dispatch audio.
No injuries were reported, and authorities have yet to give a preliminary indication of how the fire started.
According to Zillow, the Lake Minnetonka property was sold in 2017 for $5.4 million. Davis is the registered property owner; he lives elsewhere on the lake. He was grateful for the work of firefighters.
"The firefighters [Wednesday] night were unbelievable, especially in the frigid conditions and without a lot of resources to fight the fire," he told the Star Tribune. "No one was hurt, and that's what's most important. Everything else is just 'stuff.'"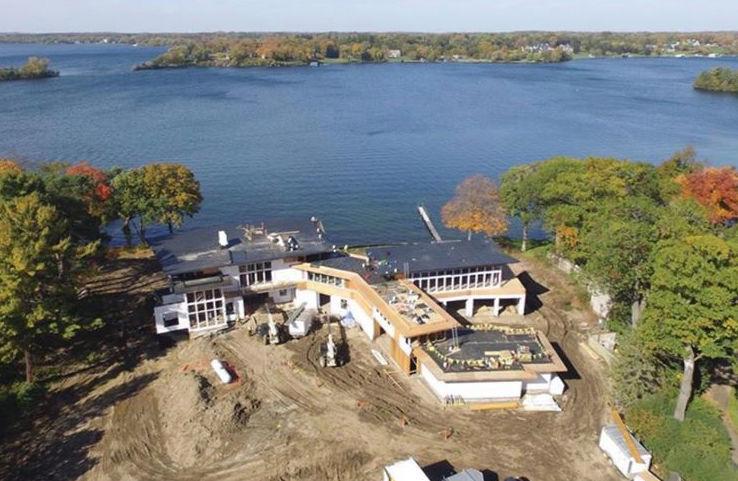 Before Davis took over the property, a mansion was already on it. That was leveled, so new construction could take over. The house was reportedly planned for over 30,000 finished square feet, and was several months into development by Murphy & Co Design when the fire struck.
Klapprich told the Star Tribune, he was "very proud of all" the firefighters who responded and stayed at the scene amid biting cold and strong winds.
"Conditions were not fun," he said. "The wind helped the fire build. [It was] not easy for the crews with temps like that to work; very hard to keep things from freezing."
Witnesses say the the flames could see from around the entire lake, and the plume from the fire was showing up on weather radar.