Get in a room with a healthy and lucid 90-some-year-old, and you're likely to be listening for a while. Get in a room with more than one of them, and it'll be longer than a while.
Make that four brothers, ranging from 90 to 96 years old, all with memories still sharp as a tack, all veterans, all husbands and fathers, and all eager to share, and, well, don't make any plans for later.
Fitting that description are Chester R. Tollefson, 96 (born Jan. 28, 1923), Wallace A. Tollefson, 95 (Oct. 2, 1924), Lloyd S. Tollefson, 91 (July 22, 1928), and Glenn H. Tollefson, 90 (Oct. 2, 1929), who grew up together in the 1930s and 40s in the rural St. Peter area with three other brothers and three sisters. Marion Pomplun is the only other remaining sibling; she's practically an infant at 83 years old (May 1, 1936).
On Oct. 2, Wallace's 95th and Glenn's 90th birthdays, the four brothers and one sister reunited at their grandparents' farm home, west of St. Peter, just south of Gaylord.
The siblings have hardly missed a step. They appear in varying conditions, but they each seem to have plenty life left in them. They feed off one another, tease each other and argue about who did what 50, 60, 70 or 80 years ago.
They're proud of where they came from and happy to have so many stories to share.
The original Tollefson family patriarch that came to America was the great grandfather of the siblings alive today. His name was Tollef Kjerkleluten. His son later changed the family name to Tollefson. As to why their great grandfather left his roots in Norway to head to America, the siblings don't have any clear explanation.
"That was the thing to do those days, I guess," Chester said.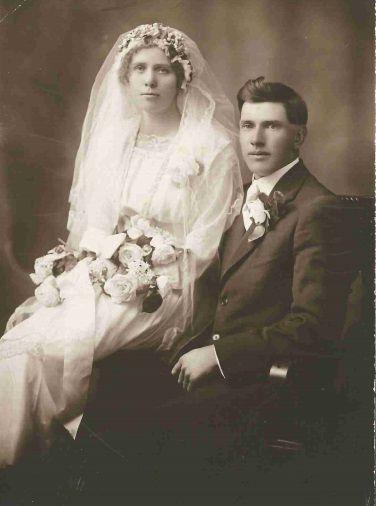 Eventually, Theodore Tollefson was born, and as an adult, he headed up to Highlanding in northern Minnesota to homestead land there. He met Martha, whose family had settled there. The two got married and became the parents of the seven sons and three daughters that made up the Tollefson family.
Kenneth E. and Marvin T. were the first brothers born in 1919 and 1920. Both died in the 1990s. Chester was the third born, and at that time, the family was still in Highlanding. By the time the next brother, Wallace, was born, the family had moved back to Dad's parents' house, near St. Peter.
Soon after that, Theodore took over his own farm around the same area in New Sweden Township. Elaine was then born in 1926 and died in 2008. Then Lloyd and Glenn came, one after the other. Then came Roger in 1933, who died in a car accident in 1963. And finally came Marion, the baby of the family.
"Marion was the only one of us born in the hospital," Lloyd said. "Many of us were delivered by a midwife — grandma."
Growing up on a farm, the kids of course had chores.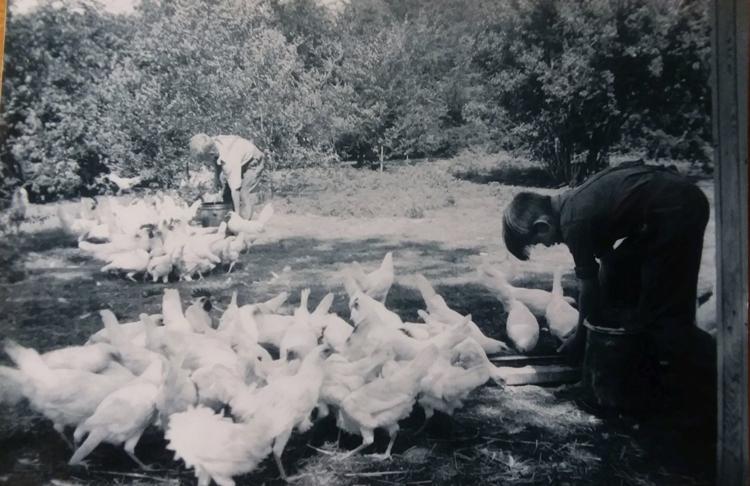 "By the time we were 4 or 5, we were going to feed the chickens," Lloyd said.
As the family's youngest, Marion had it easy, at least according to the brothers.
"She was Pa's favorite, so she had very little to do," Lloyd remarked.
Marion responded, "If I've heard this once, I've heard it 100 times. You all spoiled me, so it's your fault."
It wasn't all work for the siblings. They also had some fun — you know, twine on a stick and cheese box cars — and they had school. They each remember it well: the District 13 schoolhouse, just a half-mile from their home.
"Walked their every day — uphill both ways," Chester said.
Lloyd recalled just one time getting taken to school in dad's sled.
"He never took me," Wallace replied.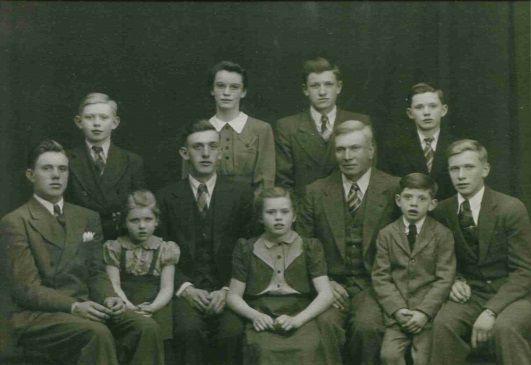 The siblings remember their teachers, like Mrs. Hill and Ms. White, remember doing the pledge each day, remember the fire stove in the center of the building. They certainly remember getting hit by cars and motorcycles.
"Lloyd and I used to always walk together," Glenn said. "One time, a car came along, knocked him over and dragged him all the way to the school. I picked up his hat and ran home screaming, and Mom came out and said 'What's the matter?' I said 'Lloyd was run over and I don't know where he is.' She ran and told Pa, and they jumped in the car and ran down there. Lloyd was unconscious for 14 days. That was in April 1938."
Wallace had a similar story.
"On the last day of school at District 13 (eighth grade) in 1937, we had a picnic and I took my friend's bicycle and rode toward home, and a neighbor boy, Martin Estesen, tried to scare me with my motorcycle and got too close and sent me into the ditch," Wallace said. "I broke my leg and got a gash in my head."
Mom, Martha, died in January 1939, but Theodore kept the family together and on the farm. The four brothers each eventually graduated from Gaylord High School. Marion eventually got her GED.
Each of the four living Tollefson brothers has a military story, starting with the oldest, Chester. For him, it began with Pearl Harbor.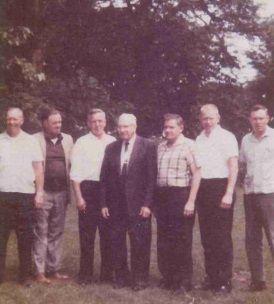 "I remember that like it was yesterday," he said. "Sunday morning on the radio — 'Pearl Harbor has been bombed.'"
He was 18 but was not immediately drafted. He went out to California to work for a consolidated aircraft company for about two years. He then returned home. The draft board deferred his service, but eventually had him join in July 1944. But in November 1944, he broke his leg and ended up in the hospital. He was medically discharged shortly after.
"I guess I was lucky that way," Chester said.
Wallace was also never put into action, though he came very close. After being drafted in late 1944, he went down to Camp Robinson in Arkansas for training in the infantry. He was on a cargo ship heading for Japan, among the first men expected to invade the country.
"When we were on the cargo ship, they dropped the second atomic bomb," he said. "We got a notice on the ship: 'Now hear this, we won't have to invade Japan, because they just surrendered.' Before that, nobody was talking, because we knew this was going to be the last of us. Everyone went wild."
He still served overseas for 16 months. First, in the Philippines, where he drove a truck hauling flour up to a bakery in Baguio, located thousands of feet above sea level. Then he went to Japan "to help that country get back in shape again." He got a job working with an old Japanese man, fixing typewriters and ad machines.
"This Japanese man cried when I had to leave, and he asked if I could come back again, and I said, 'No, when I get back to Minnesota, I'm staying there,'" Wallace recalled.
Lloyd and Glenn, meanwhile, knowing their draft papers were coming during the Korean War in 1950, enlisted in the Air Force. Lloyd headed to San Antonio, Texas for basic training. He eventually went to radio maintenance school in Illinois and then back to a base in Texas, where he married his wife in 1952.
He was being ordered to French Morocco and wanted to avoid that, so he then went to advanced radio school and then ended up being shipped out to Germany for more schooling. After four months, he was sent to England for his service in November 1952. His wife joined him there for two years, before he was discharged in 1954.
Glenn took a similar route. He had an interest in communications since the time he saw a guy messing with the telephone lines at the District 13 school. After taking military classes in communications, he was ordered out to Japan in late 1951. The ship ride over was memorable.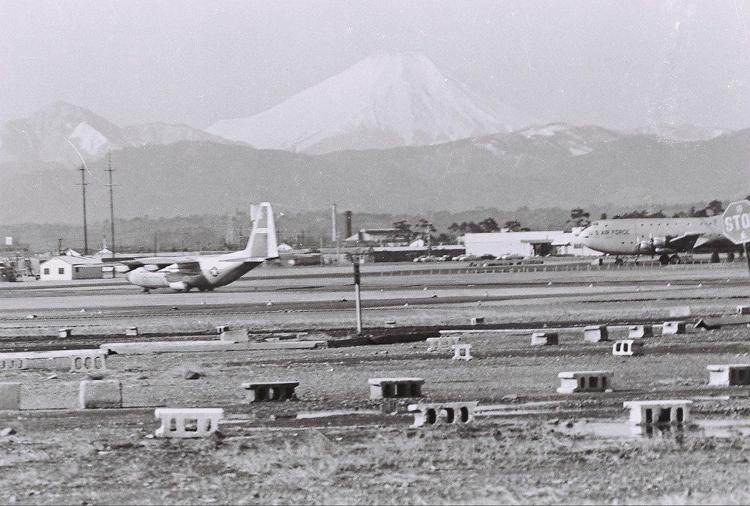 "We hit a storm in the ocean, and the front end of the ship was in the water. I was sea sick for nine straight days," Glenn said.
He eventually arrived in Japan and served at the Tachikawa Air Base. He was sent back home in February 1954.
"I spent 30 months in the far east," he said. "My job was to take care of all base communications 24 hours per day. Every phone needed three wires to it at that time."
Post-service and family life
Each of the Tollefson brothers went on to have families and long working careers after serving.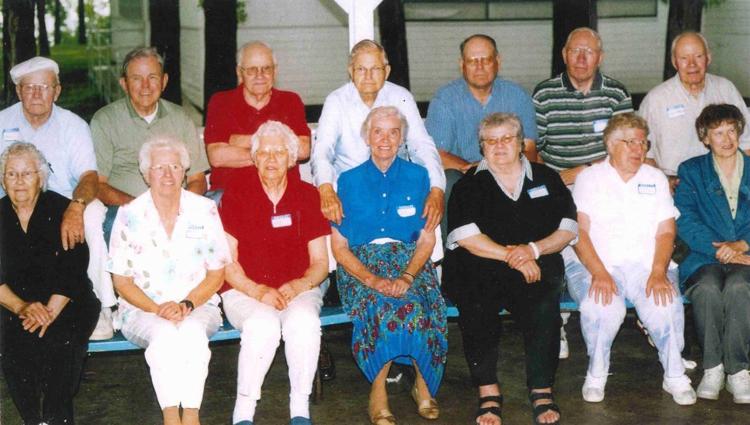 Chester married Gladys, and they had three kids: David, Joyce and Loring. He worked for the Highway Department as a surveyor and later buying out lands and right of ways to build highways. He retired after 38 years.
Wallace married Darlene, and they had five kids: Marcia, Daniel, Janet, Rodney and Karen. He was working in St. Peter when "an old fella" he used to work for offered Wallace the opportunity to run his farm. "That was the best thing I ever heard," Wallace noted, and he went on to run it for many years.
Lloyd, meanwhile, took over the family farm and grew it over four decades, adding cows and crops along the way. He had married Pat during his radio training in 1952, and they had their first two children in England, eventually having four in all: Stephen, Kathy, Jeffrey and Sharon.
Glenn was married in 1954. He recalled seeing his wife, Marion, at the train station before he departed for service and asking her, "Will you write to me?" When he returned from Japan in 1954, his "sweetheart Marion" greeted him. The two went on to marry that year. They had four children: Timothy, Thomas, Cindy and Martha.
For work, Glenn headed to Northwestern Belle, living in St. Peter. He worked at the company for 34 years in communications. The company is now AT&T. After stopping there, he drove school bus for 25 years, finally retiring for good in 2013.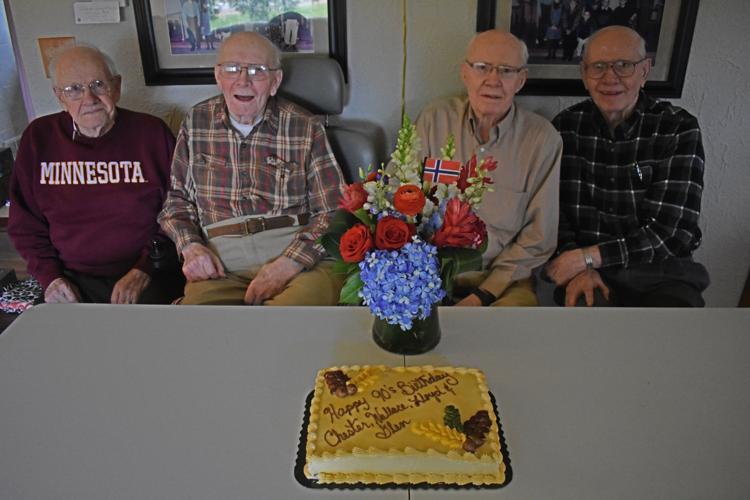 The Tollefson siblings, these days, can take it easy, enjoying seeing their descendants making and living their own stories. The brothers and sister are spread out across Minnesota, but they remain connected, forever intertwined in shared experience.
A lot has happened to the siblings over the past 90-plus years, and while they're wise and experienced as can be, they're also just kids. Martha and Theodore's kids, sitting together at grandma and grandpa's house in rural St. Peter.
"We all played, fought, had our little skirmishes, all that, right over there," Chester said, the memories as clear as day.