Emerald Ash Borer infestations are on the rise in southern Minnesota. Blue Earth County is the latest of 27 Minnesota counties to undergo quarantine after an infestation was recently detected in St. Clair, leaving Le Sueur and Nicollet counties almost completely surrounded by quarantined areas.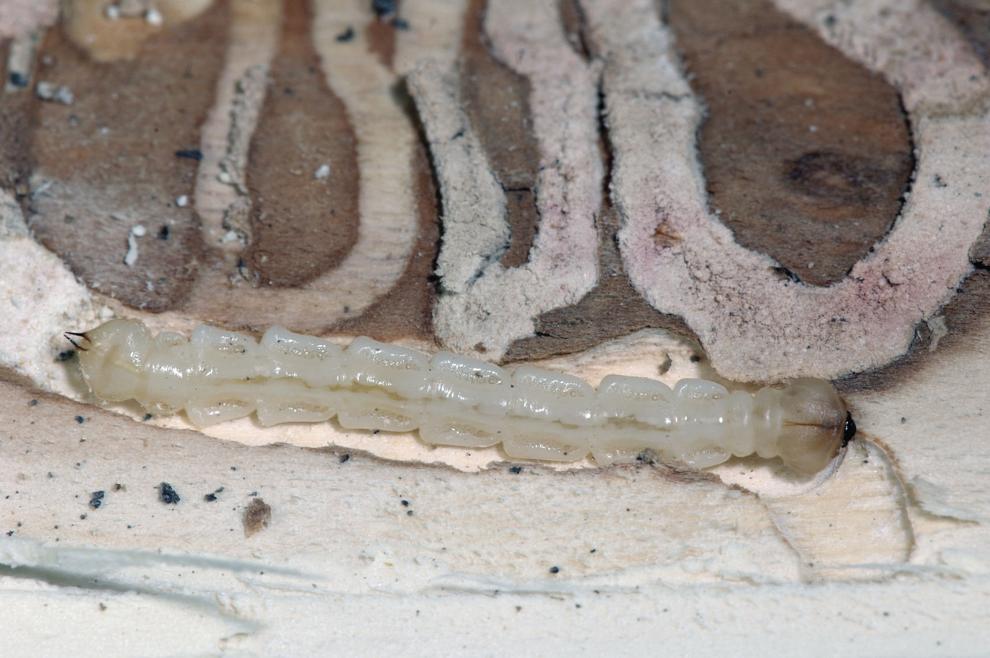 The tree pest has been spotted in Blue Earth, Brown, Sibley, Scott, Faribault and Steele Counties, raising concerns that the emerald ash borer may already be present and undetected in Le Sueur and Nicollet.
"St. Clair had evidence that the emerald ash borer had been there for multiple years," said Shane Bugeja, a Le Sueur and Blue Earth County educator with the University of Minnesota Extension Office. "It's one of those things where people see an ash tree that's very, very sick that might be three or five years into its infestation."
Emerald ash borers aren't easily detectable when they first plant their larvae, making them a difficult pest to stop. But over a few years, the signs of an infestation and the serious health risk they pose to trees become apparent.
"A lot of times, woodpeckers will fleck off the bark and you'll see lighter colored patches on the tree," said Extension Educator Emma Severns with the Nicollet and Sibley County Extension offices.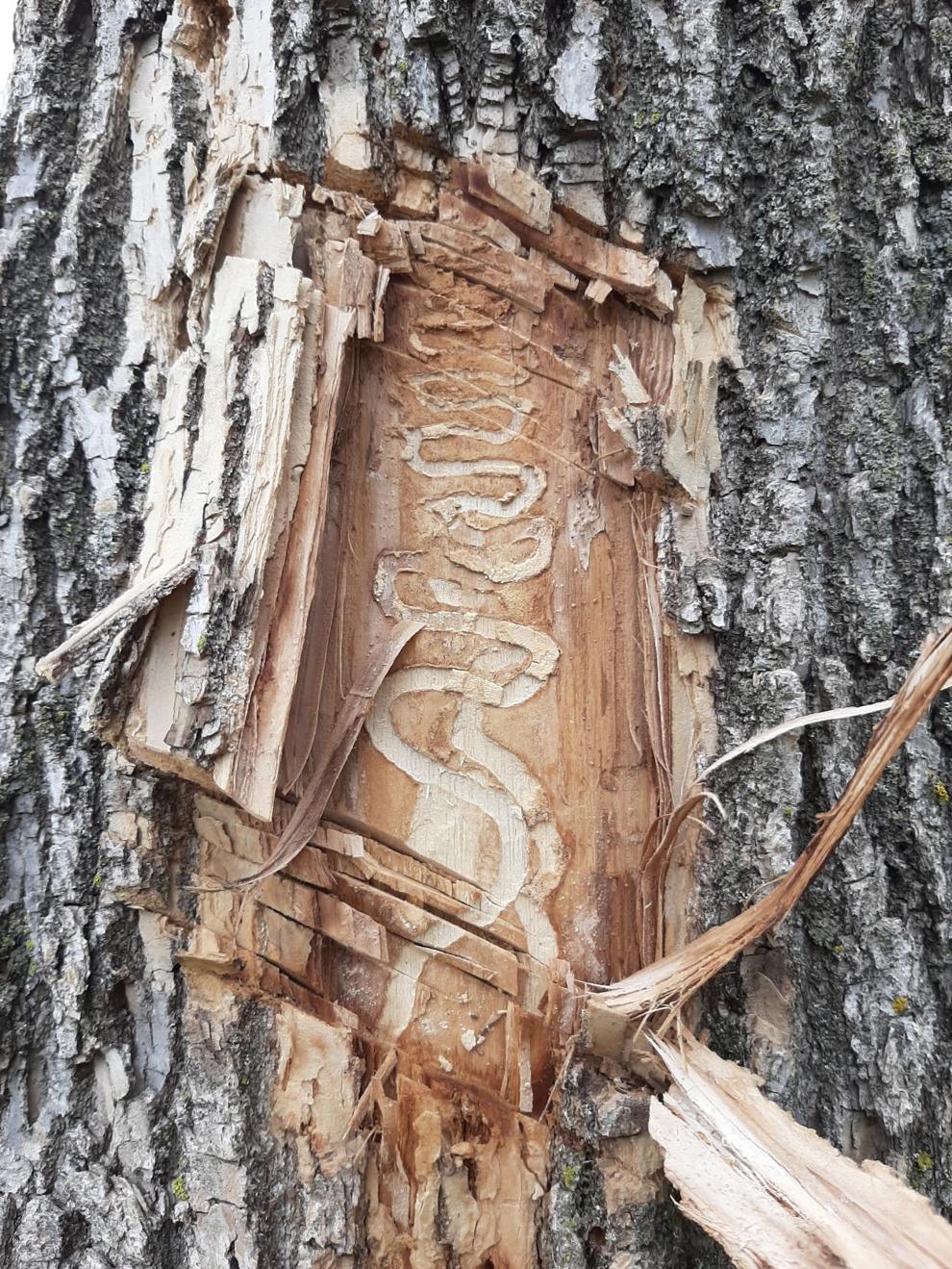 Another common sign is the S-shaped tunnels that the emerald ash borers create under the bark. A thinning canopy and bushy growths at the bottom of an ash tree can be signs as well, but are symptoms not exclusively caused by emerald ash borers. Damage often starts at the canopy and moves to the bottom which allows the pest to be overlooked early on.
"If somebody ever sees bark splitting or sees those galleries on their ash tree, that's a very strong indicator for emerald ash borer, because not many insects can create that S-shape in the wood," said Bugeja. "There are other bark beetles and native borers that make shapes in the wood sometimes, but emerald ash borers are known for that serpentine type of shape."
But the insect doesn't just cause ash trees to appear sickly. When larvae tunnel underneath the bark, they will eventually kill the tree, weakening the structural integrity and making it more susceptible to fall.
"It's really important for homeowners to figure out where the ash trees are on your property," said Bugeja. "If you have one and you think it's sick and if it falls in a storm or breaks due to emerald ash borer, it's going to affect your properties. It's going to hurt people, it's going to hurt your house, it's going to hurt other things."
Ash trees can be treated with insecticides containing imidacloprid to prevent an infestation. The treatment is most effective when applied between mid-April and mid-May. But if homeowners already suspect that the tree is sick, Bugeja advised they call a certified arborist or the Department of Agriculture's arrest the pest hotline. Some of the more effective chemicals are often injected into the tree, rather than sprayed, requiring the services of an arborist. If a tree is very sick, it may need to be removed.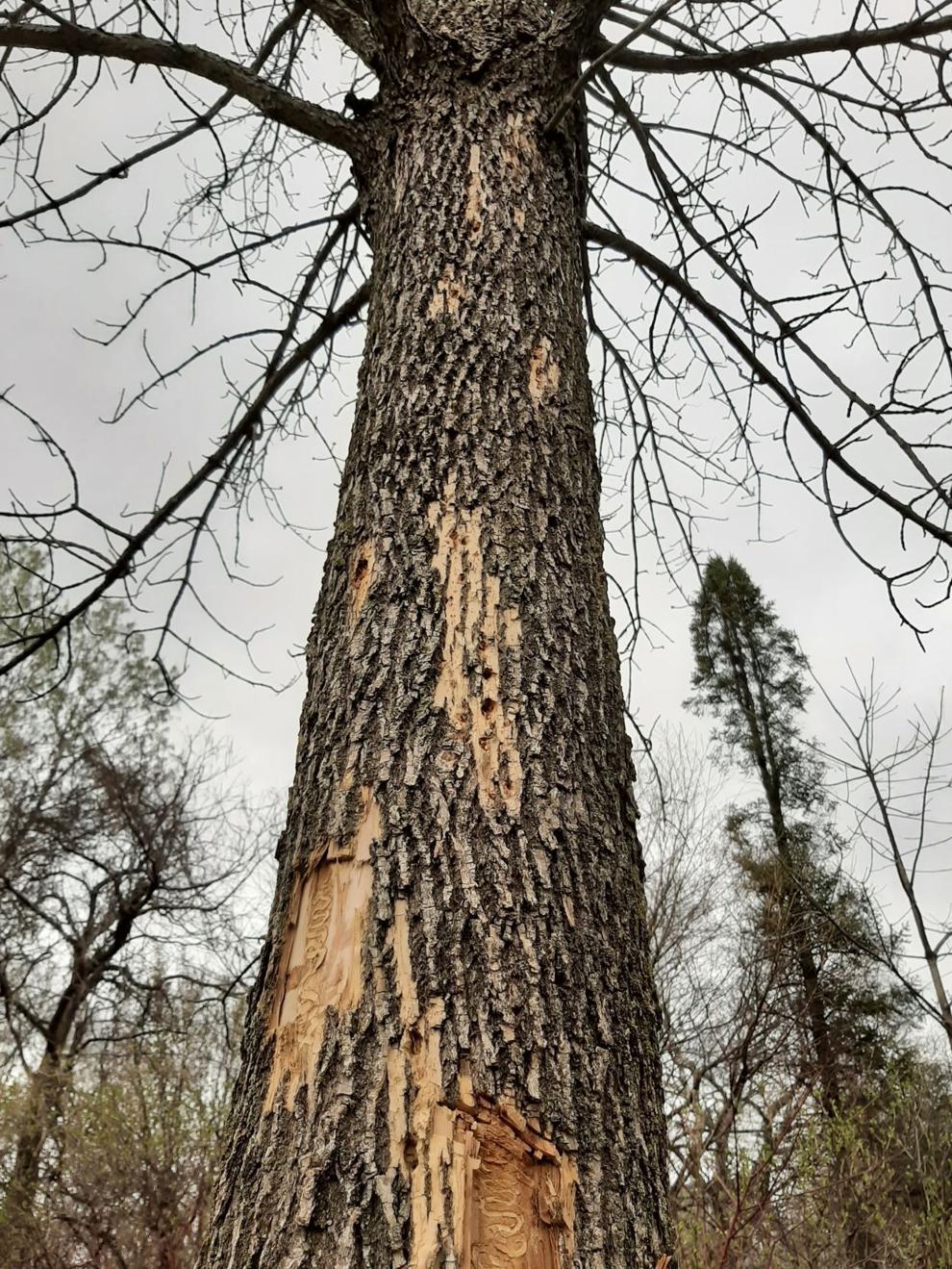 Limiting the movement of firewood can also prevent the spread. Transporting uncertified firewood out of quarantined counties, like Blue Earth and Sibley, into non-quarantined counties is against Minnesota state law and significantly heightens the potential spread of the pest.
"The emerald ash borer can move from a half mile to a full mile within a year from the infested site," said Severns. "So if you're not moving those firewoods, that's very helpful in preventing it."
Awareness is especially important as the insect enters its flight season between May 1 through Sept. 30. Emerald ash borer larvae pupate into adults and take flight during the early spring and summer when temperatures are warm enough.
"Based on all the counties that surround us, I would be surprised if the insect is not here," said Bugeja. "But we just have to keep vigilant and keep our eyes open."