St. Peter's main drag has seen a few facelifts in recent months, with upgraded storefront signage and a few new local businesses to add to the mix.
Her Happy Place, one of St. Peter's popular destination shop spots has made some big changes, both in size and space. The former Front Street venue opened its new doors on Minnesota Street in late September and brings a fresh, eye catching addition to the main street businesses through the center of town.
Eight years ago, Lisa Eide started "Her Happy Place" as nothing more than a small side job in a shed on her family farm. She started repurposing select furniture pieces and cultivated her business into what it is today.
Renovations to the Minnesota Street location in May after the Front Street location was outgrown. Eide and her husband, Scott, spent the summer gutting and remodeling the late 1800s era structure on its main level. The couple removed a false ceiling and repaired the original decorative tin and removed plaster in order to expose the original brick work on the interior walls. With the help of V & M Masonry, of Le Sueur, and Miller Homes, exterior brick and storefront framing were also upgraded.
While the shop still offers unique housewares, clothing and accessories, this local favorite has a fresh, crisp new look to its new storefront window displays. According to Eide, the crisp, modern storefront look has attracted shoppers from other destination towns, as far as Okoboji, Iowa, who visited the new location because they heard how great the storefront looked from Hwy. 169.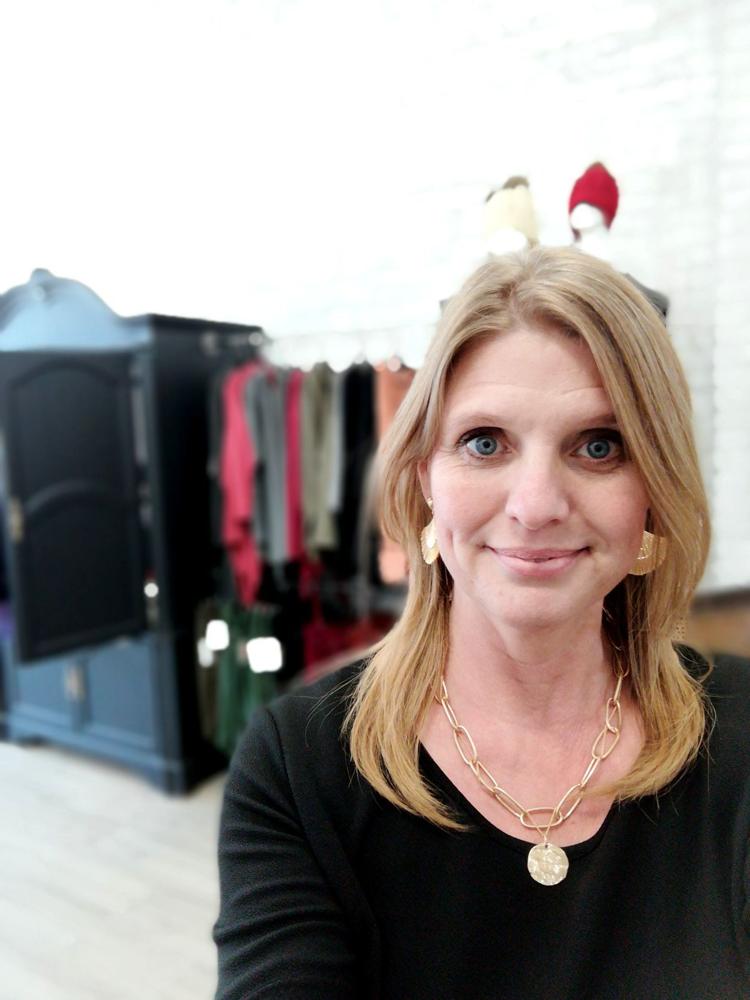 "The new location has had remarkable feedback from customers," said Eide. "Many patrons can't believe they are shopping in a small town when they come in. Some shoppers even remarked that the new store reminded them of shops in Brooklyn, New York."
Her Happy Place may have a new look and feel when you walk in the door, but Eide assures regular customers that she still offers the same unique finds she always has. Select clothing finds and upscale repurposed housewares are still the main focus.
The new 2000-square-foot space has opened up Eide's business to bigger and better opportunities, though, such as detail oriented displays throughout and a more simplified, urban-esque shopping experience.
"The biggest change we have at the store is that everything multiplied in size. We now offer double what the old storefront could take on when it comes to clothing and accessories," said Eide.
Eide also decided to buy outright from vendors that she used to sell items for in the Front Street location. The store still offers the same unique finds that her former store offered, but she found that, with the size and scale change to her business, she needed to simplify a bit, and buying outright from her vendors was much more beneficial when it came to meeting the needs of everyone involved.
Eide hopes to expand her business venue, and large building space, to include local and area community groups in the upcoming future. She plans to offer space for local events and a meeting place for community groups, as well as catered events. She hopes to extend this idea to area groups sometime in early 2020.
Other local business owners, such as Generations Boutique owner, Chelsie Hoffmann are very pleased to see the new addition to Minnesota Street.
"Having Her Happy Place at the new location in the center of town has really been a great addition to family owned businesses that are opening up all over town. Lisa really put a lot of work into the new location and it is beautiful, both inside and out," said Hoffmann. "Having the large windows and great displays throughout the store, will definitely help in making St. Peter more of a destination town and a great shop spot for the holidays this year."
Her Happy Place is open Tuesday-Saturday 10 a.m. to 5 p.m. and will be open for extended holiday hours (Wednesday and Thursday, until 7 p.m.) in November and December. Sales and upcoming special events can be found on the Her Happy Place Facebook page and Instagram.