Students are back in school all over St. Peter, including at the public school district and Gustavus Adolphus College.
While COVID-19 continues to affect life, local schools are returning to a five-day in-person schedule to start the 2021-22 school year. St. Peter School District, though, is requiring masks, while Gustavus is requiring vaccinations.
According to St. Peter Superintendent Bill Gronseth, students and staff are doing well with the mask mandate in the first few days.
"For the most part, masks are not new for them, and they've done a great job of masking up," he said. A student or staff member who refused to follow the mandate would go through the same behavioral incident process that the district uses otherwise.
While leaders are excited to see students back in the schools full-time, there is something to be concerned about in the latest enrollment numbers. The total district enrollment is currently at 2,096, which is almost 200 students less than the 2020-21 total (2,271).
The new kindergarten class (110) is actually higher than last year's (83) an on par with 2019-20 (115) and 2018-19 (110). However, the first-grade class is still well behind previous years, as are the third- and sixth-grade classes.
The high school classes are relatively even with previous years' classes. 
"There just aren't as many kindergarten students coming in as graduating seniors going out," Gronseth said. "It could be a lot of different things, from changes in the number of children people are having, to changes in the availability of housing."
He added, "It's a bit easier to do home schooling when kids are at an elementary level. When things get more specialized in middle and high school, it gets more difficult to provide those same opportunities."
In addition to home schooled students, private schools have also seen a larger than usual increase in enrollment during the pandemic. State funding will temporarily help offset the costs of dropped enrollment in public schools, which is occurring across Minnesota.
Gronseth is not hitting the panic alarm for now, noting the pandemic is causing anomalies all over, and he expects to see an increase in enrollment numbers when life returns closer to normal.
"I really think this dip we're seeing now is because of COVID," he said.
With 40 percent graduating in the top 10 percent of their high school class, the newest Gusties are poised for success at Gustavus.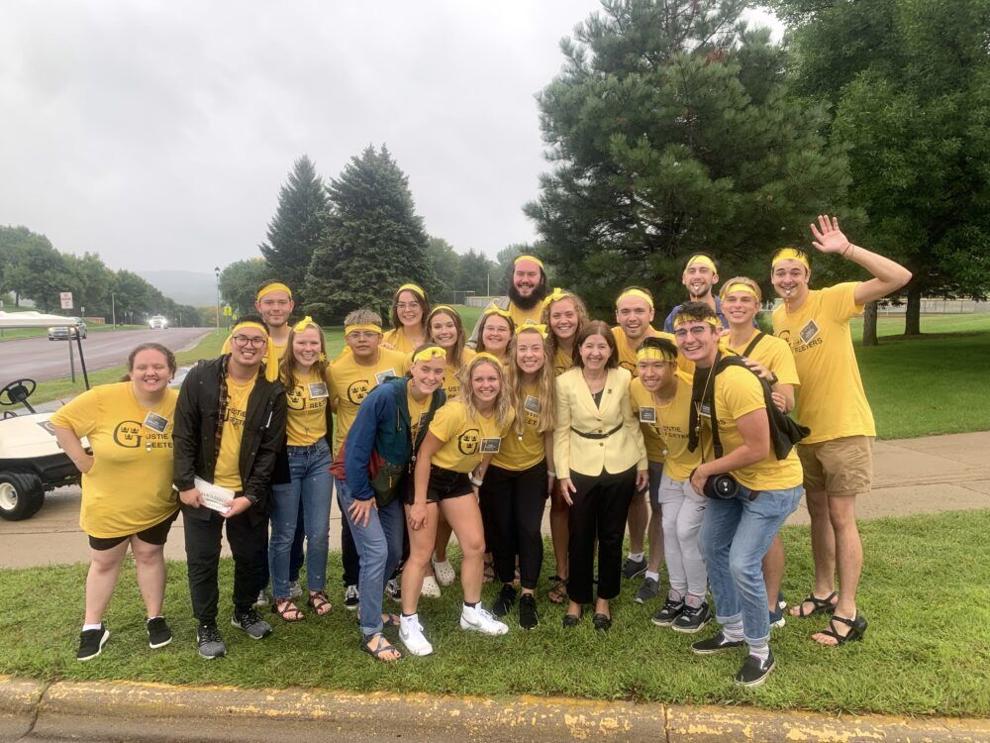 Overall enrollment at the college is 2,251, which is up slightly from the 2,240 students last year. First year enrollment is 590, which is down from last year's class of 611.
"The difference is primarily in international students who had visa issues/COVID-19 restrictions that limited their ability to travel to the United States," said Director of Media Relations JJ Akin.
Over 90% of Gustavus students and faculty are fully vaccinated against COVID-19, the college estimates. The remaining percentage is accounted for by those still in process, those who have medical or religious exemptions, and those who didn't have access before arriving on campus. The college expects the numbers to continue rising close to 100%.
Despite graduating from high school amid a global pandemic, the achievements of this year's incoming class were as strong as ever, with a mean GPA of 3.7, an average ACT score of 28, and 40 percent graduating in the top 10 percent of their high school class.
Student patrollers in bright orange jackets directed traffic around Norelius, Pittman, and Sohre Halls, where Gustie Move Crew members stood by in ponchos and raincoats. Although a misty rain wasn't entirely unwelcome for the sweaty movers, the weather proved that rain or shine, the helpful and welcoming spirit of Gusties always shines through.
"When we turned the corner and the Greeters were there — that was amazing," said new empty nester Pam Orton (St. Louis Park), mother of Elizabeth Orton, class of 2025. Said her husband, Jon, "It's the community. You can feel it right away. And in all the people willing to help carry our daughter's things to the fifth floor of Norelius!"
Throughout the day, Gus made the rounds, giving out high-fives and posing for pictures. President Rebecca Bergman stopped by the residence halls to personally welcome Gusties to campus, and families chatted with her over ice cream later that afternoon.
As Gusties from Bangladesh and Burnsville mingled with ones from Eritrea and Eden Prairie, safety was a top priority during Move-In Day. Masks were required indoors, and two buffet lunches and two Convocation ceremonies were held to allow for social distancing.