One of St. Peter's most successful business over the last 40-plus years is moving out of the family that started it and into the hands of a much larger operation. But the old and new owners say the business, and the jobs that come with it, will remain — and maybe even grow.
Jarraff Industries leaders announced last week that the business, located on the north end of St. Peter, was acquired by Prinoth Group. Jarraff, founded in 1979 and run by two generations of the Boyum family, manufactures heavy equipment for right-of-way maintenance, land clearing and tree care. Prinoth Group, part of the larger HTI (High Technology Industries) Group, is one of the world's leading producers of snow groomers, tracked vehicles and vegetation management vehicles and equipment. The Jarraff equipment fits well in the Prinoth profile.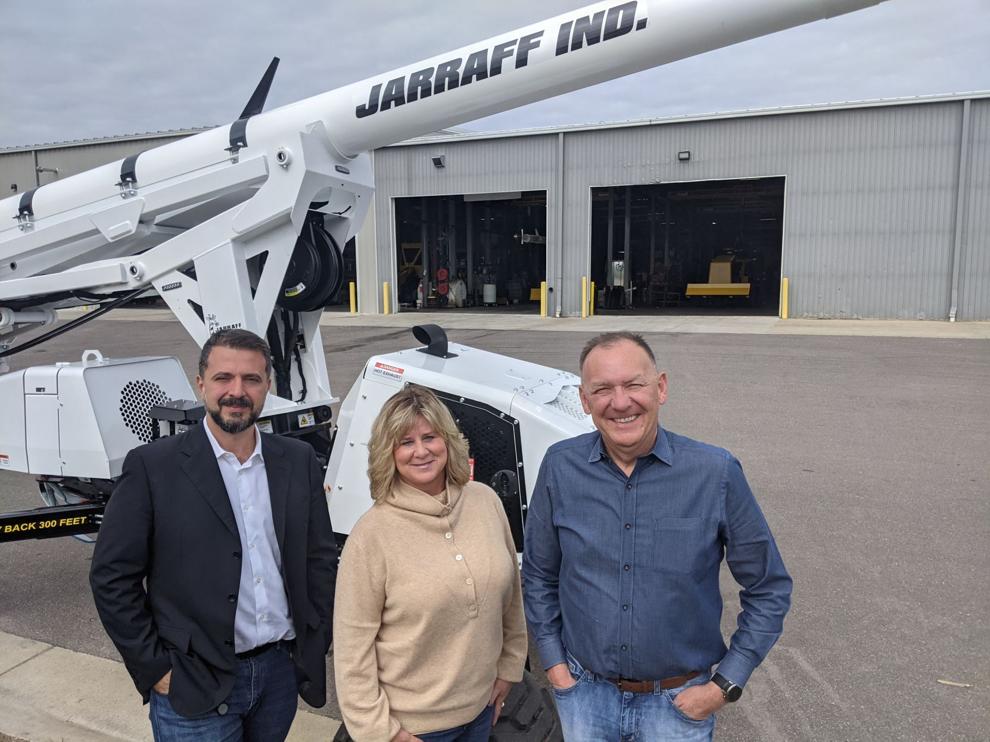 "We looked for a company that would bring complementary products to existing markets," said Prinoth Group CEO Alessandro Ferrari. "These products should specialize in off-road equipment. Jarraff was the missing link between tracked vehicles and vegetation management."
Former Jarraff owner/president and now ambassador Heidi Boyum and Jarraff leader Steve VanRoekel both expressed confidence that the change would be a positive one.
"I think it's fantastic," VanRoekel said. "Prinoth is committed to staying in St. Peter. They bring a culture that is very similar to what Heidi has developed over the years. And we feel like it's going to be an exciting opportunity for more growth at the Jarraff plant here."
For Heidi Boyum, this is more than just a business move. There was sentiment and history to be considered.
Jarraff first started in 1979 when Heidi's father, George Boyum, was a salesman for a utility company. That company and a utility contractor were looking for a piece of equipment that would improve efficiency in maintaining right of way for utlity lines — trimming back trees and vegetation that encroached lines and equipment. He and a partner, Bob Renner, who was an expert in hydraulics, came up with what was eventually called the Jarraff — pronounced like the animal it references, the giraffe.
"It took him a long time to work on that," Heidi Boyum said. "It was something brand new to the industry. A lot of trial and error; a lot of traveling between Louisiana and Minnesota; a lot of making sure the product was meeting the needs of the customers."
Boyum was 12 years old when her father started Jarraff, and it was quickly part of her and her younger brother Lee's life.
"Things were unfolding before our eyes," Boyum said. "As a young kid, you don't really realize everything that goes on, but I could see something evolving and taking a lot of (George Boyum's) time and traveling."
The Jarraff equipment quickly proved useful and important to a major industry.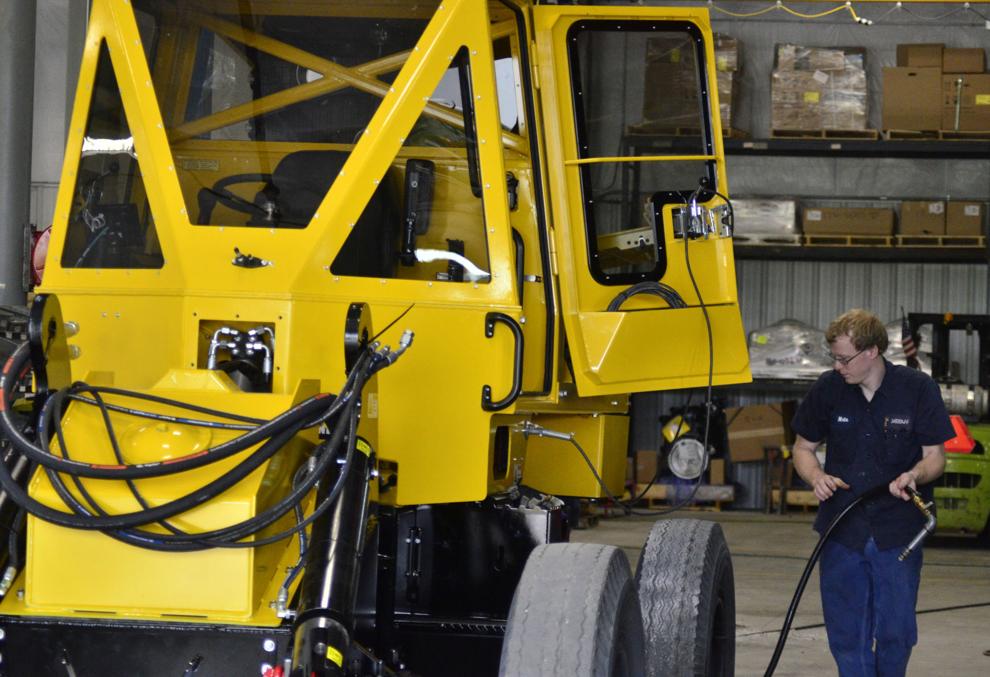 "Before the Jaraff came along, it was bucket trucks, cherry pickers, people with chainsaws doing the work," Boyum said. "This Jaraff made it possible for one person to be able to travel in the machine and trim at the same time."
She and her brother brother took over the business around 2000, and she bought her sibling out in 2008. About four years ago, she brought on VanRoekel, and they started a project to double the company in size — both in production and facilities. According to Boyum, the company is busier now than it has been in a long time. It employs about 60 people presently.
"We sell to utility contractors; we sell to municipalities; departments of transportation; pipeline companies; vegetation companies," she said. "We sell in Australia, Europe, all over the United States. When we started, we were making a couple units a year, and now we're making several hundred pieces of equipment per year between our three different models."
Boyum felt, though, that right now is the right time to let go.
"My feelings are excitement, because I can't wait to see where this company goes," she said. "I live in the community, and I know it's going to bring Jarraff to the next level. I still get to come to work, so I can see it grow with a more relaxed and reduced commitment."
Alessandro Ferrari still speaks with the Italian accent he developed during his childhood in Italy. Today living near Montreal, the CEO of Prinoth's tracked vehicles division (and now its Jarraff division) is a human representation of his company's larger scale. He's worked in the Midwest before, but that was in Chicago, and St. Peter is certainly not like Quebec or the alps of Italy.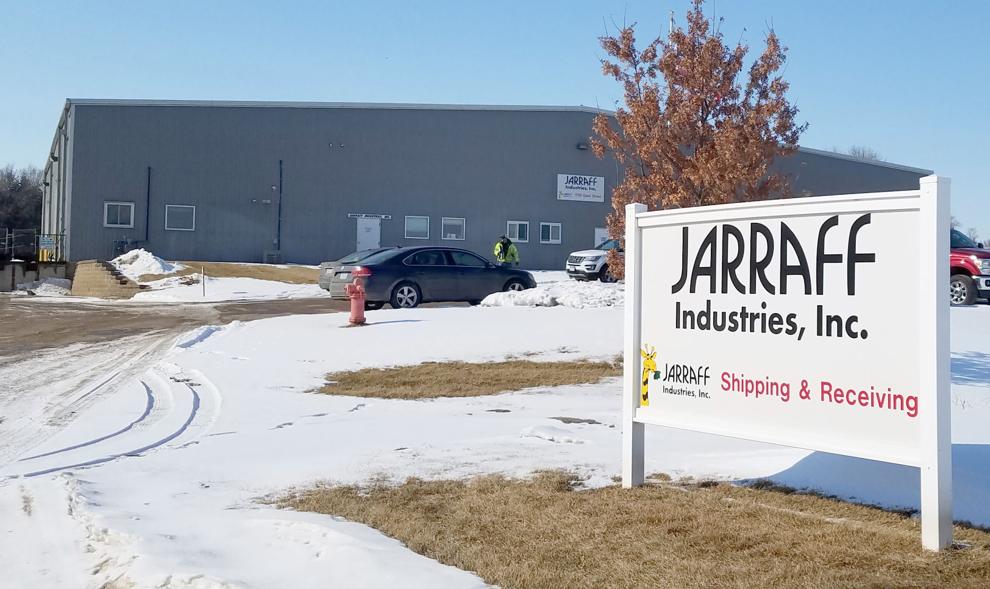 Despite Prinoth's worldwide presence (major facilities in North America, Italy and Germany and over 3,800 employees total) and wide range of products, Ferrari said the company has every intention of keeping Jarraff in St. Peter, and the facilities there could even grow.
"I'm going to be here very often in St. Peter — a minimum monthly," he said. "I want to be here, because I have a passion for the equipment and I want to be breathing it. It's important to come to St. Peter, because there is a lot of work with the post-merger integration of this company. We need to benefit from each other's traits."
Regarding the company's goals, he said, "We want to become the kings of the right of way. We see our role as offering the equipment that can get the job done in these challenging times."
The reason St. Peter could be a focal point for growth, Ferrari said, is because of the importance of the Midwest in the utility industry and the need the company sees for establishing itself in that market.
"Having local supply bases is something really important to us," Ferrari said. "We are now focusing on integration, and we'll be evaluating all of the opportunities that might come. We have big plans for expansion into the United States, and we see here as a strategic location for our growth.
While the company is global, the individual facilities should be local, Ferrari noted.
"I'd like to bring a global vision, but I want to be local, and it is very important to me to learn and get in touch with the community of St. Peter, because we want to be local and have a local mindset," he said.
A key to that approach will be Boyum, who will still be around as ambassador to work with customers and provide a familiar face, along with the same staff that was already in place before the purchase. It wasn't easy selling her father's company, but Boyum doesn't think he'd be upset.
"I'm sure my dad is looking down and maybe thinking that he would've never imagined it would've gotten this big," she said. "… I think I'd be able to convince him this was right."