While it's an off year for most state and national races, St. Peter voters have plenty of candidates to sort through, if they're interested in contributing to the selection of the next mayor and three councilors.
St. Peter city candidates gathered Tuesday, Sept. 14 at the Performing Arts Center in St. Peter High School to introduce themselves and respond to questions about local issues. The topics ranged from support of a citywide fire station project sales tax to efforts in reducing the carbon footprint.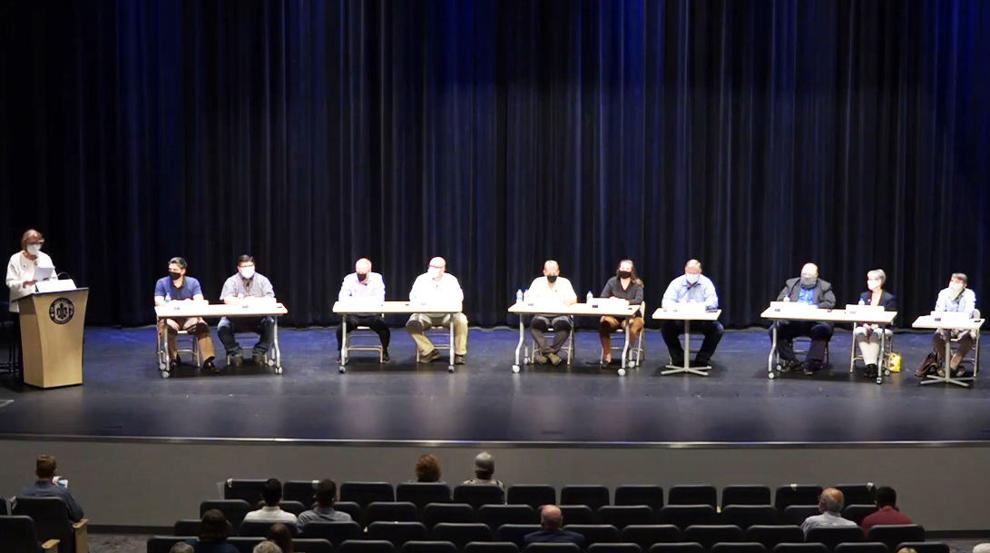 The candidates for mayor include incumbent Chuck Zieman, along with current councilors Shanon Nowell and Ed Johnson.
In St. Peter's Ward 1, Nowell's and Johnson's seats are up for election, and since those two are running for mayor, two new councilors will be elected. The candidates running for the seats are Remo Alexandri, Roger Parras, Darrell Pettis and Ben Ranft. Voters will select two.
In Ward 2, the seat currently occupied by Stephen Grams is up for election, and Grams did not file for re-election, meaning a third new councilor will be elected. The candidates in Ward 2 are Dustin Sharstrom, Jo Ellen Peters and David McGuire.
Each of the candidates at the forum, run and co-sponsored by the St. Peter Area League of Women Voters, along with the St. Peter Area Chamber of Commerce and the St. Peter Herald, were given the opportunity to introduce themselves with opening remarks.
The mayoral candidates started off. Mayor Zieman noted his experience as a four-year councilor and now six-year mayor, and said his wife is a native of St. Peter, while he has lived here over 45 years. He emphasized his commitment to his public service role.
"I currently have one full-time job outside of the home, and that job is being the mayor of St. Peter," he said. "I'm here tonight to ask for your continued support."
Nowell said she has served on the council the last two years and is ready to take the step to mayor. She talked about her professional experience in setting clear priorities and strategies, along with knowing how to effectively communicate across differences.
"I will seek to be a careful and thoughtful steward of tax dollars and be a strong voice for progress on the council," she said. "I pledge to support affordable housing options, to build on the strength of our vibrant diversity in St. Peter, and to seek a sustainable and green future for all of our residents."
Johnson pointed to three and a half years on the council, 16 years on the Fire Department and 35 years at the head of Red Men Club. He said he wants to serve the community in a greater role and capacity as mayor.
"… I've learned a lot about the inner works of the city," he said. "I bring a common sense approach to leadership that puts our community first, and I'm willing to listen to all ideas."
In Ward 1, Parras spoke of his past council experience (five years), and said he's running again "because I just believe we have to have good stewards of our tax dollars and rates at our city." Pettis described his background, including 30 years as Le Sueur County administrator and 17 years on the St. Peter Fire Department, and said "I was looking at getting back into government and serving on the other side of the table."
Ranft said he moved to St. Peter in 2017 for its small town feel and diversity, and said "In my 20 years of business experience, I have never turned down a challenge to create, improve, and cooperate with others to reach the goals at hand, and I will do the same for the residents of St. Peter." And Alexandri noted his background as an immigrant from the Islamic Republic of Iran, coming to St. Peter in 2013, and said "… this is a fulfillment of my journey as an immigrant. But also I think I have skills I can bring to the table to help our community develop and have an eye for the future."
In Ward 2, McGuire said he's a lifelong resident of St. Peter that loves the community and its rich history and said "I'm anxious to be of service for our community." Jo Ellen Peters talked about her background, including her work for North Star Aviation, including as chief flight instructor, plus her long-time membership on the Air Force Auxiliary Civil Air Patrol, where she ranks as lieutenant colonel. Sharstrom noted he is a social studies teacher in St. Peter Public Schools, who moved here with his family eight years ago, and he said "I'd like to take my experience in the classroom as a teacher of government and history at the middle school, high school and college level, and use it to represent everyone in St. Peter."
One of the first questions asked to candidates Sept. 14 was "what efforts would you support to enable St. Peter to become a city that truly supports all people as neighbors?"
In the mayoral race, Nowell touted the work already being done that she's seen in her time on the council. However, she said much of the work is done on an ad hoc basis, referencing a recent Sharia-compliant loan to a local business that she said the city had to work to make happen.
"That went out of our regular process," she said. "We need to systematize those things, so that we don't have to make exceptions; everybody is included. And the second thing I'll say is that we need to have seats at the table for all voices. We can't have an inclusive outcome without an inclusive process, and as mayor, I would make a very high priority in seeking diverse representation on boards and commissions."
Zieman noted that a current "item of vital importance" for the city is to treat all people like neighbors. He said that's been a constant in the community and brought up an example.
"I want to say that we recently hired a new police chief," he noted, "and three of the candidates were internal with 81 years of experience, and none of them have ever had a complaint issued against them."
Johnson acknowledged the high growth in diversity in St. Peter and said that will only continue.
"We're trying different ideas in the council to get these groups together to find out what they want and what they need," he said. "The main thing is everyone just needs to get along."
In Ward 1, Alexandri said he recently met with some of the local Somali community at the Islamic Center in town, and their biggest concern is large housing to fit multiple generations of family.
"Their housing interest is perfectly attuned with the needs of the city to move onto the future," he said. "to attract more highly paid professionals, who happen to be more diverse, and they also happen to get married and have more children, and they will go to the school system, which will snowball into more economic growth for the city."
Parras said diversity is always something the council talked about in his years on it, and he believed it was still a priority today. He said there are steps that could be taken to get more diversity on board and commissions.
"I think we can advertise within certain communities," he said. "Maybe the school district sending information home. Affordable housing is another option we need to keep pursuing; we have new subdivisions that were created for that."
Pettis emphasized the importance of having a strong school district and system, and said, as a former county administrator, he is aware of the difficulties experienced by residents young and old.
"We have to support all demographics, provide good services, make it a place where they want to live, and provide opportunities for housing," he said.
Ranft said he and his family chose St. Peter, in large part, because of the evolving demographic in town. He referenced a recent conversation he had with a community member about a concern of theirs that he took action on, contacting local banks about halal funding.
"I think it's important we think of equity when we think of all of St. Peter, and we don't leave anyone behind," he said.
In Ward 2, Sharstrom said his classroom at school is reflecting the changing demographics in town, and he's proud of the work of the school district. He wants to see the city partner with the schools and with the shareholders involved.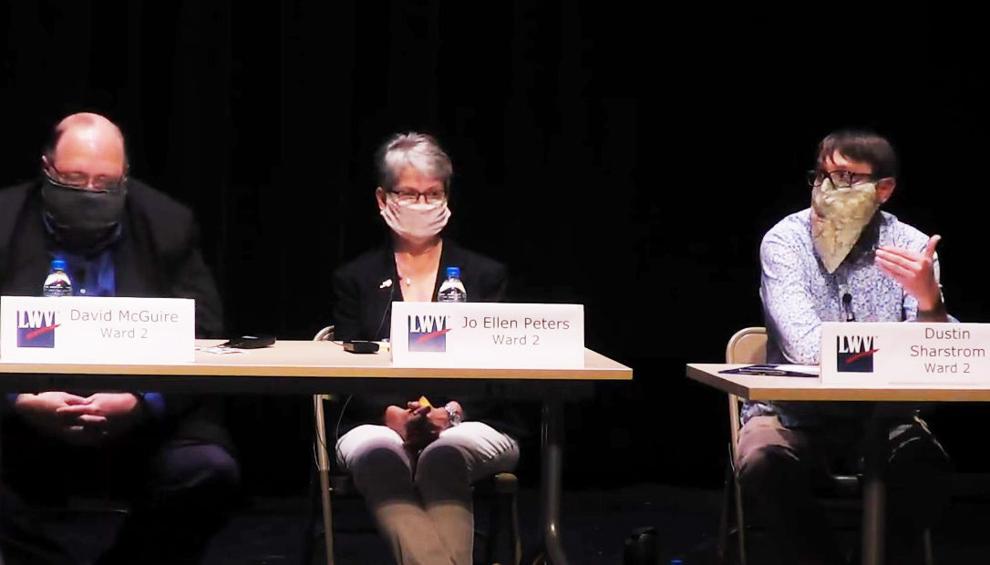 "That would be communicating with the Somali community, like I did with the elders about the housing challenges they've faced," he said. "Reaching out and finding why we have low enrollment in our rec programs with Somali families. Those are the pieces where the city can do better."
Peters said she has felt safe in the community in the 23 years she's lived here, and that a few problems here and there are normal in any community.
"I think what the city is doing on some of these fronts is right on track, but we need to keep that up," she said. "I think encouraging and supporting minorities to open businesses and helping them find the avenues to do that encourages growth in our business community and then in our housing. We also need a wide variety of homes and neighborhoods."
The first question asked to the candidates was about the proposed citywide sales tax to pay for a new fire station in town, which residents will vote on at the Nov. 2 election.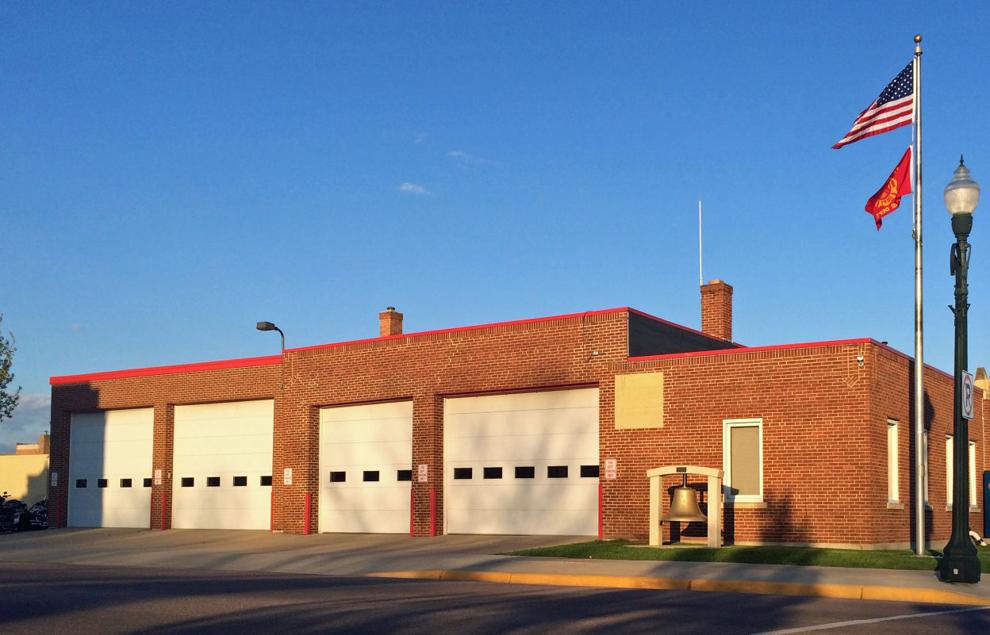 The current City Council and city staff have been clear that they believe a new fire station is needed, and the idea of a sales tax is to spread the burden across everyone who makes purchases within St. Peter city limits. If the sales tax does not pass, the city would still likely move ahead with a new fire station, and the full burden would go on city property taxes instead.
All 10 candidates indicated support of the sales tax, noting that it would draw funds away from property taxes. There were some differences in the details that candidates chose to note in their answers, though, specifically in the mayoral race.
Johnson said, as a long-time Fire Department member, he "of course" supports the new fire hall and agrees with the sales tax to help pay for it. He said "I think everyone should pay their fair share, instead of just the property owners."
Nowell said she "absolutely" agrees with the sales tax and spoke of the advantage to property owners here, along with the lack of drawback. She said, "I think the fire hall is a necessity, not a luxury, and the sales tax will spread that cost and not put it solely on the shoulders of property owners. This would also put us in line with other local communities that also have sales taxes, so there is no disadvantage there."
Zieman said the sales tax increase on average, should add 10 cents to a $20 bill in town. He said, "The current fire hall was built in 1928 as a county garage; it has been used since 1958 as a fire hall. There are so many things that have changed, so many elements and carcinogens that our Fire Department has to deal with, and our current station dose not facilitate that."
In Ward 1, Pettis mentioned his time on the department and his involvement designing the new station, and he noted state funding no longer supports projects like this, so the sales tax is a necessary replacement. Ranft noted that the new station is not being built just because the department wants it, but because it's a necessity. Alexandri said he recently met with the department chief, and he spoke of the need for the new fire station along with more equipment that the department needs. Parras emphasized that the sales tax will relieve burden on property owners.
In Ward 2, Peters said the new station is of "vital importance" to the community and the current station has become a constraint. Sharstrom talked about the city's growth in recent years and said it's sensible that the department would need a new station, and he believes the sales tax will make payment more equitable. McGuire said the old station has served its purpose and he agrees with the sales tax.