Cole Turrittin may be going through the most difficult period of his life right now, but he can be assured that no matter how bad things get, he'll always have the support of his family.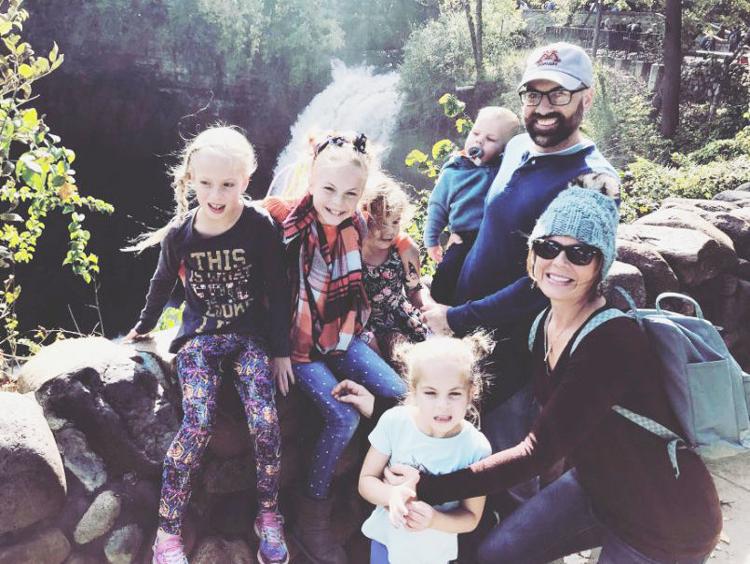 A St. Peter native, Cole is the husband to Liza Turrittin, and the father to their five children: Andinia, 10; Viviana, 8; Eleanora, 6; Helena, 4; and Olin, 1. Cole is currently spending most of his time hospitalized in Rochester, as he battles a rare form of cancer. While the challenges only continue to mount for the family, they are undeterred in their support for one another.
And they're also getting support from the outside in.
A GoFundMe page, established Jan. 30, has raised almost $50,000, with 551 donations as of noon Feb. 25. The money will be absolutely critical to the family, as the medical bills rack up. According to the page, three weeks of medications cost $16,000; that doesn't even begin to touch on the costs of consistent hospitalization, treatments and medical expertise the family is relying on. Plus, there is the continuing costs of everyday essentials for the family, along with travel between Mankato and Rochester and lodging.
"Add up all the other medical bills and it's enough to make your head spin," said GoFundMe page organizer Angie Valencia. "Needless to say, this is the last thing a happy family with five kids would be saving up for."
Making a life together
Cole and Liza were well on their way to living the life they always wanted.
They were high school sweethearts in St. Peter. And certain that she was the woman of his dreams, Cole actually set out to win Liza's heart while she was on a date with someone else. Luckily, his plan worked, and the two eventually married in a celebration in Jamaica in 2008.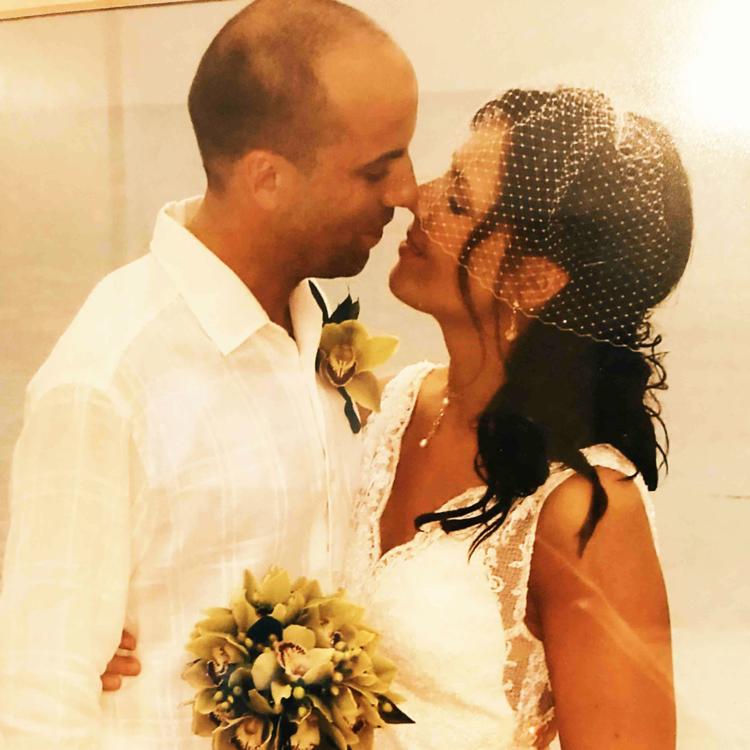 The two started their working career in the St. Peter and Mankato area — Liza as a nurse at Mankato Clinic Daniel's Health Center and Cole at Taylor Corporation, where he most recently took a position as production manager in The Occasions Group. After a couple years of marriage, the two couple started having their kids.
Andinia was first, and then they had another every two years until the most recent, Olin, came three years after his youngest sister Helena. With so many kids at the home, Cole and Liza decided it was best for Liza to become a full-time stay-at-home mom.
In this role, she not only cared for the kids, but she also provided the support and time for Cole to take classes through the Carlson School of Management at the University of Minnesota. He graduated at the top of his class with a master's in business administration in 2018.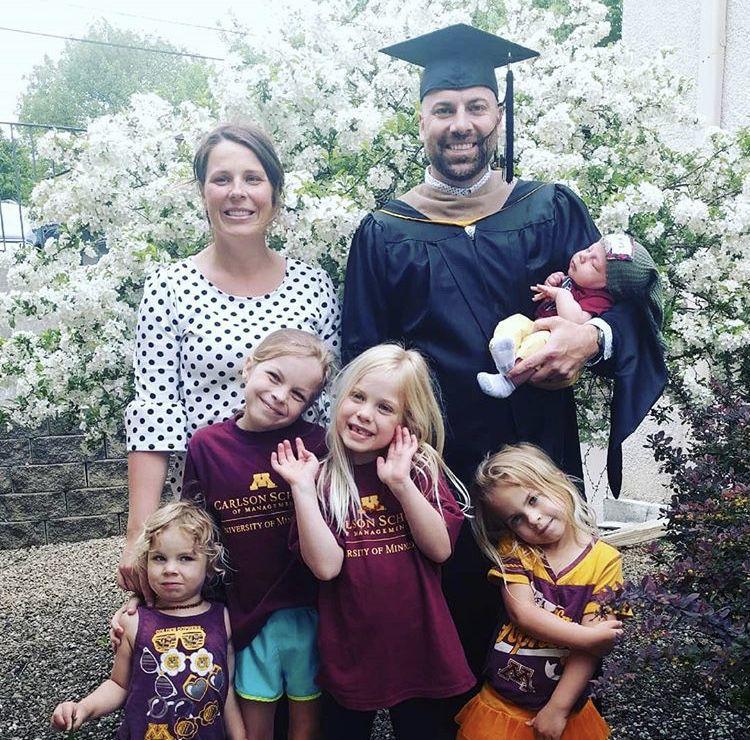 The family was in great shape for the future, with an established support system in place and a promising work career ahead for Cole.
Big changes
Just when things were perhaps settling down for the Turrittin family, everything was turned upside down.
On April 25, 2019, Cole learned he has a neuroendocrine tumor (NET), which is considered a rare form of cancer that makes up just 2% of all cancers treated in the United States. Doctors believe the cancer started in Cole's pancreas and metastasized to his liver.
Neuroendocrine tumors lack symptoms in the early stage, according to doctors, which makes the disease difficult to diagnose. The tumors tend to be slow growing, and patients don't often realize they have the tumors, because any symptoms that come about are often confused with other ailments.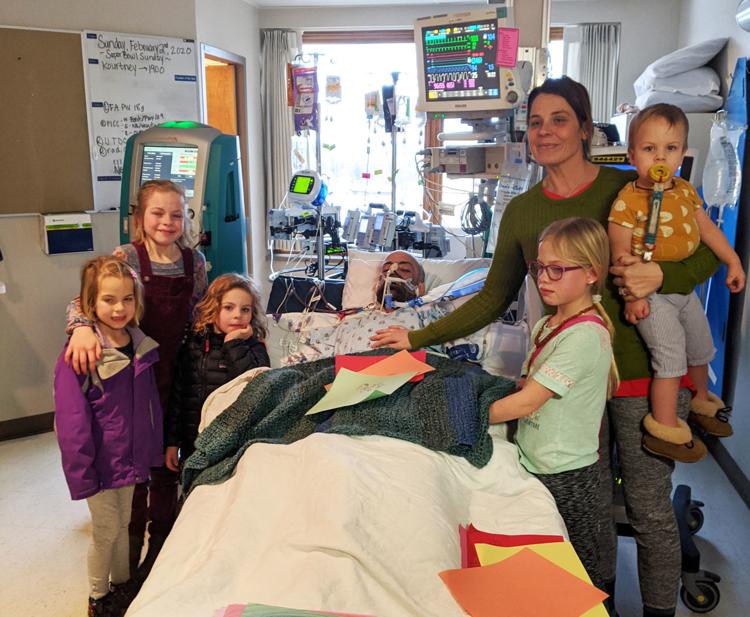 By the time Cole was diagnosed, he was already in a critical stage. He's required intense hospital care and treatment since.
On Feb. 3, Jessica Rodning, sister to Liza, gave a difficult update on Cole's status.
"The last 36 hours has been touch and go for Cole," she wrote. "We are taking it minute-by-minute and hour-by-hour, and the next 24 hours will be even more critical. Cole's body is very weak and the cancer is very aggressive but we are not giving up hope. He is an amazing husband and father and has five little ones and a beautiful wife to fight for."
But updates since that time have been more positive. Rodning noted on Feb. 19 that Cole was able to sit up in bed for 15 minutes. Then on Feb. 22, she wrote that he was able to stand on his own for a short period, sit in a chair for near four hours and breathe on his own for near five hours. Then some especially good news came on Feb. 24, as Rodning updated that Cole had gained enough strength to move out of the intensive care unit at the hospital and onto another floor.
"His progress is miraculous and he's proving his medical team wrong each step of the way," she said. "The Turrittin seven are so grateful and blessed. They thank you for your continued prayers, gifts, kind words, and uplifting thoughts."
Through everything Liza and the Turrittin kids have supported Cole non-stop. They make constant visits to his hospital room, as Liza holds his hand and talks to him, while the kids draw him pictures and try to keep his spirits up.
Support
There is a lot of love for Cole and the entire Turrittin family among their extended family, friends and community, too. The fundraiser brought in $20,000 in just the first week, and, now at about $46,000, organizer Valencia said she'll keep pushing the goal higher, as more comes in.
For Valencia, it's imperative that the family feels supported during this time.
"There are many people in the community that were unaware of the severity of the Turrittins' struggles, and it's very important we all come together to help," she said. "Cole and Liza have always been kind to everyone, and now it's time to return the love. Anyone will tell you their love for each other is one for the ages."
Amidst all the thoughts and prayers from well wishing donators in the comments of the GoFundMe page, a few shared some personal messages for Cole and the family. A couple of his former teachers were among them.
"I have very fond memories of Cole from my first years of teaching at St. Peter when I was still Miss Walter, especially during the Monarch butterfly project," Roxanne Kuerschner said. "Positive thoughts to the whole family!"
"I wish Cole and the family all the best," said Paul White. "Cole's a former MBA student of mine and one of the really, really good guys in this world."
St. Peter residents also let the family know how much they mean to the community. Kelly Crawford commented, "So many of us in St. Peter have you all in our hearts."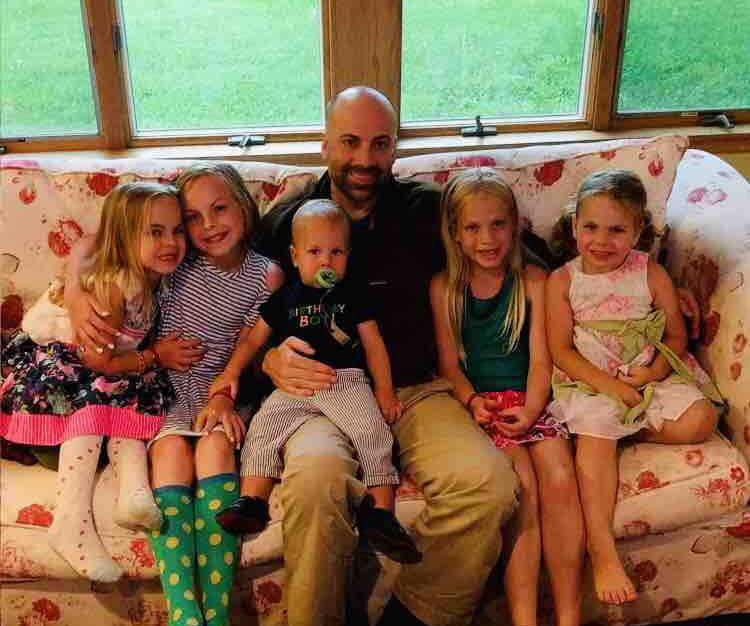 For those who know Cole, Liza and their daughters, it's no surprise that they have many rallying to support them. They're loved by many and have always been good to others.
"If you talk to anyone that knows Cole, they will probably tell you a story about his great sense of humor, the love for his wife, or how intelligent he is," said friends and family in the GoFundMe page "Above all, Cole is full of kindness, patience, and humility. A devoted husband and fun loving dad. His determination to conquer any challenge that ever comes his way is an inspiration for everyone around him. Both Cole and Liza are beautiful role models of life, love, and marriage."