It was a long day for St. Peter resident and musician Tanner Peterson. And a long night, too. And a long next day.
Peterson started busking in the downtown Mankato Plaza on Sept. 13, and he was still doing it more than 24 hours later on Sept. 14. In all, he busked for 26 consecutive hours, and he has the video to prove it. The effort earned him a world record, which was verified in November by the World Records of Music, LLC.
He plans to establish the record with Guinness in 2020; he didn't have enough time before winter this year to bring them in. Still, the record is in place with World Records of Music, and Guinness does not have its own version established to contradict it.
Peterson officially can boast the feat.
"It was something that I thought of just a few weeks ago," Peterson said after the busk in September. "I thought it was a really cool idea. I was thinking about world records in general, and if anything would be possible to even try to break. Then I thought about busking, because that's my favorite thing to do. I saw the record at 25 hours and five minutes, and I thought 'Why not?' My best friend said 'It would be the coolest thing ever,' so I figured I'd try."
Peterson is freshly 21 years old (was still 20 when he broke the record), and he started busking at 18. He was in Nebraska with friend Maggie Tomin, also of St. Peter, and they decided to "give it a shot." He continued to busk occasionally, including in Oceanside, California on the pier. He also tried it out in Hawaii while spending time there.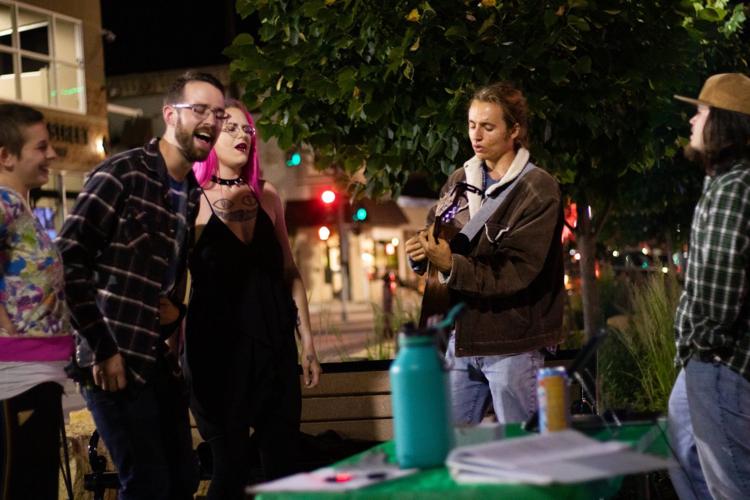 When he returned to St. Peter, he tried out the musical craft in the Mankato Plaza.
"I got overwhelming positive feedback," Peterson said. "I though it was really cool, so I decided to make it a thing. Last summer and this summer, I was out there every Sunday that I could make it. It's become a habit, and it's one of my favorite things to do."
Peterson plays guitar and sings; he also throws in the occasional ukulele and/or piano performance. In terms of making any kind of living, it's an inconsistent gig.
"It really depends on the night. Sometimes, yes, I can buy quite a few meals, a lot of food off it," he said. "Other nights in a big city like Santa Monica, or just anywhere, it depends on how many people are out and how generous they're feeling. I always get something out of it, even if not monetary. I've met a really big chunk of my fanbase just outside on the street busking."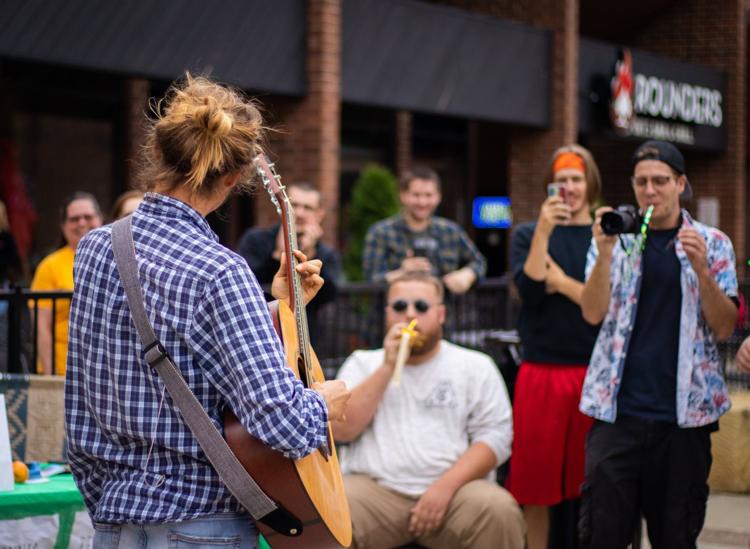 Peterson is a singer songwriter, who plays shows locally, with some gigs in the Twin Cities, Duluth and elsewhere. He describes his music as folk with an element of rock. He said his influences include by Jason Mraz, Ed Sheeran, Jack Johnson, John Mayer.
He has three songs out: "Edge of Uncertainty," "Sanity" and "Safe and Sound." They can be found at www.tannerpmusic.com. "Safe and Sound" is his newest release and is a reggae-inspired song that he wrote last winter.
"It's mostly a motivational coming-of-age song," Peterson said. "It's about pushing through challenges and adversity and growing stronger through it. The style is inspired by the music I heard in Hawaii."
Peterson hopes to have an album out before the end of the year. He plans to keep busking, though he'll likely wait for some warmer weather before heading back outdoors.