It was just three to start, but with a commitment to the "whole person," and a desire for collaboration among professionals, GO! Therapy in St. Peter has fast developed into a full-scale business, ready to add its 12th staff member in just four years.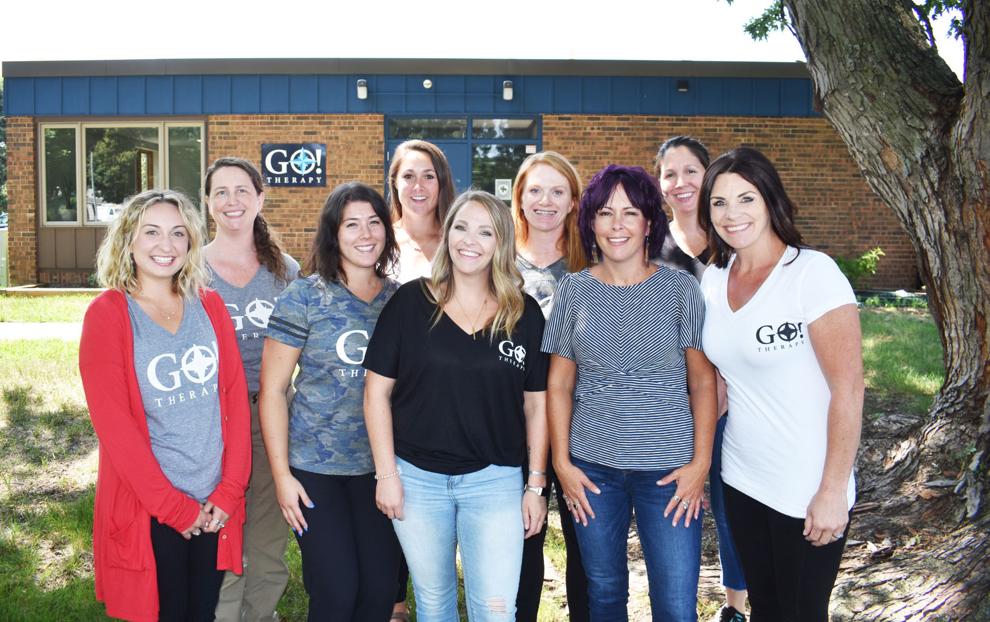 "We didn't expect the demand that has been there, though we were happily surprised," said Jenny Kortuem, co-owner of GO!. "We thought it would take a lot longer to grow and build our caseload. We started out renting 400 square feet in a basement with no windows on Mulberry Street (in 2017)."
Now, Kortuem and her cousin and co-owner Brenna Hoisington offer a bigger and better space (8,000 square feet) on Sunrise Drive in St. Peter, where an all-women team handle the speech, occupational and physical therapy needs of anyone from infant to adult. The professionals at GO! Therapy all agree that one form of therapy blends into the others.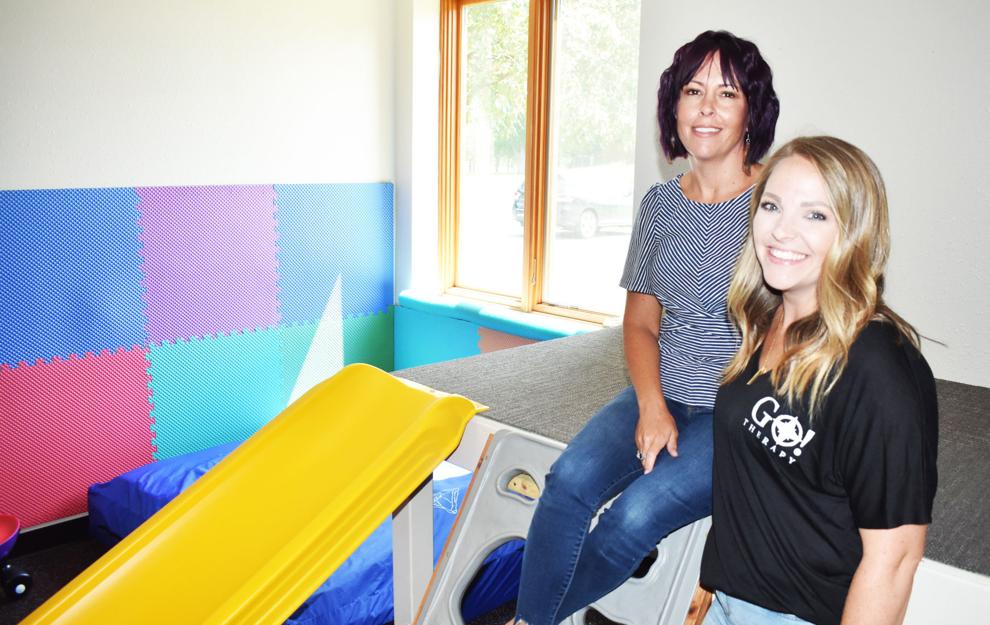 They call it "treating the whole person," and the business motto is "specializing in ability."
"So if our posture when sitting down is wrong, it can impact our speaking, impact our eating, impact our ability to communicate and lead to other physical problems," Hoisington said; she and Kortuem are both speech therapists. "In order to treat the whole person, we need to treat the whole body."
Physical therapist Dana Seifert added, "Physical therapy is somewhat branded as the movement specialists. We're about functional mobility. So everything from sitting to standing up tall at a table is going to impact the skills of eating, breathing, getting that nutrition in. If I can help with posture, that can help with nutrition, which can help with the next stage that I get."
Occupational therapist Amelia Braun then pitched in, "OT is really big piece of the puzzle for regulation. So if a kids' sensory needs aren't being met, they are not going to be able to understand details and how to use muscles of the mouth and just things with function. … Then their development in all these areas becomes spotty."
Speaking about their work, the team at GO! often refers to kids, toddlers and infants, because families have largely been the business's clientele. Children and babies who are having a tough time with a certain stage of development — whether it's feeding, speaking, walking, reading, doing simple tasks or a combination of circumstances — are brought to GO! by their families. And regardless of what the symptoms may be, GO! will treat the individual, not the problem.
That's how the business started in the first place. After years of therapy work with larger organizations, Korteum and Hoisington, along with a third entrepreneur who has since moved elsewhere, realized that something was off. They were treating patients' issues, but improvement was often hard to come by.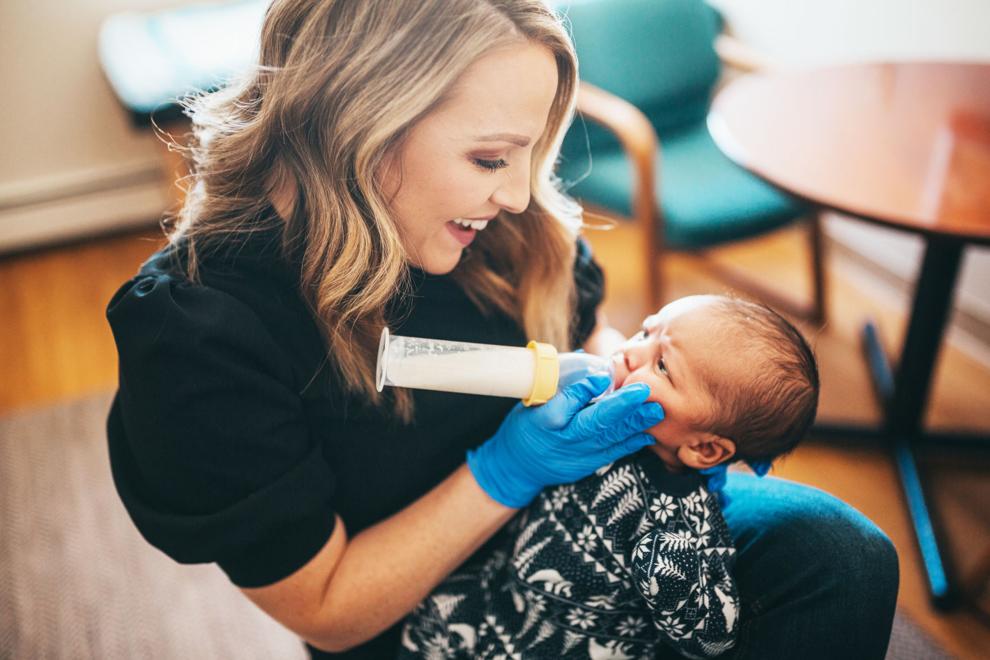 "I think what we were able to identify is we didn't know what we didn't know," Hoisington said. "We saw where these children had needs for improvement, but they probably were not improving fast, and we just asked 'Why?' all the time. We started researching 'How can we do this better? Do that better?' so I think we were not complacent."
Kortuem added, "We've always known the mental health component is huge. We have kids who can't eat, can't speak, and often they had trauma before that. A lot of kids are in that flight or fight stage and their development lags."
The two realized they needed a bigger team, and they needed to be working hand-in-hand with therapists in areas they had little expertise in, like occupational and physical. So when a patient starts at GO!, they start with the therapist most attune to the initial problem; that therapist will meet with the family, specifically if the patient is a child; the therapist will then educate the other team members and write up a plan of care that includes each aspect of therapy.
The therapy, itself, is not what one might traditionally expect. GO! delves into play-, work- and life-based approaches. So instead of doing little exercises to improve posture, the team would set up actual living situations where posture comes into the equation. And instead of making kids do tasks, the therapists let them play.
"We look at what's underneath the behavior; we don't like to use that word, behavior, because it has a negative connotation," Kortuem said. "We use the word response; we all respond different in our environments, and some people have difficulty regulating those responses, based on their environments."
For adults, the therapy could involve activities like cooking, cleaning, gardening and grocery shopping, "doing those things as humans we really need to feel accomplished. So we look at functional skills versus working out of a workbook."
Patients will come in multiple times a week, some more than others, and they could stay for a few months or maybe a year or two, whatever is best for their needs.
"Once goals are met, we have a graduation day and a graduation wall," said Abbee Blaschko, office manager and sister to Hoisington.
Working with the patients is the easy part for the team at GO!, who have high confidence in their system. Getting patients to start in the first place will always be the tricky part. First of all, the business bills through medical insurance, meaning they take doctor referrals. The group gave special recognition to Dr. Lon Knudson at Mankato Clinic in St. Peter, who they said has supported them since the beginning. Other local doctors have also gotten on board and helped direct families, and some adults, to GO! when appropriate.
Hoisington and Kortuem are thankful they chose St. Peter for their business.
"People were like 'Why are you choosing St. Peter? Why not Mankato?'," Hoisington recalled. "But the community here drew us; we wanted to be here, and we thought people would want us to be here. It's very close knit and supportive of small business."
Kortuem added, "And I think there are a lot of advocates for early intervention here."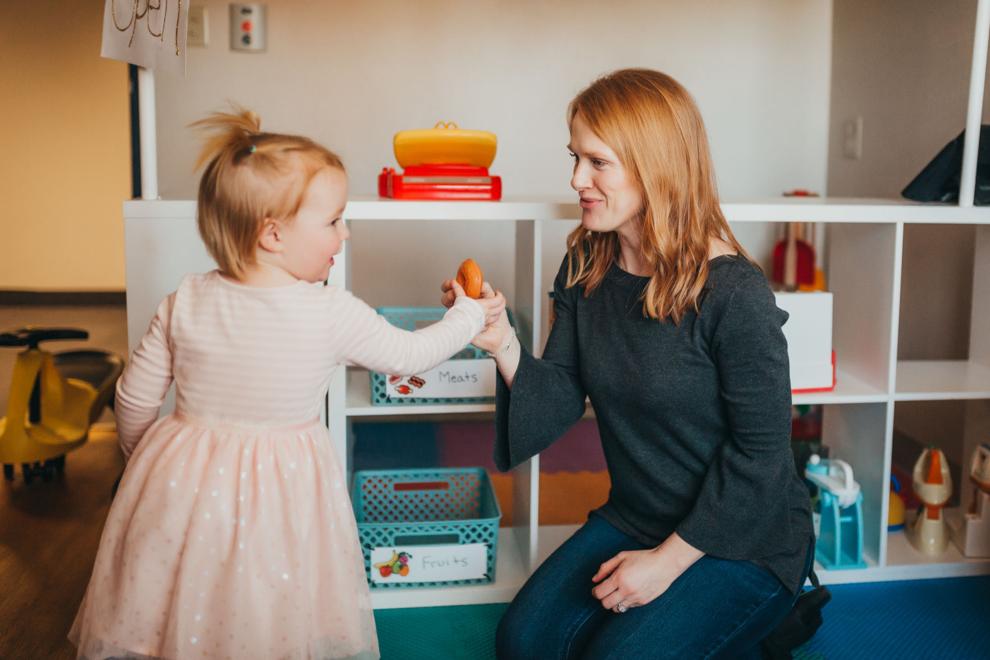 Early intervention is key terminology for GO!. One of the barriers the business is attempting to break through is the "Wait and see" approach that's very common among families and individuals all over.
"If you see a possible issue at age 1 and you wait until age 2 to do something about it, that's a full year of development potentially impacted," Hoisington said. "It's parental awareness of developmental concerns. There are many red flags that indicate intervention could be helpful."
She added, "For an adult, you can go back to anything in life that's not going well. Is my balance decreasing, am I forgetting things. Therapy can help improve quality of life."
GO! Therapy accepts all forms of insurance payment possible, including Medicaid, as it "wants to be able to treat everybody who needs it." The leaders also want to offer even more in the future; they're currently pushing the limits of their Sunrise space now.
"Completing the whole person model is our biggest goal," Hoisington said. "We'd love to add mental health services on site; we want to collaborate more with Healing Rhythms Music Therapy; we've talked about aquatic therapy. I think the possibilities are endless."
Kortuem added, "And we're eventually likely going to grow out of this space, too, so we're not sure what our future holds."