Tragedy often inspires art. The St. Peter community has an example in its midst with the unveiling May 26 of a mural honoring Landon Gran.
Gran was 18 and entering his senior year of high school when he was killed in a farm accident in August 2019. A beloved son, friend and co-worker, Gran's friends sought a way to memorialize his life. The result is the 10-x-12-foot mural that now hangs on the north side of the 3rd Street Tavern.
Kept under wraps until Tuesday, Gran's parents, Michele and David Gran, were the first to see the mural in a private showing.
It is the fruit of numerous conversations, hours of hands-on work and likely many displays of emotion among the young man's friends and family in the nine months since his death.
Gran impressed people both inside and outside his peer group. Angie Fogal had known Gran and his family since the days when her sons, Kyle and Nathan, were in youth baseball with Gran and his brother James. Fogal and the Gran brothers renewed their acquaintance as co-workers at 3rd Street Tavern.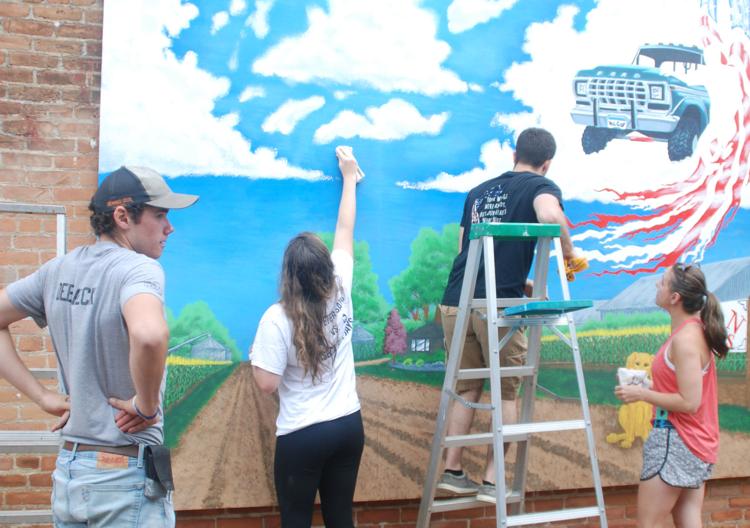 The kitchen is like a family, she said: "We're in the trenches together Friday or Saturday night when it's mayhem."
Learning about Gran's death was surreal for Fogal. As time passed, she observed Michele's ongoing sorrow.
"My friend is still grieving. Dang it. I'm trying to take away the pain and it's not working," Fogal said. She felt powerless to help. But she realized that what she could do was assure Gran's parents that he would never be forgotten and the idea of the mural was born.
Fogal tapped Nick Richards, an artist and fellow 3rd Street co-worker, as well as a large group of Gran's friends, to design the mural. As they talked about Gran, Richards and Fogal captured the stories and images that emerged.
"They told me about the things he loved and the things that were important to him, such as his truck, his new pup and the gazebo that he and his friends would hang out at all the time," Richards said.
Superimposed on a landscape of his family home and farm, these items paint a picture of a typical teen but one who Richards describes as anything but typical.
"Landon was one hell of a kid," Richards said. He pushed Gran, the positive, hard-working dishwasher, to take on roles outside the kitchen, "because I knew he was much more than a dish boy and people would enjoy his personality."
Richards continued, "It's hard not to. The level of respect and sincerity he projected was unmatched. In many ways I yearn to be more like Landon."
Gran's classmate and friend Andrew Guimond got the vision immediately.
"When Angie approached me with the idea of doing a mural I was on board instantly," he said. "I began thinking about how so many people in our friend group had different plans for after college, and how something like this would provide a great place for people to come together with the feeling that Landon is there with us."
Kayla Soderlund had an enormous task keeping the project under wraps.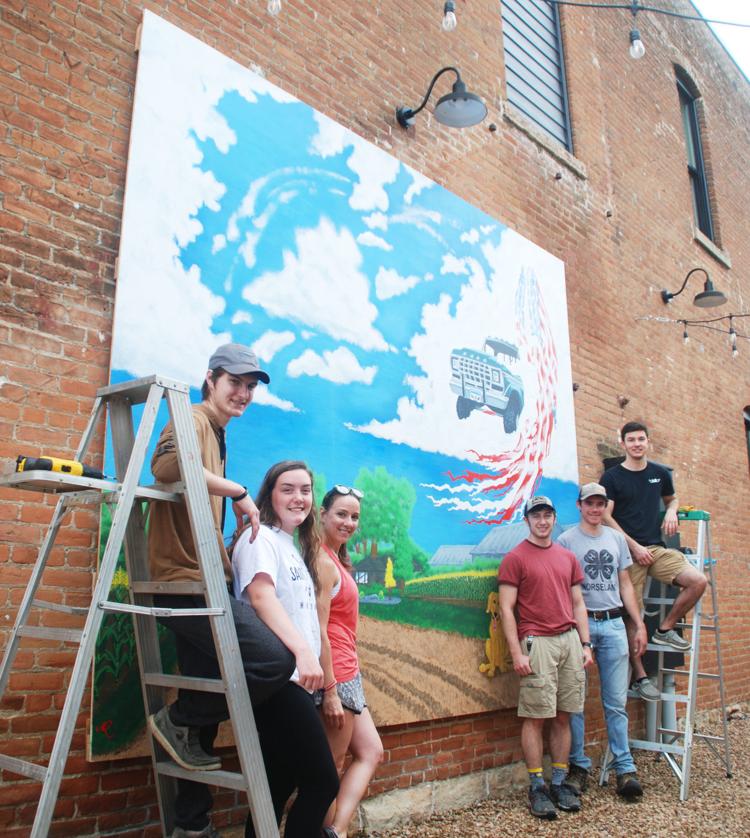 "The main reason I decided to be a part of this project was because of how much Landon meant to me and to everyone in our community," Soderlund said. "He had such a big heart and that is what I miss the most."
As a classmate of Gran's and the girlfriend of his younger brother, James, the loss was personal. The Grans made her feel like a member of the family, she said. "This mural has brought some closure."
Bennett DeBlieck, another classmate and friend, was tasked with providing the canvas for the mural. One-inch by four-inch cedar boards protect the brick building from the plywood on which Richards applied exterior house paint.
"Landon was one of my best friends and above anything else I just want this to mean something to the people that cared about him," DeBlieck said.
With the creative process underway, Fogal also addressed logistics. 3rd Street Tavern is located in the Konsbruck Hotel building, which is part of the city's Historic Preservation District. That required mural proponents, represented by Fogal, to apply for permission to install and to negotiate the specifications of the piece with the city's Heritage and Preservation Commission.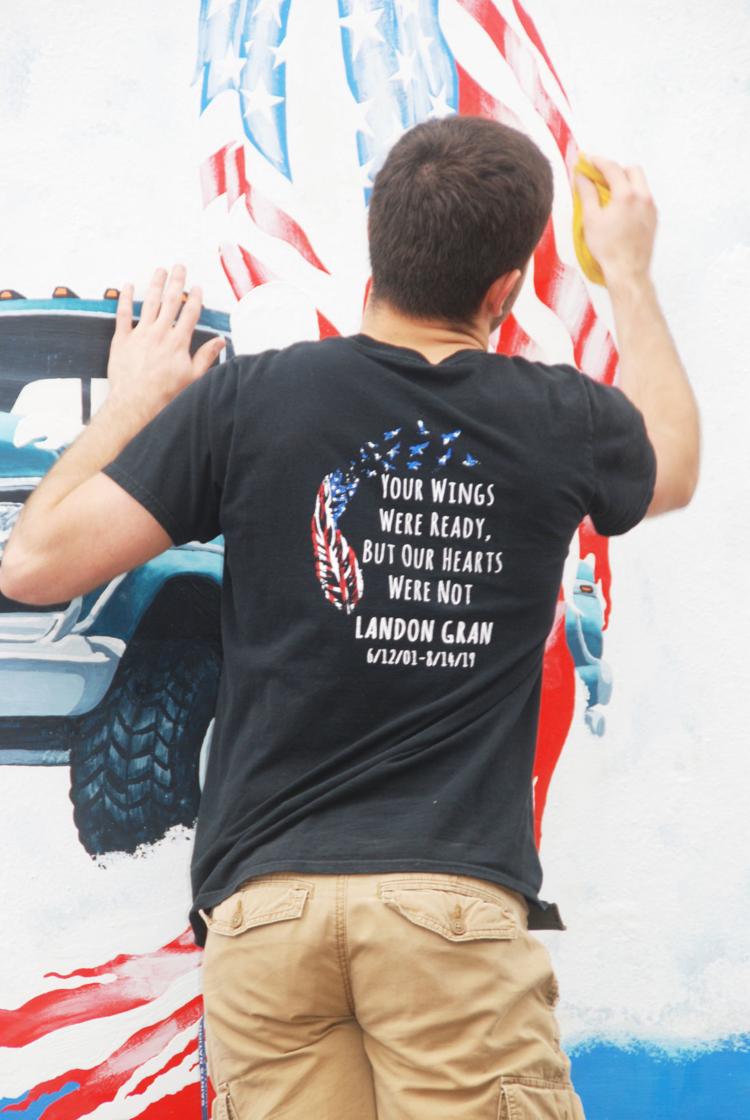 In the discussion at the Feb. 26, 2020, meeting, the parties agreed to the plywood mural that hangs below gooseneck lights on the north side of the hotel.
Russ Wille, community development director, said the hotel is significant for hosting such dignitaries as William Jennings Bryan, a famous politician and presidential candidate around the turn of the 20th century. He said the commission developed a "reasonable solution" to the mural request.
"Our business community has a way of coming together that can be largely attributed to the tornado recovery," he said, referring to rebuilding efforts after the March 1998 storm.
Little time passed after Gran's death when his mother, Michele, began advocating for greater safety measures on Minnesota's farms. Calling herself a "momma on a mission," she called for the state to assist farmers in installing safety equipment in legislation dubbed "Landon's Law."
The Minnesota Legislature approved the appropriation of $250,000 from fiscal year 2021 for farm safety grants and outreach programs in their recently-concluded session.
Sen. Nick Frentz, DFL-North Mankato, was the bill's chief author in the state Senate and Rep. Jeff Brand, DFL-St. Peter, was his counterpart in the House.
According to Frentz, the bill would help farmers purchase grain storage safety equipment, such as automatic shutoffs and auger enhancements. Too many people have been killed in farm accidents.
"This bill provides an opportunity to do something tangible to help make our family farms safer," Frentz said in a February press release.
"Landon's family has been through a lot, yet they were very supportive of this legislation, and I'm glad to have worked with the Gran family to see its passage," Brand said. "Turning a tragedy into a legacy could not have happened without their support."
One proposed safety device is one Michele herself conceived — an electronic device that would cut power to the farm machine if something went wrong. She plans to spend time soon with an engineer brother in Texas to work on it.
Finally, after months of secrecy, the mural creators lured Michele and David Gran to downtown St. Peter with the promise of dinner on Tuesday evening. Speaking after seeing the mural, the two were effusive in their praise of the art and the efforts put into its creation.
"It's cool that all the friends did this tribute," David said.
Michele added that she was amazed by the number of people who went out of their way to honor their son. They found the symbols appropriate.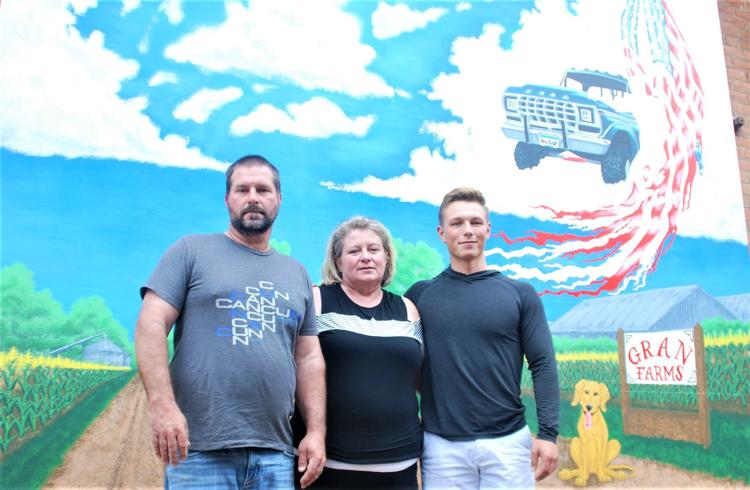 "His pickup and his puppy were his life," Michele said. "His whole room was the American flag."
The attention probably would have embarrassed him, they said, describing him as someone who would help others and expect nothing in return.
"We found out a lot of things after the fact," Michele said.
He'd stay after school to protect a younger student who was getting harassed, his father said. He'd take food to a neighbor who had cancer, so the family didn't have to worry about getting meals, his mother said. He'd even pay for the order behind him at a drive-thru.
Choking back tears, she described defending the name "Landon's Law." So many others have died in similar accidents, she was told, that it didn't seem right to name it just after him. But no one else did anything about it, she said firmly. If someone had, she said, she might not have lost her son. His death is the one that led to action.
David described his son as "self-driven." Michele agreed.
She tells his friends, "Make your dash matter," referring to the dash between the birth and death years on a gravestone. Landon was born in 2001 and died in 2019, but to friends and family, that dash means everything.