Walking into a typical local government meeting during the current pandemic, there's a good chance the scene will look more or less the same as usual: a row of elected officials sitting in the front of the room, with government staff, and maybe an attorney, placed as their bookends.
Due to the COVID-19 pandemic, which has health officials and government leaders across the nation — Minnesota included — urging people to stay home, practice social distancing, and keep group gatherings at a minimum, local governments are exploring any and all options on how they can go about their business serving their communities. One of those obstacles they must overcome is the rules and regulations surrounding the Open Meeting Law.
"Government bodies should absolutely always allow the news media, which would be our journalists, to the meetings, because they are the eyes and ears of the people," said attorney Mark Anfinson, an expert on public access laws who represents the Minnesota Newspaper Association. "It might sound cliché, but it's true. One journalist can get the word out to hundreds of thousands of people."
As of now, St. Peter City Council meetings have followed the regular rules, including allowing people from the public to attend.
During their most recent meeting this month, they did implement an option for people to dial-in via telephone or with a video teleconference software to watch a livestream of the meeting, and the majority of the council took that option.
Only two members of the council were present, along with the city administrator, the administrative assistant, and the city attorney.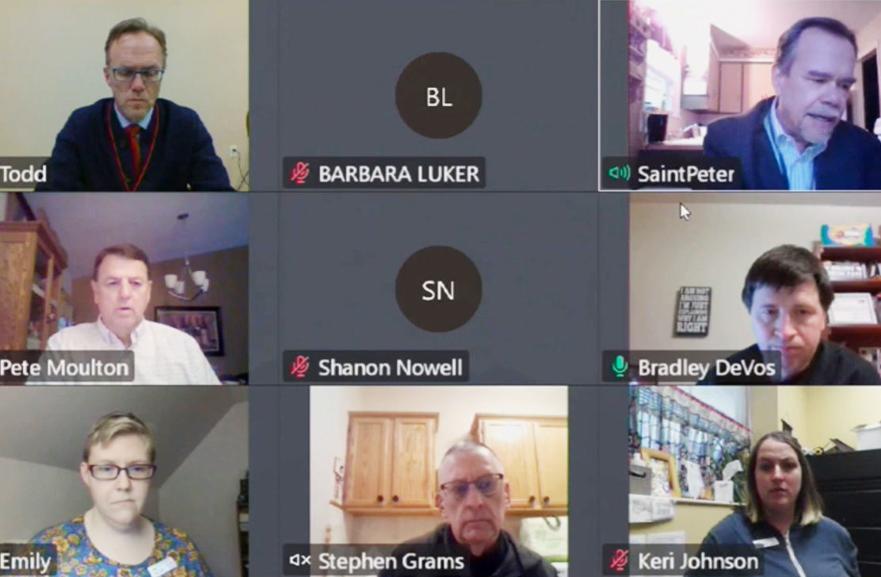 City Administrator Todd Prafke stated that, for upcoming meetings, staff may consider going to an all-virtual meeting platform.
"We are not concerned about it, because we're following the state statutes," Prafke explained, regarding the restrictions COVID-19 could be putting on public meetings. "As long as we follow the state statutes and make sure that [the meetings] are open and available for everyone, I think we're doing a great job."
In the last two weeks, many governmental bodies throughout southern Minnesota have started implementing a plethora of different alternatives to their regular meetings. Small communities, like Le Center, have held their meetings as is, but have limited the number of people from the public who could attend to adhere by the 10 people per gathering or six-feet of separation guidelines put forward by the Minnesota Department of Health.
Many other local government bodies, like Nicollet County Board of Commissioners, Le Sueur County Board of Commissioners and Le Sueur City Council, have moved to some form of teleconferencing or live streaming of meetings closed off to the public, allowing those interested to still view the meetings at home without creating a potentially large gathering of people.
Non-City Council meetings in St. Peter, such as the Economic Development Authority and Planning Commission, are closing meetings to the public and streaming through the Go To Meeting app.
"A lot of public officials are trying to determine how meetings around the state should be conducted with no guidance or precedent for how this should look," Anfinson said, stating that he has been receiving calls from many newspapers in the last two weeks with questions about the legality of the different meeting options. "The statute is pretty straight forward in a very detailed way that only applies if a pandemic is declared."
Following the law
In section 13D.021 of the Open Meeting Law, which covers meetings by telephone or other electronic means, the conditions state that a governing body can hold a meeting so long as a presiding officer or legal counsel determines that an in-person meeting is not practical or prudent because of a health pandemic or an emergency declared, that all members of the body participating in the meeting — wherever their physical location — can hear one another as well as all discussion and testimony, that members of the public present at the regular meeting location can hear all discussion and votes of the members of the body, at least one member of the body is physically present at the regular meeting location, and that all votes are conducted by roll call so that each member's vote on each issue can be identified and recorded.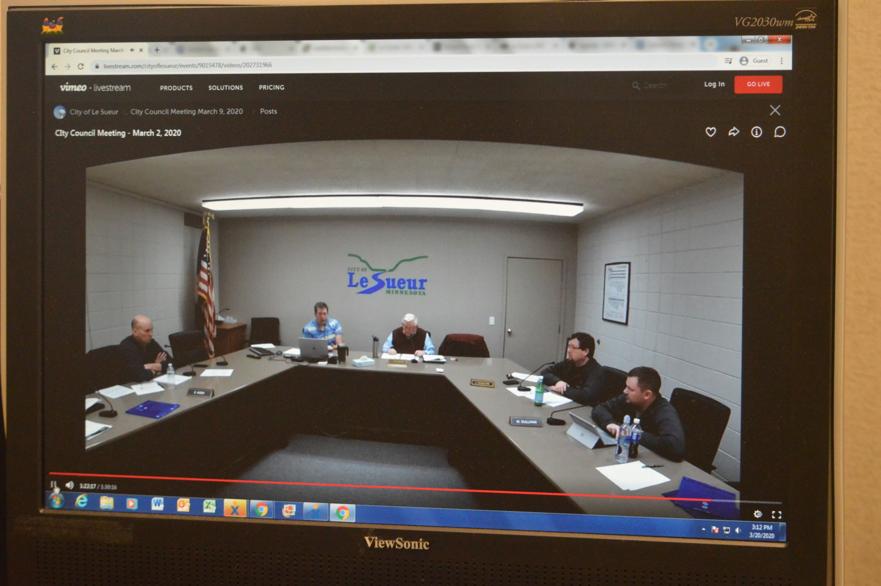 One concern that has popped up among members of the public is that the opportunity for public comment has become limited.
The catch, however, is that a public comment period is not something that is protected by the Open Meeting Law.
"A public comment period is purely voluntary by the body and is not a requirement by law that it be conducted," Anfinson explained. "A governing body that wants to eliminate that during the duration of the emergency certainly can do so and don't have to worry about violating the Open Meeting Law."
Anfinson stated that while he understands that this could be a frustration in many parts of the state, governing bodies simply are not required to accept public comment or input during their meetings.
Some governing bodies, however, are doing whatever they can to keep their meetings as regular as possible, including the public comment period.
"We are not trying, we are doing," said Prafke, of St. Peter, in regard to keeping public comment a part of the City Council's meetings. "It's just like our regular council meetings, this portion that we have been doing for the last 30 years that allows the public to come and comment on specific agenda items or items not on an agenda, whether through telephone or video chat."
Moving forward, governing bodies are continuing to take guidelines and recommendations from health officials as well as state and federal leaders as they wade through the unprecedented territory that is the COVID-19 pandemic. As things continue to develop and change, Anfinson said that they will all need to get the Open Meeting Law at top of mind.
"Government bodies do have some limited ability to exclude the public in a pandemic situation," Anfinson added. "But the pandemic and declarations of emergency don't suddenly give them the authority to make up legal rules as they go along."