It was one year ago when our community and our world was forever changed and a pandemic way of living became an unrelenting reality across the globe.
For some, COVID brought loss. It represented the end of an era; where germs became a lethal enemy amidst weakness, and face masks became the newest trend. For most, this past year has been challenging and its current outcome still remains unknown. The new way of living involves careful attention to detail and social boundaries. It means less public exposure and more social awareness.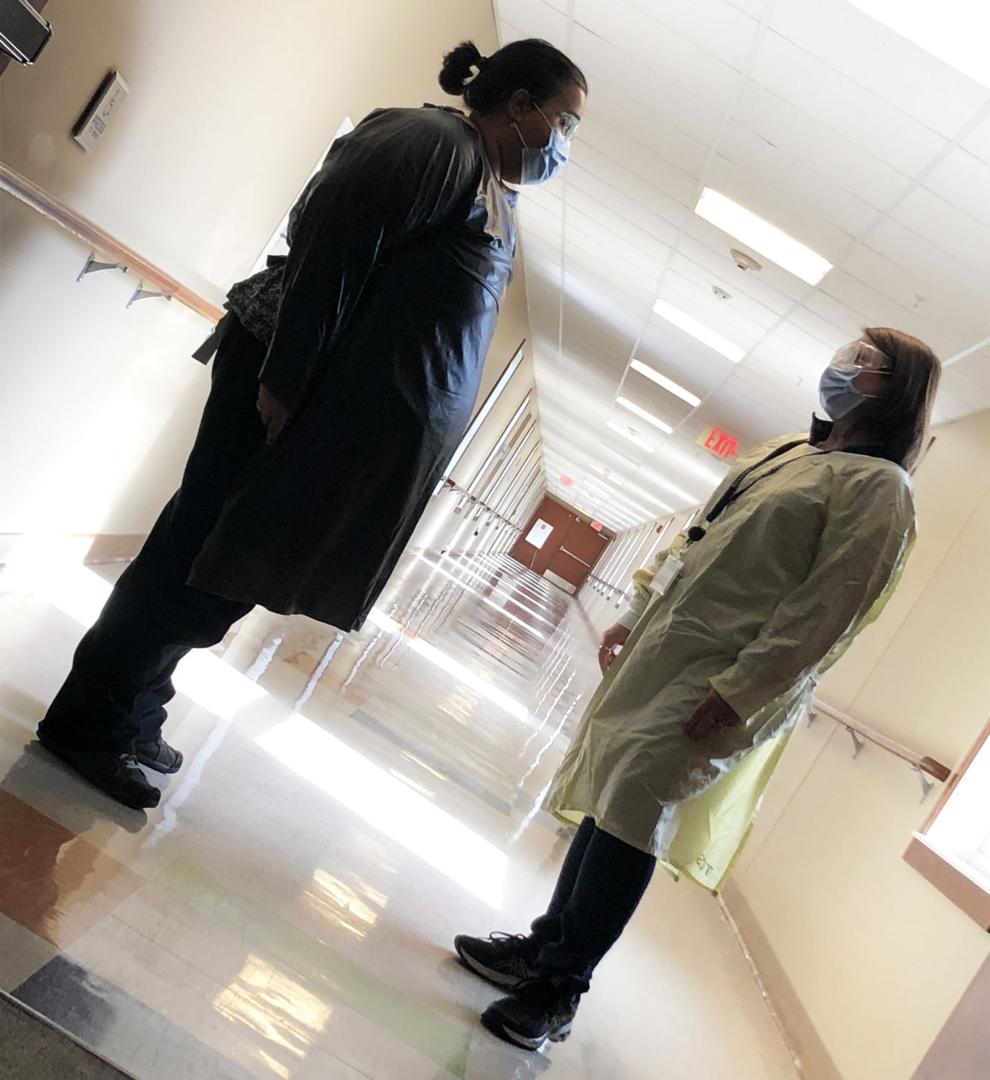 Businesses, as well as educators, medical professionals, and personnel working in public settings have reevaluated their daily routines and made rapid changes to their business plans; incorporating global pandemic strategies and emergency preparedness tactics as normal daily procedures.
But for those who thrive and shine in the face of disaster, this year has brought forth those who have been needed most.
For Amy Eustis, director of nursing at St. Peter's Benedictine Living Community and a retired Army nurse, putting out fires and answering questions in every direction all at once, were normal events on any given day of the week. And then, you add a global pandemic to the mix. As information regarding COVID started surfacing, a lot of information was being presented to the public and health care facilities. Eustis already understood the structure of a pandemic.
"Our health care team knew almost immediately that it would only be a matter of time before the virus would hit our community as well," explained Eustis. "Our main concern is always for the safety of our residents and staff, so implementing a preparedness plan as early as we did is definitely a major contributing factor in how long we kept the virus out of our facility."
With a combat hospital background, two war deployments, and combined with public health experience, Eustis, along with her administrator and boss, Teresa Hildebrandt, created a preparedness plan before the the state mandated implements. More than a week ahead of the statewide lockdown, the Benedictine community shut its doors and severed outside contact. Except for essential staff, no one was allowed in from the outside world.
The staff prepared for the inevitable by conducting inventory of all their supplies and ordering as many extra supplies as they could manage. Finding space to securely store supplies was also a challenge they had to overcome. Because every health facility throughout the greater United States was also scrambling to find supplies, Eustis' staff reached out to local businesses for help.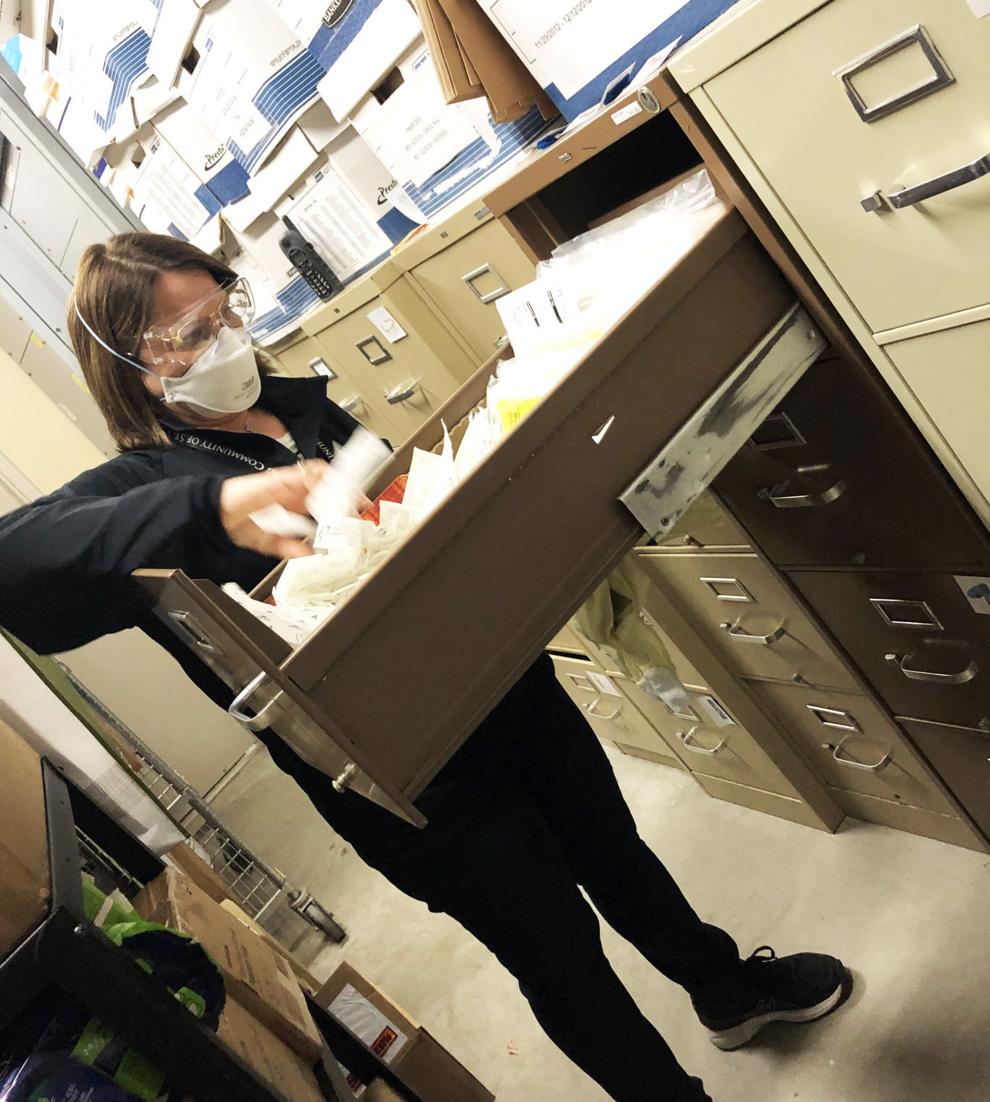 "We had to think beyond our normal means and discovered avenues for acquiring supplies we would never have thought to try before the pandemic," Eustis said.
Once the team knew there would be personal protective equipment (PPE) used, Eustis contacted a New Ulm upholstery company to make more gowns.
For Eustis, her automatic response to a major emergency situation is to "just go." When Eustis wasn't spending hours at work in conference calls with the World Health Organization and the CDC, she was collecting hazardous waste from the facility. When Eustis had time at home, she spent endless hours on the phone calling every point of contact for every resident, every day. Sometimes more than once.
"When you have been cut off from the outside world, lives can be at stake in a living facility such as this," Eustis stated. "Not only did we, as a team, have to be the life breath from the inside out, but we also wanted to notify our residents on the status of their families as well."
This information was vital to the well-being of these elderly residents. Without social interaction and fellowship, some residents may pass away from lonely hearts and inactivity. And then we add this foreign virus to the list of life threatening factors.
"My responsibility was for the health and welfare of our residents and to their families," said Eustis. "I wouldn't be doing my job as a director of our nursing staff, if I didn't keep everyone updated on the health status of the residents. After a few days, I finally turned to my staff to help make the calls. Family members would wait for the calls around the same time every evening, just to know what the status of their loved ones was for the day."
Eustis wasn't the only one putting in extra hours as the pandemic took hold.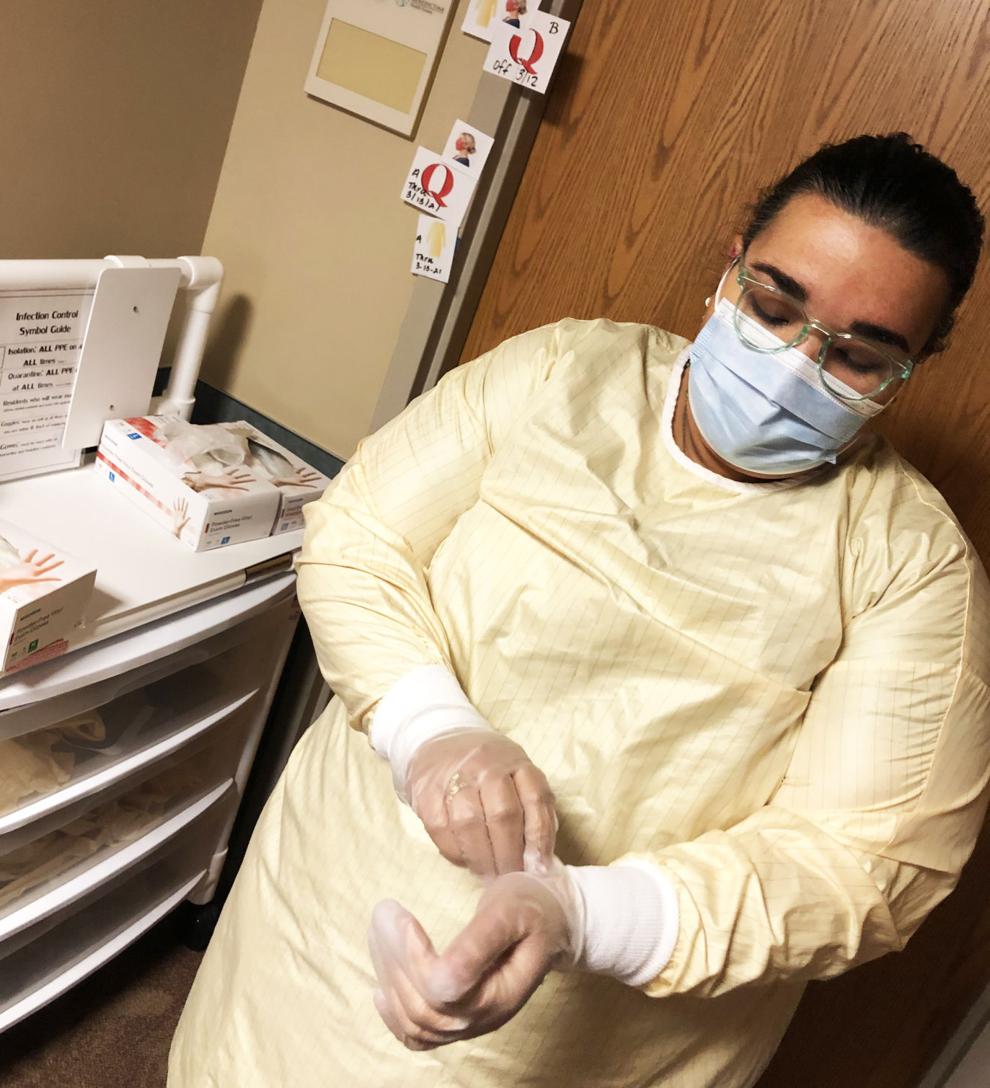 "When the time came and the virus had infiltrated the facility, it hit so fast, nobody could be prepared for something so invasive," said RN Lisa Helling, a staff nurse at the Benedictine facility. Helling was a critically important staff person in implementing and manning the emergency quarantine area in the building. Helling stepped up and shined in the midst of pandemic disaster by giving of her time 110%.
"We kept COVID out of the building for a long time," said Helling. "We had supplies and a sectioned off area in the facility ready for when the outbreak hit our community. But once the virus hit the building, it couldn't be contained."
Helling spent endless hours caring for COVID-positive patients in the first 48 hours in the facility. Several areas were set up throughout the facility, making supplies and PPE equipment more available and easy to access. PPE visual reminders with black/yellow gowns reminded staff to practice proper protocol. The innovative gowns from the New Ulm textile company kept the staff in check, providing visual reminders of positive versus negative COVID patients.
They fended off the disease for quite some time, but less than a week after the first exposure, there were 11 residents who tested positive. The first positive case tested positive on a Tuesday and passed from COVID related complications only two days later.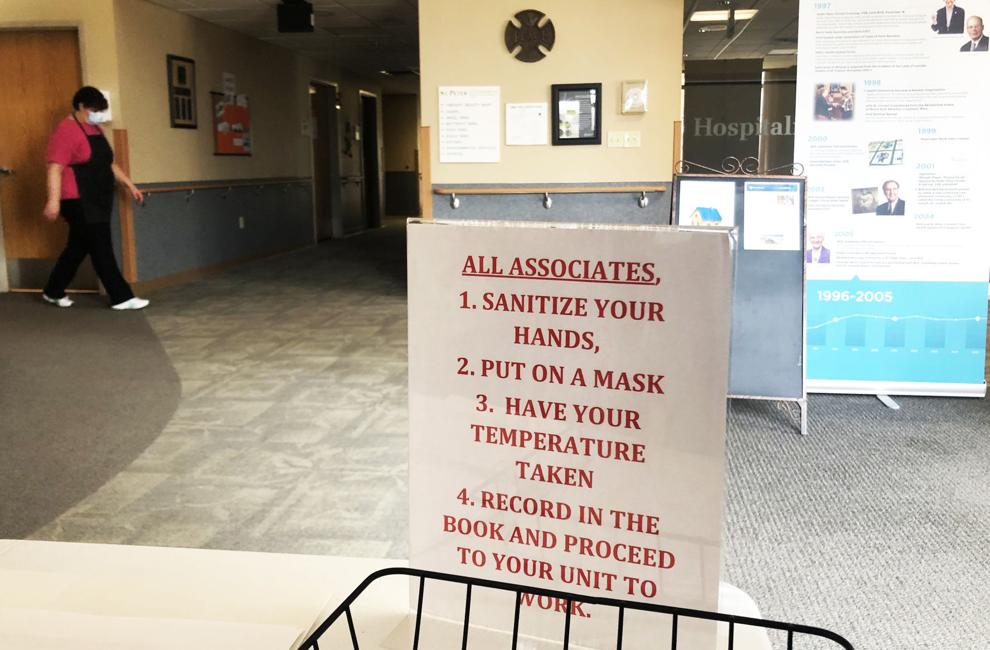 "Staff and residents were very proud of the fact that we kept the virus out of our building for as long as we did," stated Eustis. "And without the superb team of nurses and staff at our Benedictine Living Community, none of our efforts would have been successful."
From the very start, staff and families came together offering help in whatever way they could manage. The Benedictine community learned many lessons from things they never saw coming. The team also learned that, like a train out of control, the coronavirus was as stealth as they come, and, with a vengeance, it did not discriminate.
Eustis received emergency staff from the state of Minnesota. Some still continue to work at the St. Peter facility. They have been there since October.
"I'm not very emotional, but when the state employees came to help, I was simply awestruck. It was like watching angels walk through our doors," said Eustis, tears in her eyes.
It was reflective of the inspiring work of so many — including Eustis, Helling and the rest of the team at Benedictine — during such difficult circumstances. Those who shine in darkness arrived as "angels in the night," bringing hope and help where they were needed most.